---
---
Dunfermline Athletic 2 - 3 Arbroath
By Alistair Campbell - Sun, 18th Aug 2013
Photos by Neil Farrell

All the goals came in the first half of a much more entertaining encounter, but the Pars went down 3-2. A Morris slip allowed Milne to score the opener before the centre-back made amends with a headed equaliser. Byrne had missed two gilt-edged opportunities before just about netting his first senior goal, only for Cook to score twice in two minutes as the half came to an end – the first from a penalty conceded by Kane, the second after running half the length of the pitch. With Kane being sent off early in the second half, the 10 men of Dunfermline struggled and indeed were lucky not to concede on the break.



Dunfermline Athletic
Morris (27)
Byrne (41)

2 v 3

Arbroath
Milne (7)
Cook (44, pen)(45)

Kane (43)
Geggan (69)
Wallace (94)

Linn (25)
Smith (28)
Sheerin (65)
Bullock (79)

Kane (52)

Ref: Stephen Finnie
Crowd: 3242 Position: 4th
Click on Logos or Team Names to visit other sites or reports
| | |
| --- | --- |
| | Ryan Thomson v Scott Morrison. |
After the wanderings of the last couple of weeks, it was good to have the familiarity of a home game. Although the Pars started as favourites, having not lost to their visitors since 1992 (and that was a Challenge Cup game that was most notable for firstly being postponed due to fog, and then being the occasion of Jackie McNamara's senior debut), the big success was in simply having a team on the park at all.

JJ made one change to the starting eleven, with captain Josh Falkingham regaining his starting position, coming in for Ryan Ferguson at the front of the midfield diamond. That meant Kane was the anchor man once more, with Geggan and Byrne ahead of him to the left and right, Thomson and Wallace were the strike-force, and of course the defence on the back of two successive clean sheets was unchanged too, with Scully in goals and a back four of Millen, Young, Morris and Whittle.

There were a couple of changes on the bench, Goodfellow coming in as sub keeper for the injured Hrivnak, and Potter coming in for Johnston. Four retained their place from last week – Dargo, Williamson, Moore and El Bakhtaoui, and Ferguson was there as well.

As for Arbroath – there were a couple of familiar faces in their line up, principally Alex Keddie at centre-back. Paul Sheerin, who is gaining a good reputation for himself as an up and coming manager named himself in the starting line-up, but there was no place in the squad for Graham Bayne (which allowed him to draw the winning 50-50 ticket at half-time).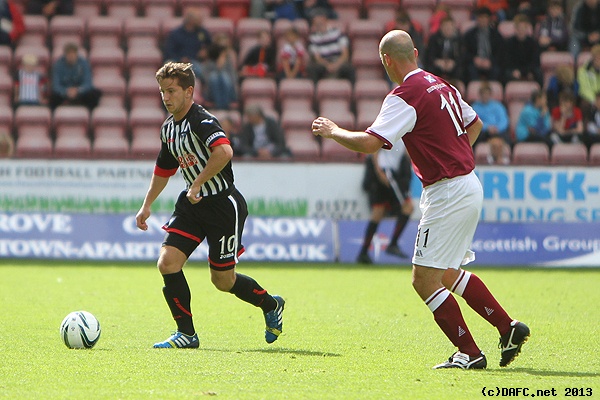 Josh Falkingham v Steven Milne.
| | |
| --- | --- |
| Ryan Wallace. v Michael Travis. | |
A number of other former players were introduced to the crowd before the start – Harry Melrose, Cammy Fraser, John Sweeney and Dan McLindon from the 1961 side, Willie Callaghan, Roy Barry and Bert Paton from the 1968 team, as well as the likes of Ziggy, Zico, and Jim Scott.

Any hopes that such a celebrated line up would inspire the Pars to a fast start were soon dashed – almost straight from kick-off Scully was nearly caught out when Milne was close to charging down his clearance. The Pars also seemed to have trouble with their footwear, a couple of players slipping - in four minutes Scully chipped out to Morris on the left touchline and he stumbled after controlling the ball on his chest, but was able to recover. Three minutes later the same player was not so lucky. Millen had played the ball infield to Byrne who let the pass run, and lost possession – Arbroath quickly played the ball to Scott on the right, and when Morris slipped trying to intercept the cross, Milne took full advantage with a finish into the far corner. 1-0 Arbroath.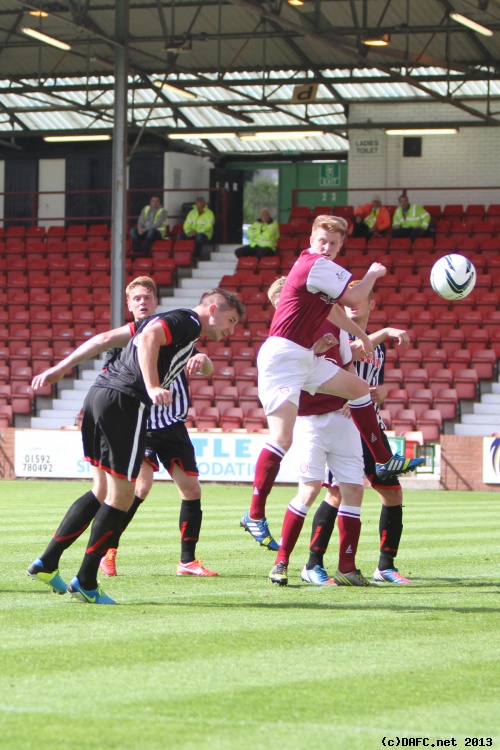 Callum Morris scores to make it 1-1.
| | |
| --- | --- |
| | Callum Morris celebrates! |
The Pars took a while to settle, but should have had the equalised just before the quarter hour. Referee Finnie failed to allow an advantage when Wallace took promising possession after Thomson was fouled. Instead the Pars took a quick free-kick – too quickly, probably, as they had to go backwards before working the ball to the right, where Wallace fed Byrne inside the area. The latter took a good touch to set up a left-foot shot, but Morrison was equal to it. The home team were now more in the game, although they couldn't make the most of a couple of dead-ball opportunities on the right – each time being penalised for pushing as they tried to get on the end of the cross. However, they had a better chance with a corner form the other side in 27 minutes after Geggan's break down the left had won them a corner. The entire Arbroath defence seemed to miss Millen's inswinger, allowing Morris to score unchallenged from 6 yards. 1 apiece.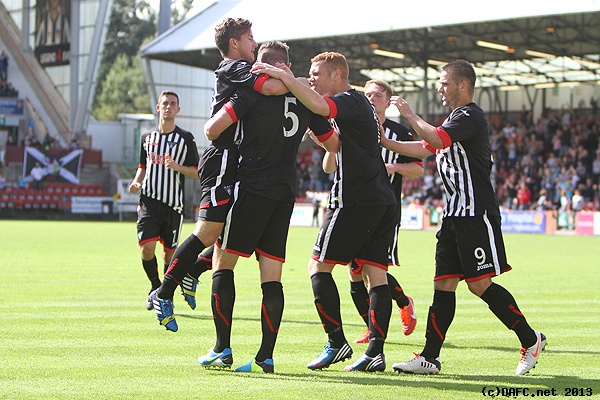 Callum Morris celebrates with Josh Falkingham and Ryan Thomson!
| | |
| --- | --- |
| | Kerr Young v Alan Cook. |
Arbroath soon hit back – Cook ran directly at the Pars defence, managing to get past Young, but shot from too far out and Scully had little difficulty in saving. At the other end, thought, the Pars should have taken the lead when Byrne missed an absolute sitter – being teed up at the back post by Wallace - but managed a horrid miskick, virtually missing the ball completely. That was a huge let off for the visitors, although soon after luck evened itself out, when Scott's cross seemed to come off Morris's arm, but neither official was confident enough to call it.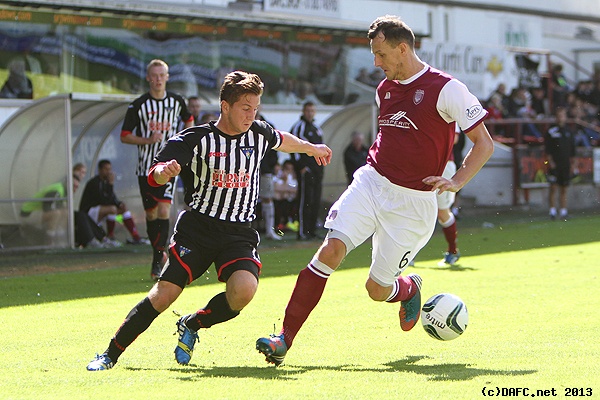 Josh Falkingham v Alex Keddie.
| | |
| --- | --- |
| | Josh Falkingham v Darren Smith. |
The game was much more open and enjoyable than the last couple of matches, and the next chance came Dunfermline's way when Falkingham wriggled clear in the box, but with options his shot was half-blocked before being beaten away by Morrison. The Pars seemed more willing to shoot this week, with Thomson having a go from 30 yards, Morrison looking a little slow to get down, but he got to his right in the end. However, the Pars finally took the lead – Wallace again coming in from the right to set up Byrne - it was another open goal, and although Shaun sclaffed it again, this time he got enough on it for the ball to beat the keeper and just about make it over the line. 2-1 Pars.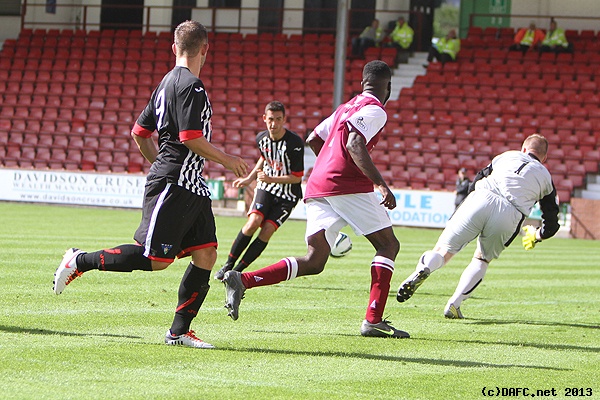 Shaun Byrne scores his first goal for the Pars!
| | |
| --- | --- |
| | Shaun Byrne celebrates with Josh Falkingham. |
It looked as if the home team would be leading at the interval, but amazingly, they contrived to be losing. First a penalty was conceded. A corner was half-cleared, and when the ball was returned, Kane jumped into Hamilton, who fell like a sack of spuds. This time Mr Finnie did point to the spot and Cook duly sent Scully the wrong way. 2-2.

Two minutes later, the visitors had the lead. The Pars pressed and Young advanced, before picking the pass to Wallace in a central position but he was crowded out. Arbroath quickly played the ball to Cook who, with Falkingham trailing in his wake, ran half the length of the field before tucking the ball in at the far post from 15 yards.

Half Time: Pars 2 Red Lichties 3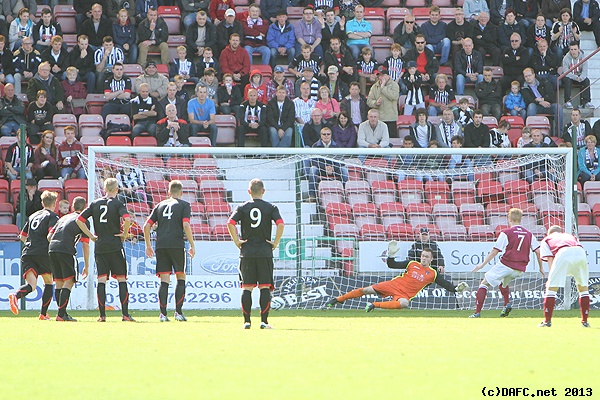 Alan Cook makes it 3-2 to Arbroath from the penalty spot.
| | |
| --- | --- |
| | Shaun Byrne in action. |
The visitors made one change at the break, replacing Alex Keddie with Lindsay, necessitating a slight reshuffle at the back, which the Pars tried to take advantage of within the first minute, with Falkingham sending Whittle away, but his cross was dealt with at the cost of a corner, which was better defended.

The onus was on Dunfermline to find an equaliser with the visitors happy to hit quickly on the break. The Pars could break quickly too, after Cook tried for his hat-trick with an ambitious 35 yarder in 50 minutes. Scully saved with ease, and quickly released Millen who found Wallace in turn, but Ryan seemed in two minds and his cross-cum-shot missed both the target and the incoming Falkingham.

Things were made a lot harder when Kane picked up a stupid second booking – Byrne probably chose the wrong pass, and when that was defended Kane was caught in possession and grabbed hold of his opponent as he tried to get clear on the half-way line. A clear second yellow, and the Pars were down to 10 men.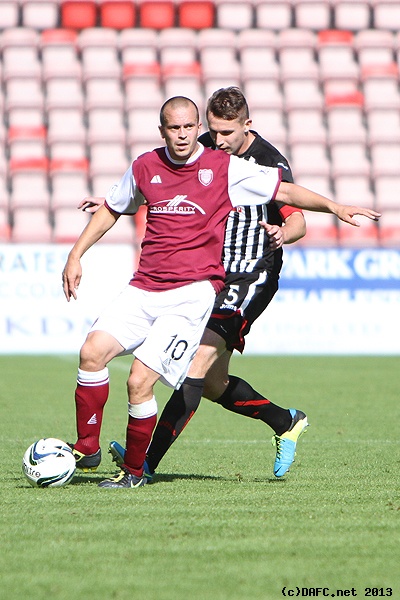 Callum Morris v Steven Milne.
| | |
| --- | --- |
| | Josh Falkingham v David Banjo. |
Nevertheless, they had little option but to keep pressing forward. In 57 minutes Whittle cut inside, found Wallace who fed Millen on the right. When the cross came in it broke back to Wallace, but he fired his shot wide. The same player soon had another chance from the tightest of angles after Morris's diving header from a corner fell to him, but he had no clear sight of goal, and his half-volley missed the back-post by a distance.

Jim Jefferies made his first substitution of the afternoon with 20 minutes to go, bringing on Moore for Byrne, temporarily dropping Wallace to midfield. However, the Pars three-man midfield was naturally at a disadvantage and with both full-backs high up the park, there was lots of space behind for Arbroath to exploit. Geggan was booked for a trip as the visitors sought to do just that, then, when the same player's shot in 77 minutes was charged down, the substitute Chisholm broke swiftly, and Scully had to save bravely at Sheerin's feet.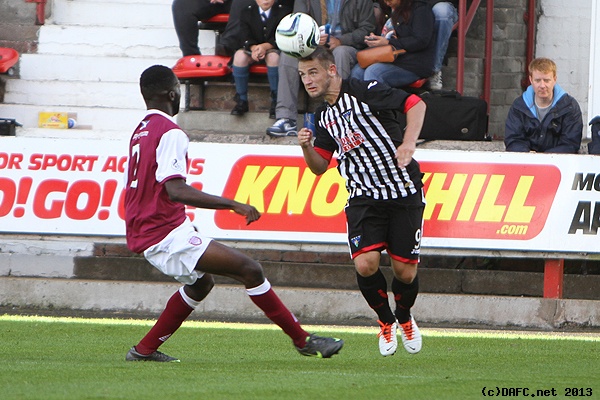 Ryan Wallace. v David Banjo.
| | |
| --- | --- |
| | Alex Whittle in action. |
Another break soon after saw Hamilton outpace Millen to cut back to Chisholm, and his shot from the edge of the area beat Scully, only for Morris to clear off the line.

Ferguson came on for Thomson, then Williamson came on for Millen who was beginning to look exposed at right back. Moore and Ferguson showed some nice touches, without actually creating anything substantial, but the match was running away from the Pars, and if anything, they were lucky not to be trailing by more than just the one. Arbroath had the luxury of kicking for touch, rugby-like, forcing the Pars to take shies from virtually their own corner flag, and they struggled to make one last push. Their bench was getting frustrated – Neil McCann was on the pitch chasing after the ball at a stoppage - but when the Pars did finally get control, there seemed a reluctance to play the long ball. Eventually Young launched one, it was easily dealt with, and as Arbroath flooded forwards, the final whistle went.

Full Time: Dunfermline Athletic 2 Arbroath 3


Fantastic save by Ryan Scully (1of2).
| | |
| --- | --- |
| | Jim Jeffries waiting for the referee. |
This was much more entertaining than the previous games I've seen this season, with both teams playing some decent football and attempting to score. In the end, Arbroath deserved it, and could have won by more, although had it been 11 v 11 for longer, I would have fancied the Pars to sneak it.

Young players will be inconsistent, and should learn from their mistakes. A loss of footing, a needless shove and pushing too far forward without cover cost them the goals, and a silly yellow card cost them the chance to fight back. Obviously, if Byrne had scored from one of his earlier chances, the game would have changed course – at least he has broken his duck, so should be more relaxed next time; however, penalties aside, Wallace seems to be struggling. The way is now clear for Husband to come back in the team, and the side may be freshened up in other areas as well. As for man of the match –a lot of people ruled themselves out, but I'll go with Josh.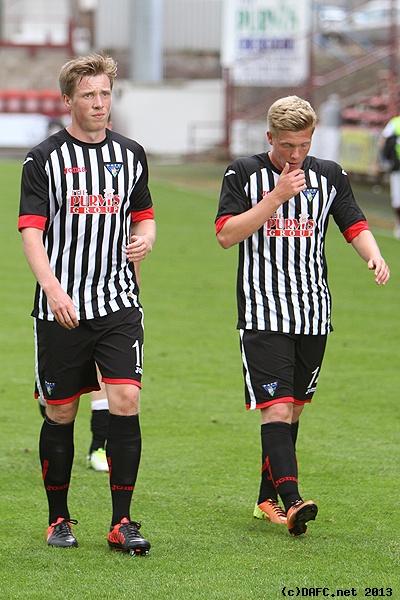 Substitutes Jordan Moore and Ryan Ferguson.
---
DAFC.net Man Of The Match: Josh Falkingham
---
Choose your Man Of The Match
Dunfermline_Athletic: Ryan Scully, Ross Millen (Ryan Williamson, 84), Alex Whittle, Kerr Young, Callum Morris, Chris Kane, Shaun Byrne (Jordan Moore, 71), Andy Geggan, Ryan Wallace, Josh Falkingham, Ryan Thomson (Ryan Ferguson, 79)
Subs (not used): Craig Dargo, John Potter, Fayssal El Bakhtaoui, Ryan Goodfellow
Arbroath: Scott Morrison, David Banjo, Colin Hamilton, Darren Smith, Michael Travis, Alex Keddie (Jonathan Lindsay, HT), Alan Cook (Ross Chisholm, 74), Christopher Scott (Lee Sibanda, 58), Bobby Linn, Steven Milne, Paul Sheerin
Subs (not used): Tony Bullock, Lari Yao, Kieran McWalter
| | Dunfermline_Athletic | Arbroath |
| --- | --- | --- |
| Shots on | 5 | 8 |
| Shots off | 6 | 1 |
| Corners | 5 | 5 |
| Offside | 1 | 3 |
| Fouls conceded | 14 | 13 |
| Possession | | |
Views: 3470