---
---

The Stranraer away support.
Dunfermline Athletic 3 Stranraer 2
By Alistair Campbell - Sun, 12th Jan 2014
Photos by Neil Farrell & Calum Farrell
Two of the teams chasing Rangers at the top of the division matched up at East End Park, with the home team running out victorious by the odd goal in five. Poor defending from set pieces twice allowed the visitors to take the lead; twice the Pars equalised through the merest touch by Thomson from a Drummond corner, and then a Byrne deflection, before late substitute Lawrence Shankland poked home from close range to edge the Pars ahead. A late red card for El Bakhtaoui made it harder but Dunfermline held on.


Dunfermline Athletic
Thomson (34)
Byrne (57)
Shankland (75)

3 v 2

Stranraer
Bell (16)
McKeown (55)

Gallagher (19)
Bell (85)
Trialist (87)
McKeown (89)

El Bakhtaoui (85)

Ref: Alan Muir
Crowd: 2952 Position: 2nd
Click on Logos or Team Names to visit other sites or reports
| | |
| --- | --- |
| | Ryan Wallace is clearly tripped inside the box. |
This was potentially one of the most important games of the season. Get a positive result against their closest rivals in the league table and the Pars could look forward to generating some real momentum and consolidating a play-off place. Lose the match and as well as having Stranraer snapping at their heels, confidence would take a knock.

Manager Jim Jefferies made a couple of changes as expected. For a start Alex Whittle was still on the injured list having done his hamstring at Ochilview, so Ross Drummond started at left back, and Stephen Husband wasn't an entirely unexpected casualty following his poor performance in the same match, Ryan Thomson starting in what looked like a 4-3-3. New signing Lawrence Shankland had to be satisfied with a place on the bench as El Bbakhtaoui retained his jersey after a fine performance last week. Faissal was joined by Ryans Thomson and Wallace, the latter often dropping back to cover the midfield. Falkingham was also back to captain the side following his hand injury and he had Byne and Geggan for company in the middle. The defence was the relatively young Williamson, Young, Martin and Drummond whilst Scully had the gloves.

On the bench there were plenty of attacking options – as well as Shankland, Moore had dropped down, Smith was there, and Kane, Husband, the recovering Millen and Goodfellow were the other options.

As for the Stranraer, their men to watch were going to be their strike pairing of Grehan and Longworth, who had scored loads of goals between them this season, and of course, former Pars star Stevie Bell, who had taken years to recover from a horrendous Achilles tendon injury sustained whilst playing for the Pars at Cappielow.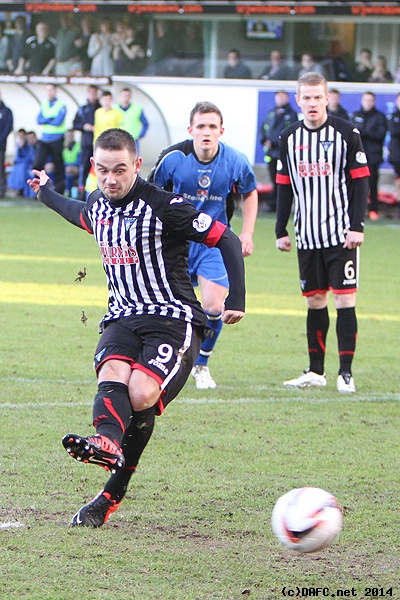 Ryan Wallace sees this effort from the spot saved.
| | |
| --- | --- |
| Ryan Thomson in action. | |
Curiously, it was almost exactly a year ago that Jordan McMillan had won the toss, yet inexplicably chosen to play "the wrong way". That game was also remarkable for the surreal event of Airdrie scoring after four minutes and the goal being greeted by applause from all round the ground, as it coincided with the minute's applause in memory of Norrie McCathie. This time it was Stranraer who chose the direction of play, and it was the Pars who kicked off, shooting towards the McCathie end.

The Pars started brightly with an early corner and an early El Bakhtaoui shot that whistled past the post. As the game moved into the fourth minute, a nice Byrne ball met Wallace's run into the box and he was upended by McKeown. It looked a stonewall penalty, and referee Muir agreed. By now, the ball-boys' flags had signalled the minute's applause, and Wallace took responsibility for the kick. Ryan took an abbreviated run up, hit the ball to the keeper's left as usual, but it hit Mitchell's trailing leg and the ball spun over the cross-bar.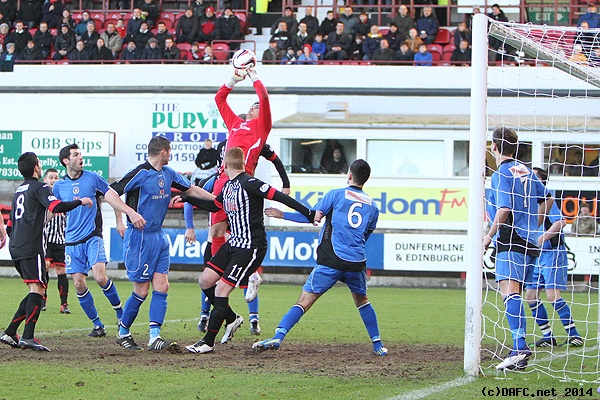 Pars attacking the Stranraer goal.
| | |
| --- | --- |
| | Ryan Wallace v former Pars player Steven Bell. |
This was a bad miss, clearly, and this was compounded when Drummond's deep corner was retrieved by Wallace and he seemed to pass the ball to Thomson at the near post, but his little deflection was well saved low down by the keeper.

The other consequence of this was that Stranraer were boosted, and they very nearly scored soon after, some neat interplay freeing up Longworth, but as he attempted to take the ball round the keeper, Scully stuck out an arm and managed to claw the ball away. Not long after Longworth was again involved, passing the ball wide to Stirling, but his raking shot was well held by the Pars' keeper. This was a little bit in vain, though, as the visitors did take the lead from the other wing. A quickly taken corner saw Bell lose his marker by running to the front post, and he stooped to head home past the unguarded Scully from 6 yards.

Dunfermline Athletic 0 Stranraer 1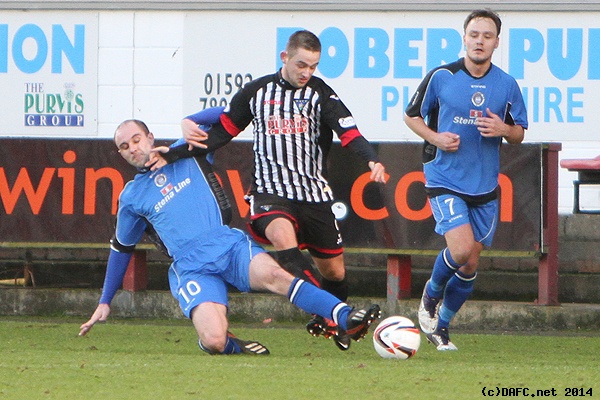 Ryan Wallace v Jamie Longworth and Sean Winter.
| | |
| --- | --- |
| | Shaun Byrne v Andrew Stirling. |
Midway through the half the Pars had a half chance to equalise when Geggan found El Bakhtaoui with a forward ball. Mitchell was well out of his goal, but decided to come forward rather than go back, and this intervention proved timely as El Bakhtaoui couldn't connect properly with his attempted lob from 35 yards.

The Pars were struggling to make any impression as the Stranraer players were quick to close everything down, and it took fully ten more minutes before they formed any sort of threat whatsoever, a neat turn from El Bakhtaoui winning a corner on the right. Drummond was on corner duties, and he had already shown some commendable variety, mixing up near post balls with balls right under the cross bar and slightly deeper efforts. This one was to the near-post and it looked like Thomson got the merest of touches to nod it in off the keeper for the equaliser.

Dunfermline Athletic 1 Stranraer 1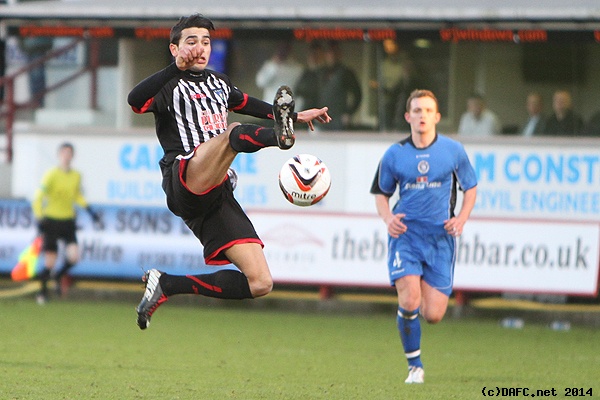 Faissal El BAkhtaoui in action.
| | |
| --- | --- |
| | [no description] |
That goal was much needed as the Pars didn't look like doing much else that half. A free-kick was won in Husband range, but Wallace hit it straight of the wall and that was pretty much that. Still, the Pars believe they can win late, although they would have to score at the "wrong" end to do so.

Half time: Pars 1 Blues 1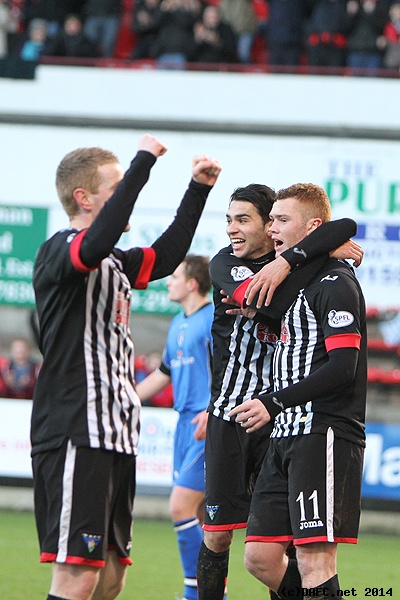 Ryan Thomson celebrates with Faissal El Bakhtaoui.
| | |
| --- | --- |
| | Ryan Williamson v Andrew Stirling. |
The second half got under way with no changes to either side. There was nearly an awkward moment when the referee got in the way of Falkingham's clearance, the ball breaking for Stranraer at the edge of the area, but the position was defended before the situation got really embarrassing for the official. However, the Pars only had themselves to blame when they failed to defend a free-kick, McKeown getting a free header 6 yards out and planting the ball past Scully.

Dunfermline Athletic 1 Stranraer 2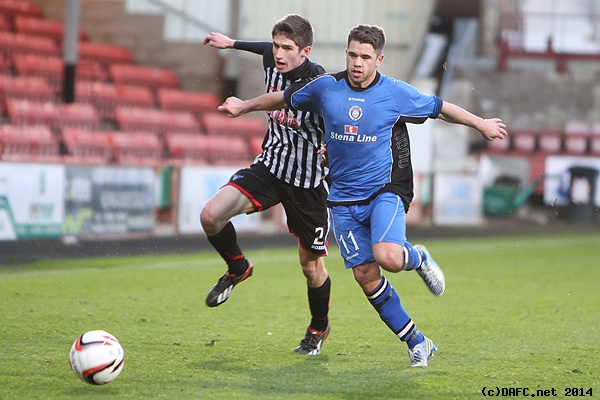 Ryan Williamson v Andrew Stirling.
The Pars soon equalised again; Wallace and Williamson combined to get little bit of space, the former crossing to the back post where Geggan arrived to head the ball back the way it had come and Byrne shot in off the defender, the ball looping over Mitchell.

Dunfermline Athletic 2 Stranraer 2


Again it was noticeable that Dunfermline were trying very hard not to hit the long ball, but instead to build from the back. However, this meant a lot of square passing to and from Young and Martin and then back to Scully, with little progress being made.

On came Shankland for his first appearance, replacing Thomson with about half an hour to go but this made no immediate difference. Indeed, the new boy didn't get a touch for more than 5 minutes, but when it did come, he nearly got a goal, bringing the ball down in midfield, laying off to Drummond, before haring into the box and only just failing to get his forehead to the return cross.

His debut goal wasn't long delayed though. Wallace cut in from the left, past one player and then another, but the opening for a shot didn't appear, and he passed back to Drummond. He picked out Falkingham in a central position 25 yards out, Josh cracked in a shot that must have swerved a bit because Mitchell couldn't hold it and Shankland was on hand to poke the ball home from close range to put the Pars ahead for the first time in the match.

Dunfermline Athletic 3 Stranraer 2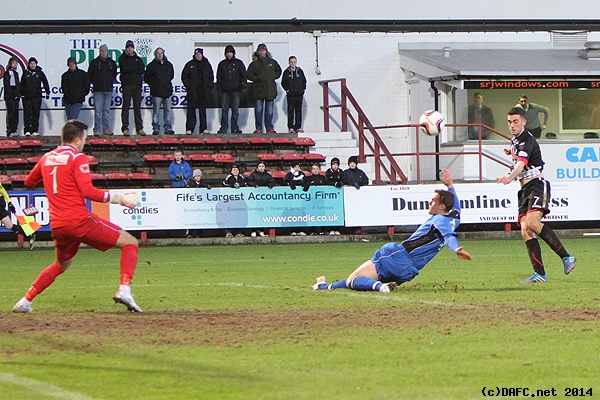 Shaun Byrne equalises to make it 2-2! (1of2)
| | |
| --- | --- |
| | Shaun Byrne equalises to make it 2-2! (2of2) |
Husband came on for Wallace as the Pars sought to close out the game, but things were made a lot harder when El Bakhtaoui needlessly got himself sent off, getting embroiled on the deck with Bell, lashing out as he tried to regain his feet after being fouled.

That left about 7 minutes left to go plus stoppage time. Shankland and Husband seemed to spend an age holding up the ball in the bottom corner, but they couldn't keep the ball there for ever and Stranraer had the chance to launch the ball long. McKenna was moved forward and three times the ball was played into the Pars' penalty box as the referee found four minutes of stoppage time, and three times the Pars could only half clear. Back came the ball for a fourth time, but this time the linesman's flag was up for offside, and the Pars had the points.


Final Score: Dunfermline Athletic 3 Stranraer 2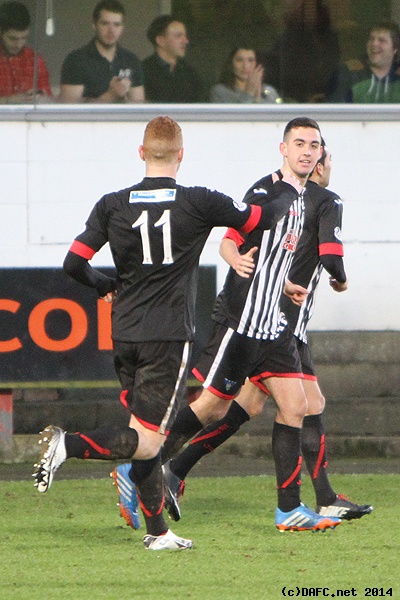 Shaun Byrne celebrates with Ryan Thomson.
| | |
| --- | --- |
| | Lawrence Shankland makes it 3-2! |
There wasn't a lot between the teams and the Pars did well once more to eke out the result. Stranraer have their best team for a generation or more, a hard-working bunch of players that don't give much away, have a goal threat in Grehan and Longworth, and Bell seems to be managing his injury well. As for the Pars, there was a touch of déjà vu all over again about this, with poor defending of set pieces being costly. As ever, the signing of a new striker always fills one with hope – we didn't see much of Shankland but he has a bit more height and pace about him, and possibly the predatory instinct needed. Faissal had some nice flicks, but let himself and everyone else down with his sending-off, Wallace and Byrne look a little jaded, Drummond puts in a good ball, but seemed to misjudge high balls in his direction, and Martin continues to impress. No doubt there will be a couple of changes next week as the Pars try to consolidate their second place.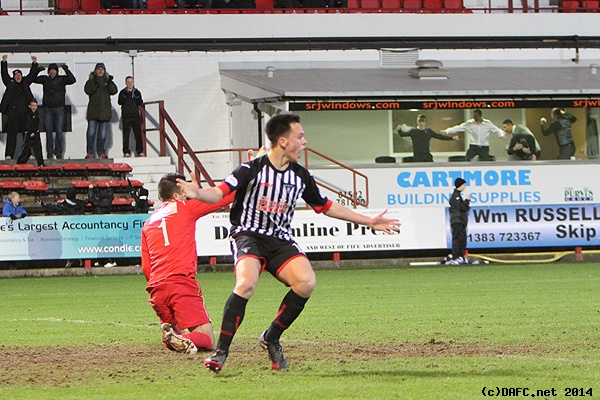 Lawrence Shankland celebrates his goal on his debut!
---
DAFC.net Man Of The Match: Josh Falkingham
---
Choose your Man Of The Match
Dunfermline_Athletic: Ryan Scully, Ryan Williamson, Ross Drummond, Lewis Martin, Kerr Young, Andy Geggan, Shaun Byrne, Faissal El Bakhtaoui, Ryan Wallace (Stephen, Husband, 80), Josh Falkingham, Ryan Thomson (Lawrence Shankland, 63)
Subs (not used): Jordan Moore, Chris Kane, Allan Smith, Ross, Millen Ryan Goodfellow
Stranraer: David Mitchell, Scott Robertson, Mark Docherty, Scott Rumsby, Frank McKeown, Steven Bell, Sean Winter, Grant Gallagher (Trialist, 81), Martin Grehan, (David McKenna, 71) Jamie Longworth, Andrew Stirling
Subs (not used): Chris Fahey, David MacGregor, Lloyd Kinnaird, Ryan Borris,
| | Dunfermline_Athletic | Stranraer |
| --- | --- | --- |
| Shots on | 9 | 4 |
| Shots off | 3 | 1 |
| Corners | 8 | 2 |
| Offside | 1 | 4 |
| Fouls conceded | 11 | 12 |
| Possession | | |
Views: 5756