---
---

A minutes silence for great Pars servant Joe Nelson.
Dunfermline Athletic 3 Ayr United 0
By Alistair Campbell - Mon, 24th Feb 2014
Photos by Neil Farrell & Calum Farrell
The recent new signings were again to the fore as the Pars ran out comfortable winners in a game that saw a perfectly observed minute's silence in memory of Joe Nelson. Both sides spurned very early chances to open the scoring but after Ross Forbes found the back of the net with a superb strike in 8 minutes the Pars never looked back. Lawrence Shankland tapped home from close range right on half-time before sealing the win late on crashing home a shot after running onto Forbes' pass.
Dunfermline Athletic
Forbes (8)
Shankland (45,78)

3 v 0

Shankland (70)
Morris (85)

Hunter (59)
McLaughlin (61)
Kyle (79)
Marenghi (81)
Malcolm (83)

Ref: George Salmond
Crowd: 2773 Position: 2nd
Click on Logos or Team Names to visit other sites or reports
| | |
| --- | --- |
| | A minutes silence for great Pars servant Joe Nelson who has sadly passed away. |
With a youth cup-tie and a midweek game in the offing, Jim Jefferies took the opportunity ring the changes to the team that had fought back to win at Forfar, resting Ryan Williamson, Lewis Martin and Ryan Wallace. Into the side instead came Lawrence Shankland, Ross Millen and Stephen Husband as the Pars lined up with four at the back and a diamond four in midfield. Scully was in goals of course, and flanking the centre-back paring of Page and Morris were Millen and Grainger as more orthodox full backs. Stephen Husband was at base in front of the back four, with Falkingham to his right and Geggan, who retained the skipper's arm-band, to his left. Ross Forbes was "in the hole", behind the front pairing of El Bakhtaoui and Shankland.

That meant there was plenty talent on the bench – Goodfellow as back-up keeper, Williamson for right back, Whittle for left back, Martin as centre-back, Byrne for midfield, Moore as a striker, and Wallace as a spare front man or to provide width as required.

Ayr went with a 3-5-2, but with their main threat Michael Moffatt sitting this one out courtesy of his betting related ban, it was anticipated that they might lack a little potency. The experienced Kevin Kyle was still there to lead the line, however.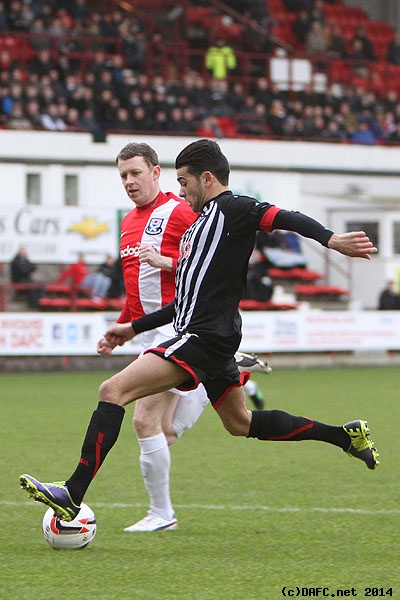 Faissal El Bakhtaoui v Scott McLaughlin.
| | |
| --- | --- |
| Ross Forbes opens the scoring with this effort. | |
After a tribute to Joe Nelson was read out over the tannoy, there was a minute's silence, impeccably observed as you might have thought. Scott McLaughlin won the toss and chose to kick the right way, meaning the Pars kicked off and within seconds Shankland nearly had a shooting chance, but Falkingham's pass was a little heavy. Ayr raced to the other end where Malcolm may have done better than shoot straight at Scully.

Forrest too had a good chance, but just dwelled a little allowing Geggan to block. Next we saw El Bakhtaoui use his pace to outstrip the Ayr defence but just when you thought he would score another early goal, he pushed his shot wide. However, the goal soon came – Morris seemed to bang in the back of Kyle, but referee Salmond played on, Morris fed Forbes and he turned and lashed a left foot shot in at Hutton's left hand post from 30 yards out.

Dunfermline Athletic 1 Ayr United 0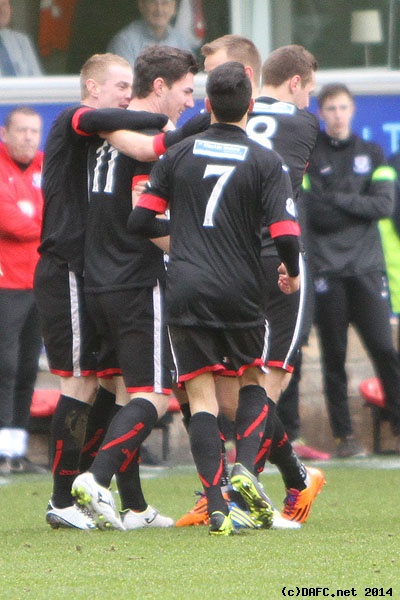 Ross Forbes celebrates his goal!
| | |
| --- | --- |
| | My two favourite Berts! |
That settled the Pars down, and they should have had a second midway through the half. The lively El Bakhtaoui turned and hit the byeline, but Shankland opened his body a little too much and diverted the ball past the far post, when any decent contact would surely have scored.

The Pars continued to look the likelier side – Forbes was on the corners from the right, and he picked out Morris shortly after, but his header was blocked, before, in what looked like a move from the training ground, Millen, from the other wing, found the run of Husband, but he sent his header narrowly past the post.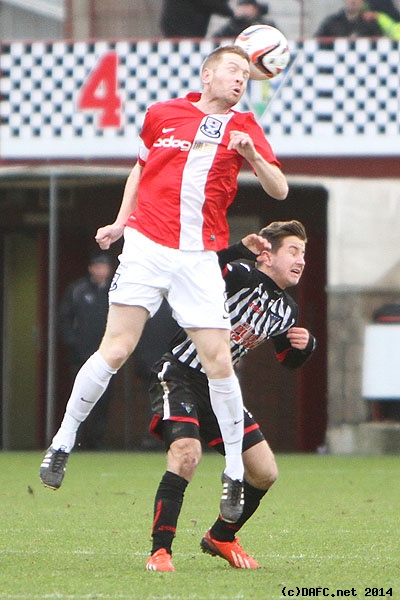 Josh Falkinham v Craig Malcolm.
| | |
| --- | --- |
| | Jonathon Page v Kevin Kyle. |
We weren't seeing that much from Ayr – they were not resorting to the long ball so much, as they tried to play football, but with little joy. However, in 34 minutes, a corner was cleared to Crawford, and his volley skewed wide, only for Donald to find himself in the way, and his quick header just evaded the far post.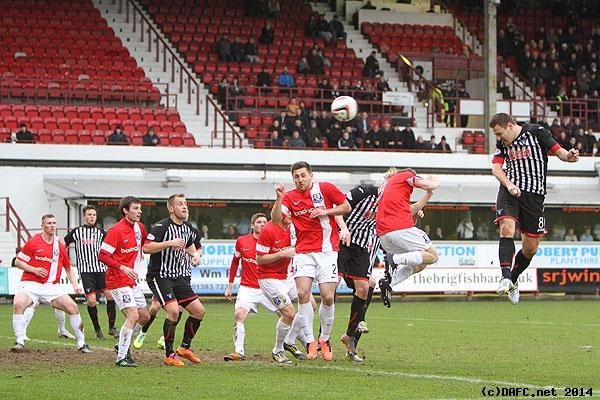 Stephen Husband goes wide with this free header.
| | |
| --- | --- |
| | Ross Forbes sets up the second goal with this effort. |
Morris and Page seemed to be gelling well, with just one brief moment of understanding, but they managed to clear that up with a little help, before the Pars doubled their lead right at the break. A Husband free-kick into the box was only half-cleared as far as Forbes. He took a touch, turned and decided on another shot. That hit the post, and rolled along the line. It may have gone in off the far post, but Shankland did the sensible thing and poked the ball over the line, crashing into the post himself.

Half time: Pars 2 Honest Men 0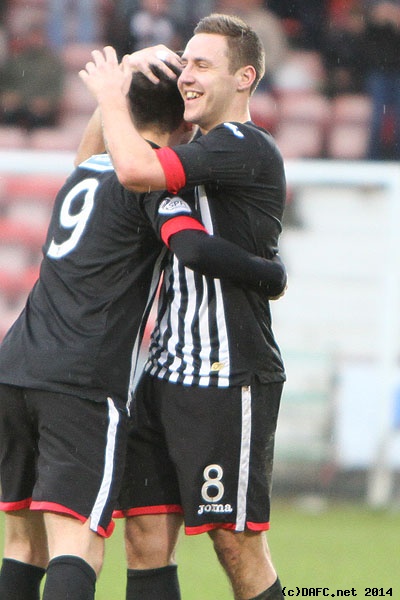 Lawrence Shankland celebrates making it 2-0 just before the break.
| | |
| --- | --- |
| | Andy Geggan v Robbie Crawford. |
There was a slight delay in restarting as Donald was late in taking the field, but we were underway eventually with Ayr understandably adopting a more direct approach. However, although Kyle got some joy, the Pars were winning plenty of second ball. The visitors did threaten briefly: Crawford again shot straight at Scully, before the keeper flapped a little at a ball from the wing, but managed to capture the loose ball himself.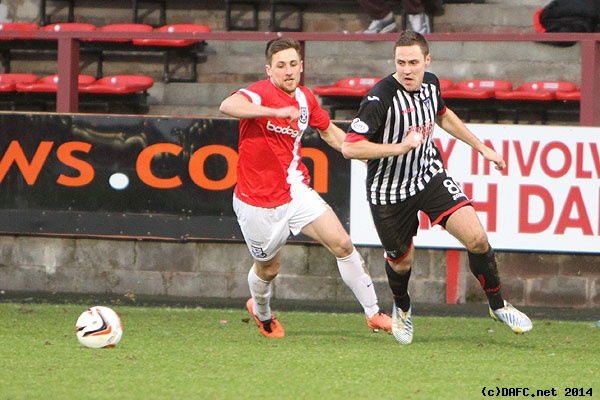 Stephen Husband v Adam Hunter.
| | |
| --- | --- |
| | Stephen Husband in action. |
The Pars only had a Forbes free-kick which landed on the roof of the net to show for their efforts this half, but began to exert more control. Geggan burst forward and looked to play in Shankland, but as he was bundled over had to pass to Grainger instead; the full-back got into the box but over-ran the ball and had to settle for a corner.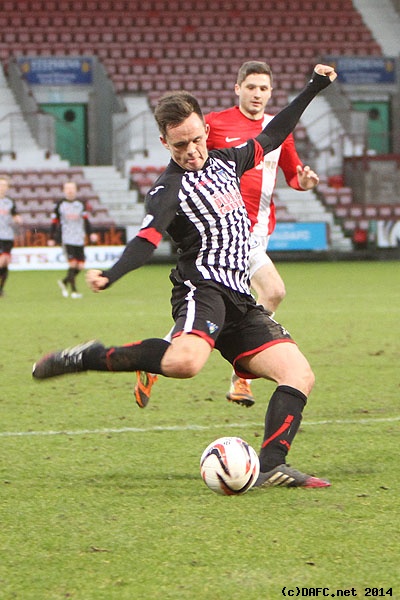 Lawrence Shankland make it 3-0 with this effort!
| | |
| --- | --- |
| | Lawrence Shankland wraps up the game! |
Forbes hit another fine shot, narrowly off target before El Bakhtaoui had the ball in the net after being set free by a Forbes nutmeg, but Hutton rather gave up on trying to save it as the off-side flag had been raised. However, the Pars got the third goal to put the result beyond doubt. Ayr were on the attack, but when the cross came in Kyle again went down under pressure from Morris. Morris played on, fed Forbes who in turn hit a long ball for Shankland to run onto. It was 2 v 2, but Shankland ignored his better placed colleague, and crashed in a shot from the angle, and the next thing you knew the net was bulging.

Dunfermline Athletic 3 Ayr United 0.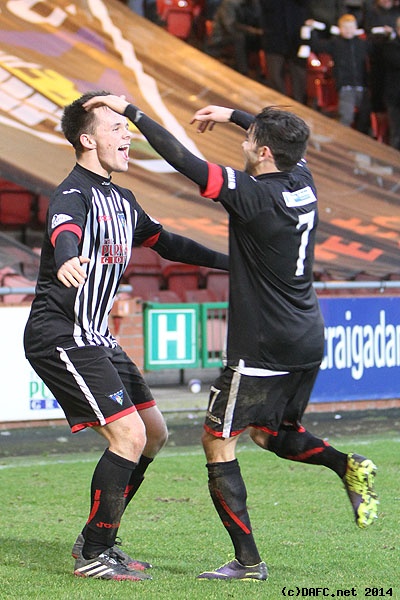 Lawrence Shankland celebrates with Faissal El Bakhtaoui!
| | |
| --- | --- |
| | Lawrence Shankland celebrates with Faissal El Bakhtaoui! |
Now it was time for some players to get a brief run – Wallace came on for El Bakhtaoui, and Byrne and Whittle came on for Forbes and Husband, Whittle eventually playing left mid-field and with the Pars well in control the match concluded.

Final Score: Dunfermline Athletic 3 Ayr United 0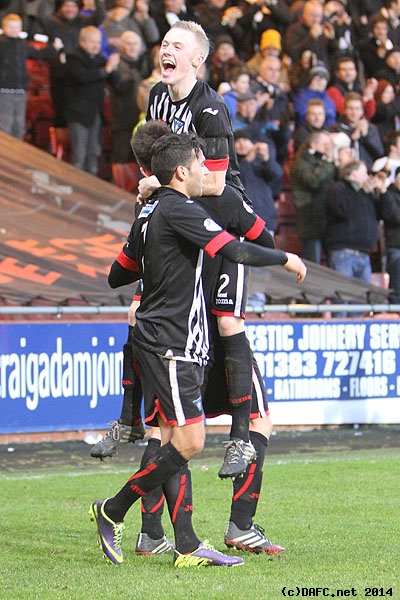 Pars celebrate the third goal!
| | |
| --- | --- |
| | Jim Jeffries applauding the support. |
The scoreline is a reasonable reflection of the balance of play. The Pars had this under control from early on after Forbes' superb strike and thereafter never looked like doing anything daft. Forbes strolled through this game, looking like first team player making a comeback in the reserves; Shankland again showed his eye for goal, Faissal looks nippy, and the fact Scully had little to do should give credit to Page and Morris.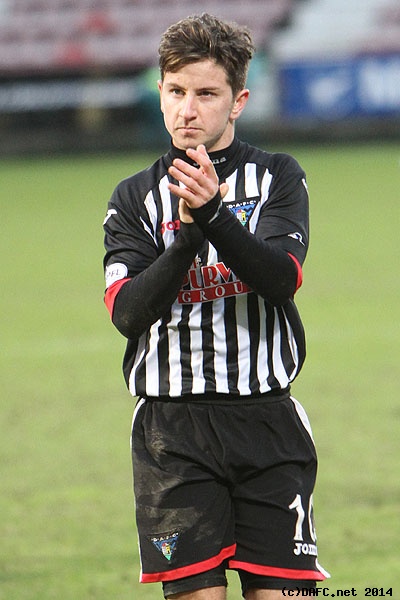 Josh Falkingham applauding the support.
---
DAFC.net Man Of The Match: Ross Forbes
---
Choose your Man Of The Match
Dunfermline_Athletic: Ryan Scully, Ross Millen, Danny Grainger, Jonathan Page, Callum Morris, Andy Geggan, Faisaal El Bakhtaoui (Ryan Wallace, 79), Stephen Husband (Shaun Byrne, 83), Lawrence Shankland, Josh Falkingham, Ross Forbes (Alex Whittle, 83)
Subs (not used): Ryan Moore, Lewis Martin, Ryan Williamson, Ryan Goodfellow
Ayr_United: David Hutton, Adam Hunter, Gordon Pope, Scott McLaughlin, Alan Lithgow, Brian Gilmour (Michael McGowan 76), Robbie Crawford (Anthony Marenghi, 76), Craig Malcolm, Alan Forrest (Mark Shankland, 67), Kevin Kyle, Michael Donald
Subs (not used): Shaun Newman, Jackson Longridge, Michael Wardrope, Mark Roberts
| | Dunfermline_Athletic | Ayr_United |
| --- | --- | --- |
| Shots on | 3 | 3 |
| Shots off | 9 | 6 |
| Corners | 9 | 7 |
| Offside | 1 | 5 |
| Fouls conceded | 15 | 12 |
| Possession | | |
Views: 5117