---
---
Dunfermline Athletic 3 Arbroath 0
By Alistair Campbell - Wed, 26th Feb 2014
Photos by Neil Farrell

Another home game, another three goals, and another three points. Arbroath came to defend in depth and hit on the break, and it took a fantastic volley from Stephen Husband to separate the sides at the interval. Forbes took advantage of slack defending to add a second on the hour mark, before Falkingham slid home a third at the back post with twenty minutes left as the Pars ultimately cruised to victory.



Dunfermline Athletic
Husband (27)
Forbes (60)
Falkingham (72)

3 v 0

Millen (37)

Travis (52)
Hamilton (63)
Nicoll (87)

Ref: Andrew Dallas
Crowd: 1983 Position: 2nd
Click on Logos or Team Names to visit other sites or reports
| | |
| --- | --- |
| | Lawrence Shankland v Alan Lithgow. |
Given it was only 3 days since they had last played (and some of the squad had also played in the under 20's Cup-tie at Ibrox) I anticipated a couple of changes to the team lines, but Jim Jefferies confounded my by going with the same eleven as had disposed of Ayr United, namely Scully in goals, Millen, Morris, Page and Grainger along the back, Husband, Geggan, Falkingham and Forbes in the middle, and Shankland and El Bakhtaoui up front. There were a couple of changes on the bench, with Ryan Thomson and Craig Dargo coming in for Wallace and Moore. However, Williamson, Martin, Byrne, Whittle and Goodellow retained their squad places.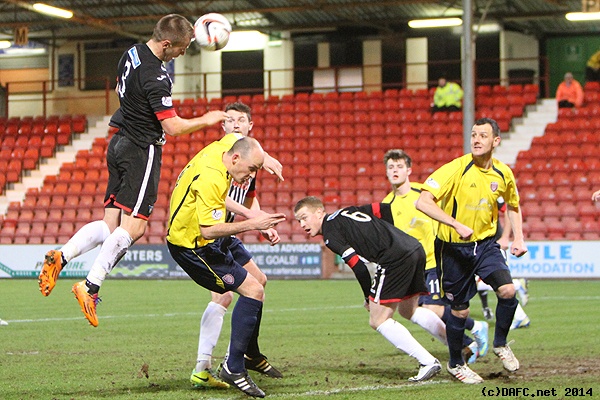 Danny Grainger in action.
| | |
| --- | --- |
| Stephen Husband opens the scoring! | |
Alex Keddie would be the most familiar face in the Arbroath side, still plying his trade at the heart of the defence, but the good doctor, Kenny Deuchar, was mounting something of a come-back and would be on the bench along with his manager Paul Sheerin.

After a slight hiatus over the absence of the official photographer, the game got underway with the visitors, in their yellow and dark blue change kit, defending the Cowdenbeath end. Defending was the key word, as they got 10 men behind the ball, looking to hit on the break. The Pars tried to be patient, working the ball backwards and forwards but occasionally losing patience and trying to hit long balls into the space in the corners.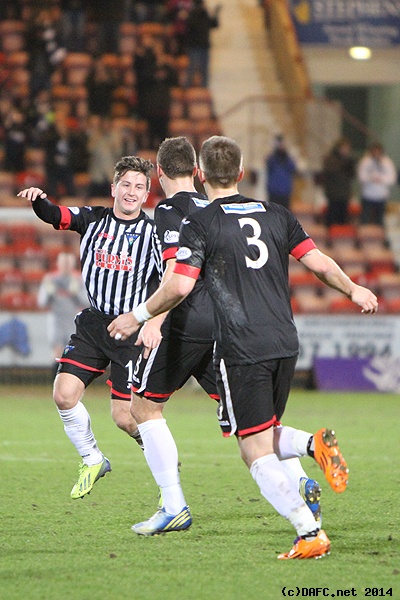 Stephen Husband celebrates with Josh Falkingham and Danny Grainger.
A couple of corners came and went without causing the visitors any concern; indeed from the second, it looked as if the Pars would suffer as Falkingham, one of the two men sitting deep, slipped leaving Arbroath to try and break. They should have had 3 v 1 but played the ball straight to Grainger and the danger was over.

Husband looked to have his shooting boots on - he had a couple of pops from distance that were well hit, but narrowly off-target. Meanwhile, Shankland had played in Falkingham but his shot was easily dealt with by Wood in the Arbroath goal.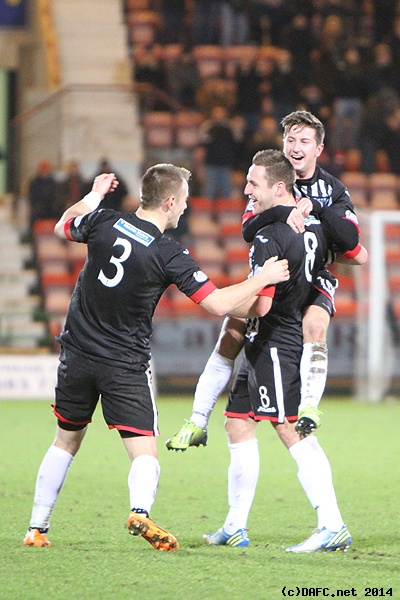 Stephen Husband celebrates with Josh Falkingham and Danny Grainger.
However, the Pars took the lead in 27 minutes, and it was worth the wait. A long cross-field ball from Forbes found Falkingham on the right and he played the ball off Hamilton to win a corner. Forbes' deep delivery was headed behind by Travers, to allow Millen to take a corner from the other wing. Wood punched this clear to the edge of the box where Husband absolutely melted the ball in the top left of the goal – yet another contender for goal of the season.

Dunfermline Athletic 1 Arbroath 0 .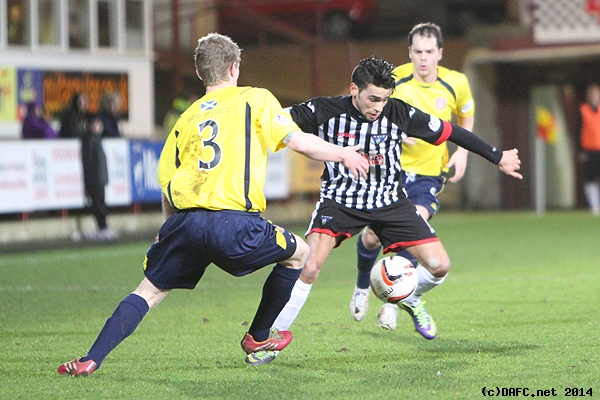 Faissal El Bakhtaoui v Colin Hamilton.
That meant Arbroath would have to come out and play a bit, but for now they were still content to stick with their game plan. Forbes disguised his intentions well in 36 minutes, hitting a shot that just failed to dip in time, before in contrast attempting a pass that was easily read by Hamilton, tempting Millen into an injudicious obstruction and yellow card.

Linn had been kept relatively quiet, but nearly wriggled through in 38 minutes, only for Morris to come across and clean up, before, with the game well into first half stoppage time, an error allowed Arbroath a good chance. Page tried to play out from the back but his pass to Geggan was too tight and McIntosh intercepted and burst through but Scully was out smartly to block the shot.

Parity would have been undeserved, but as it was, the score was:

Half time: Pars 1 Red Lichties 0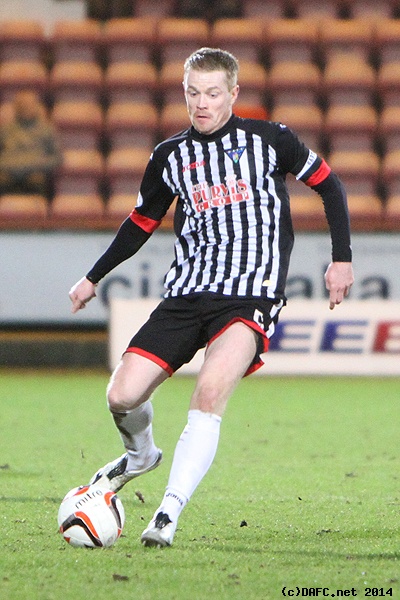 Andy Geggan.
| | |
| --- | --- |
| | Ross Forbes makes it 2-0 with this effort! |
The second half was a little dull to start with before El Bakhtaoui livened things up running on to his own overhead flick, before appearing to trip over his own feet as the chance to go all the way through was about to appear.

Another Forbes free-kick caused Wood more problems than it deserved, before Millen not unexpectedly gave way to Williamson. We were looking forward to some of his trademark runs, but before he had a chance, we had a second goal. It did come from the right wing, but it was El Bakhtaoui's ball into the middle that didn't seem up to much, but Arbroath completely failed to deal with it and Forbes blasted the loose ball into the roof of the net from 10 yards.

Dunfermline Athletic 2 Arbroath 0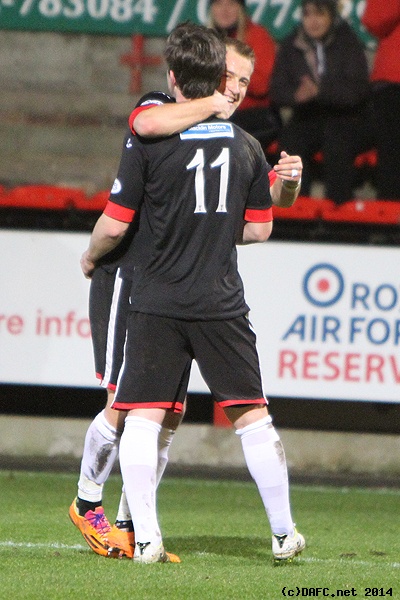 Ross Forbes celebrates with Danny Grainger!
| | |
| --- | --- |
| | Ross Williamson in action. |
With little to lose the visitors were getting forward more – Hamilton headed a cross over, before McIntosh spurned a good chance to pull one back, playing a 1-2 but his second touch took him a little wide and he blasted past Scully's left hand post.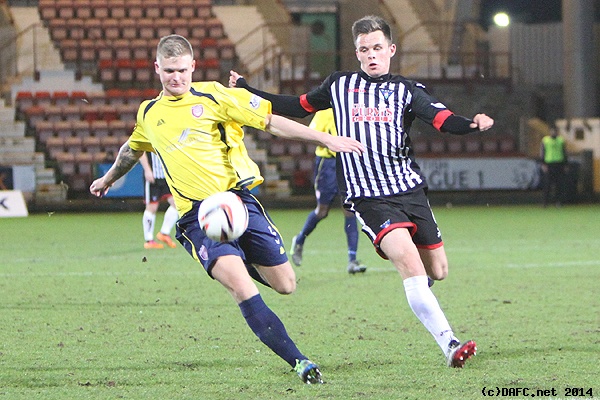 | | |
| --- | --- |
| | Josh Falkingham makes it 3-0! |
That was costly, as the Pars soon scored a third. Page played it left to Grainger, he knocked it up the line to Forbes who eased his opponent off the ball before going on to curl in a wicked ball just beyond the far post where somehow Falkingham managed to convert from a seemingly impossible angle.

Dunfermline Athletic 3 Arbroath 0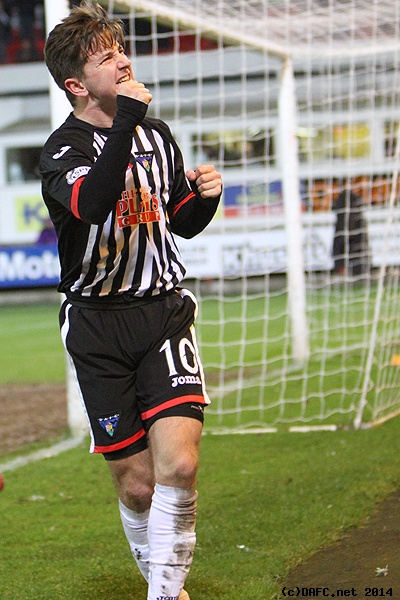 Josh Falkingham getting back to top form!
| | |
| --- | --- |
| | Faissal El Bakhtaoui v Michael Travis (5) and Alex Keddie (6). |
The usual bunch of substitutions were made – Byrne came on for Forbes, before Dargo got a rare outing, taking over from El Bakhtaoui. For the visitors, Deuchar made an appearance and with his reputation, the Pars defence was going to have to maintain concentration to keep their clean sheet.

Geggan made another powerful interception and run, but with for once no Grainger on the overlap, had to go himself, and somehow managed to fail to pick out any of the four players in the box. Williamson did the same on the other wing, stretching to cut-back as he seemed to have over-run the ball and Arbroath did their best to get one back. The Pars rode their luck at times, but just about deserved a second shut-out in a row to underline another comfortable victory.

Final Score: Dunfermline Athletic 3 Arbroath 0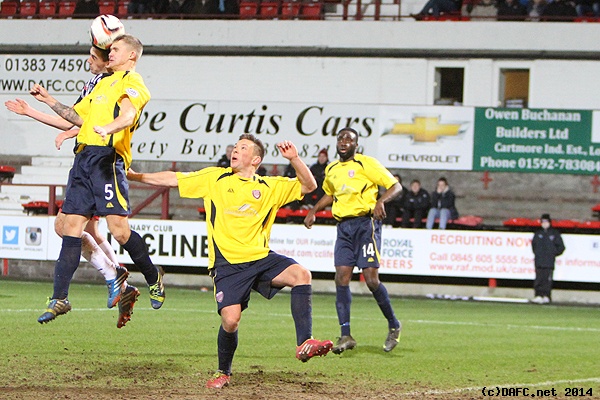 Shaun Byrne v Michael Travis.
| | |
| --- | --- |
| | Jim Jeffries applauding the supporters. |
Although Arbroath made it difficult, once the Pars got in front there was only ever going to be the one winner. The addition of Grainger and Page seems to have helped stem the concession of silly goals – Morris seems to have regained something approaching top form – possibly being paired with Page means he can concentrate on his own game rather than keep half an eye on an inexperienced (albeit promising) partner. Geggan too seems to have regained some of his bite and Falkingham will be more settled now his future is more assured. However, this wasn't the best of days for the front two; Faissal needs to make better decisions about when to try a fancy-flick, and when to just hold onto the ball, but he is an exciting prospect and the fans seem to love him. Overall, the whole team seems to be in rude health and East End Park is becoming the place to see good football.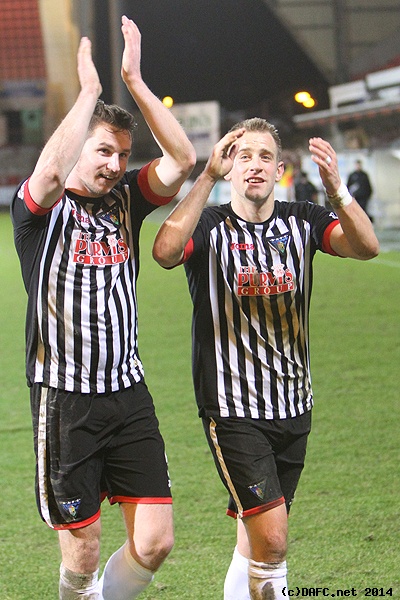 Callum Morris and Danny Grainger applauding the home support.
---
DAFC.net Man Of The Match: Stephen Husband
---
Choose your Man Of The Match
Dunfermline_Athletic: Ryan Scully, Ross Millen (Ryan Williamson, 58), Danny Grainger, Jonathan Page, Callum Morris, Andy Geggan, Faissal El Bakhtaoui (Craig Dargo, 79), Stephen Husband, Lawrence Shankland, Josh Falkingham, Ross Forbes (Shaun Byrne, 75)
Subs (not used): Ryan Goodfellow, Alex Whittle, Lewis Martin, Ryan Thomson
Arbroath: Sandy Wood, Ricky Little, Colin Hamilton, Kevin Nicoll, Michael Travis, Alex Keddie, Bobby Linn, Ross Chisholm, Leighton McIntosh (Kenny Deuchar, 72), Alan Cook (David Banjo, 57), Christopher Scott (Paul McManus, 57)
Subs (not used): Lenny Wilson, Paul Sheerin, Dayle Robertson, Lari Yao
| | Dunfermline_Athletic | Arbroath |
| --- | --- | --- |
| Shots on | 6 | 1 |
| Shots off | 8 | 4 |
| Corners | 9 | 1 |
| Offside | 3 | 5 |
| Fouls conceded | 6 | 12 |
| Possession | | |
Views: 4338