---
---
Dunfermline Athletic 0 Stenhousemuir 0
By Alistair Campbell - Sun, 9th Mar 2014
Photos by Neil Farrell

There was to be no last minute winner this time against Stenhousemuir. In fact, there was no winner at all and indeed no goals whatsoever as East End Park witnessed its first scoreless draw of the season. The Pars dominated possession but after missing a couple of early chances struggled to create clear-cut opportunities and were it not for a couple of last ditch challenges by Page and Grainger late on they could even have lost.



0 v 0

Malone (23)
Hodge (58)

Ref: Crawford Allan (Edinburgh)
Crowd: 2510 Position: 2nd
Click on Logos or Team Names to visit other sites or reports
After last week's disappointing result Jim Jefferies made a couple of changes: bringing in Ross Millen at right back and Shaun Byrne into midfield as the Pars lined up with Scully in goals, Millen, Morris, Page and Grainger along the back, a midfield four of Geggan, Husband, Byrne and Forbes, and once again El Bakhtaoui and Shankland up front.

With Falkingham and Whittle ill, and Wallace and Moore still not fully recovered from injury there were a couple of differences on the bench as well, with rare appearances (nowadays) for Spence and Dargo, along with the usual suspects of Ryans Thomson, Williamson and Goodfellow, Lewis Martin and, returning from illness, Allan Smith.

It was another Smith, Chris of that ilk, who would have all eyes on him as the former Pars keeper would expect to have a busy afternoon between the sticks. Under new manager Scott Booth, the Larbert based team's form had picked up a little, and there was plenty of experience in a team that included the likes of Stewart Greacen, Eddie Malone and David Rowson.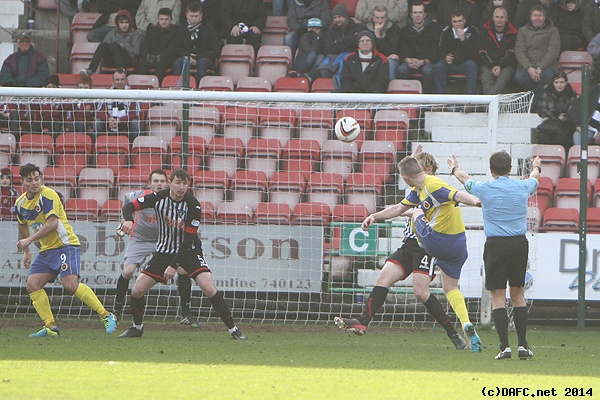 An early effort from Stenhousemuir.
There was early action at both ends after this match kicked off on a breezy day at East End Park, but that early promise soon vanished as it became clear that the visitors were intending on defending in depth.

Of course, had the Pars taken either of the early chances that they created then we might have been treated to a better spectacle. In the fifth minute Shankland spread the play left to Grainger and it was Shaun Byrne of all people who got on the end of the cross, with a diving header that hit Chris Smith more than it was saved. Four minutes later Shankland spurned a better chanced when Geggan's pass saw him through one on one but as he tried to go round the keeper he showed too much of the ball and Smith stuck out a foot to tackle.


Andy Geggan v Sean Dickson.
| | |
| --- | --- |
| | Faissal El Bakhtaoui v Nicholas Devlin (2 of 2). |
Although Devlin came forward from right back to beat a couple of players Page was in to block, and the game settled down once more with the Pars having all the possession. After his early cross Grainger looked like one of the Pars' more potent threat, and midway through the half he burst into the box on the left, only to hit the deck. It didn't look like much to me, and the referee awarded a goal kick.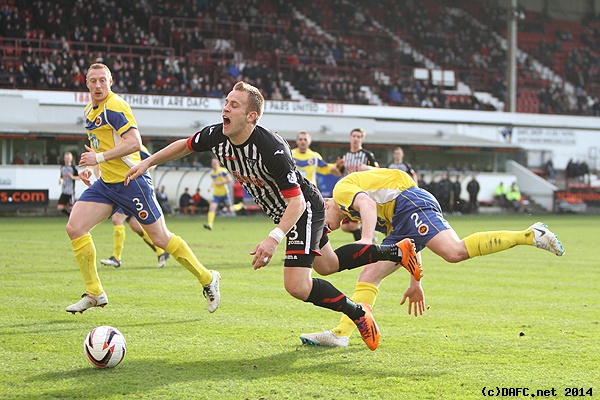 Danny Grainger v Nicholas Devlin (2 of 2).
| | |
| --- | --- |
| | Andy Geggan v Darren Smith. |
Even Husband was struggling to get a shot away, with all the players between him and the goal; he did have a go first-time from a sideways Geggan pass, and although his sclaff fell for Shankland, he was off-side. Forbes was next to have a go from a free-kick at the corner of the box, but the Warriors' defensive wall did its job.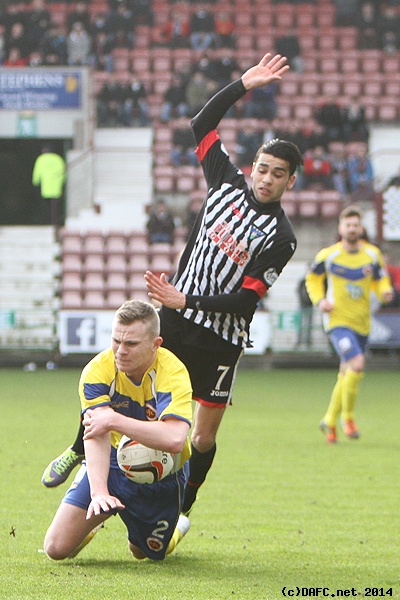 Pars v Stenhousemuir 8th March 2014. Faissal El Bakhtaoui v Nicholas Devlin (1 of 2).
| | |
| --- | --- |
| | Stephen Husband v Bryan Hodge. |
Down at the other end the visitors had a mirror-image opportunity when Byrne challenged awkwardly, Lynch getting his head to the resultant free-kick but Page cleared off Morris for a corner, from which Rowson sent a low drive narrowly wide.

It seemed that the Pars main threat was pressurising the pass-back, but Smith dealt with everything that came his way, although just before half-time, Shankland, who had not long before hit a cross shot from the angle past the far post, chased down Greacen and stuck a toe in, but his tackle-cum-shot was again the wrong side of the woodwork.

Half time: Pars 0 Warriors 0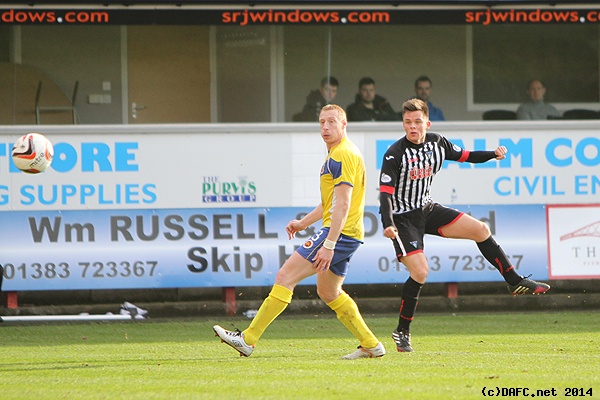 Lawrence Shankland lets fly against Stewart Greacen.
The second half was a similar story with the Pars enjoying lots of possession, but struggling to test Smith. Grainger hit a long-range effort over the top, but for all their dominance, the Pars seemed unsure whether to have a shot, or try to pass their way through the massed ranks of the Stenny defence. Forbes continued to test Smith with inswinging corners, although other than one, where the keeper got into a fankle and Shankland nearly took advantage, these were dealt with well, and for some variety Grainger put some shies into the box – Geggan flicked one on and Shankland, who is always looking to get an attempt away, headed over the top.

Both sides made switches. First Allan Smith came on for El Bakhtaoui, who had disappointed, before Jefferies made a double switch, brining on Thomson and Williamson for Shankland and Millen as they tried to find the breakthrough.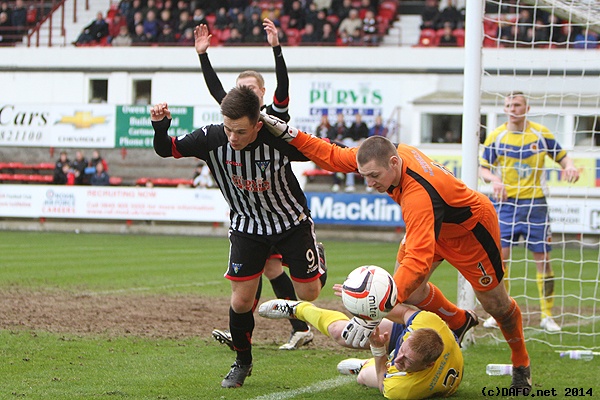 Lawrence Shankland v Chris Smith and Stewart Greacen (2 of 2).
Almost immediately Forbes' tackle broke to Thomson who was through on the keeper, but the off-side flag was up, and in any event Smith saved. Meanwhile Williamson was soon in the action defensively, coming across to clear after Darren Smith had got away from Grainger and put in an awkward ball.

We had just under 20 minutes left, and with Husband going down a cul-de-sac on the right, he switched play to the left. The Stenny defence had all moved in one allowing Grainger to advance and send in a tempting ball that somehow evaded all four Dunfermline men in the box.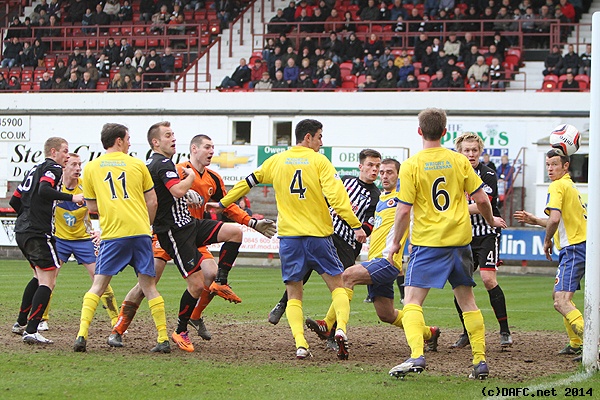 Pars effort hits the woodwork.
It was beginning to look as if it wasn't going to be the Pars' day when a short corner prompted a stramash in the box which led to Grainger shooting against the post, but things could have been worse. McNeill was the final Stenny sub, and almost immediately had a chance when the ball fell to him after a Page challenge on Douglas but he hurried his shot and put it wide.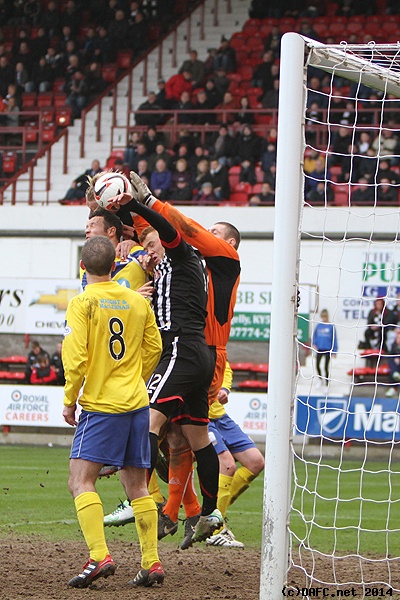 All hands up with Andy Geggan and Chris Smith.
That would have been a little bit of an injustice, but Stenhousemuir began to think they could complete the smash and grab raid and the last 5 minutes became very open, as the Pars threw more and more men forward. Page put in another last ditch challenge to deny Douglas before the Pars messed up another two opportunities. Forbes took on Greacen and beat him one and then twice, before deciding to beat him a third time, only to miscue his cross horribly. Then Grainger put in another tempting ball that Thomson back-heeled straight to the keeper.

We were now deep into stoppage time and after Byrne had raised hopes with a shooting chance from 20 yards that gave Smith no problems, the visitors came down the park right at the end, and another last ditch challenge from Grainger denied Rowson as glory beckoned.

Final Score Dunfermline Athletic 0 Stenhousemuir 0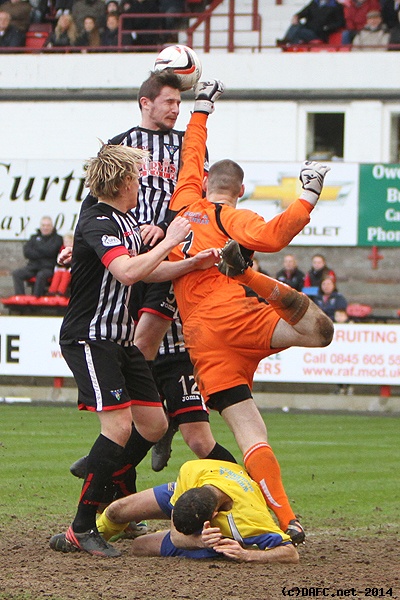 Callum Morris and Jonathon Page put pressure on Chris Smith.
| | |
| --- | --- |
| | Allan Smith v Bryan Hodge. |
This was another frustrating afternoon, and. resembled some sort of "attack v defence" training exercise at times. On the basis of this showing, it is one the Pars may need to work on, as they could have played all day without scoring. Faissal was fairly anonymous, and Allan Smith might be due a start in his stead, but I think Shankland will continue – he has an eye for goal, and will surely get a break soon. After bigging up Forbes pre-match, I was a little disappointed with his contribution – however, he and Grainger should be fully match-fit by now and there should be more to come. Still, we are a point closer to qualifying for the play-offs which is when it will really count. As for man of the match – with a clean sheet you have to consider the defence, and Page's late, but important block was as good as a goal, so he gets the dot Net fizz.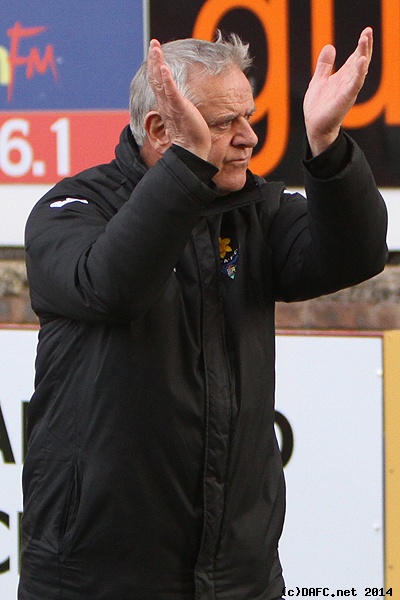 Jim Jeffries applauding the home support.
---
DAFC.net Man Of The Match: Jonathan Page
---
Choose your Man Of The Match
Dunfermline_Athletic: Ryan Scully, Ross Millen (Ryan Williamson, 67) Danny Grainger, Jonathan Page, Callum Morris, Andy Geggan (c), Faissal El Bakhtaoui (Allan Smith, 55), Stephen Husband, Lawrence Shankland (Ryan Thomson, 67), Shaun Byrne, Ross Forbes.
Subs (not used): Lewis Martin, Craig Dargo, Lewis Spence, Ryan Goodfellow
Stenhousemuir: Chris Smith, Nicky Devlin, Stewart Greacen, Ross McMillan, Eddie Malone, Bryan Hodge, Darren Smith (Errol Douglas 67), David Rowson, Sean Higgins, Sean Dickson,(Ross McNeil 81) Sean Lynch,(Kevin McKinlay 73) , Sean Higgins
Subs (not used): Brown Ferguson, Josh Watt, Kris Faulds, Dean Shaw
| | Dunfermline_Athletic | Stenhousemuir |
| --- | --- | --- |
| Shots on | 4 | 2 |
| Shots off | 13 | 3 |
| Corners | 10 | 4 |
| Offside | 5 | 2 |
| Fouls conceded | 11 | 10 |
| Possession | | |
Views: 3585