Comments after Hearts game
Author: Brian Date: Monday, 18th Nov 2002

After the second game in a row the Pars came from behind to win all 3 points. Jimmy Calderwood was delighted.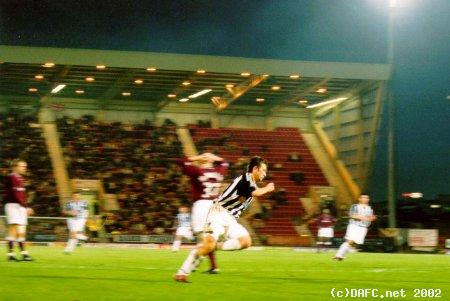 Jimmy Calderwood
For the first hour we didn`t really play, Hearts are a very difficult team to play against. I thought they dominated for a while, they could have got a penalty with big Scottie Wilson, he slipped in the box. We also could have got one but Scott`s was more obvious.

We got that wee break. I said to the boys we`ve got to start playing that`s our basics, we didn`t start playing until we were 1-0 behind. Severin scored a great goal, thats another goal against us he`s done that a few times. All credit to my players they`ve come back, and we got the break.

Barry is a good striker of the ball as he showed earlier on in the week, good strike. The second goal, a great ball from Scott Wilson 70 yds a great touch from big Lee, shows why he used to be a striker, or he might still be !

What can I say about Crawford, the finishing ! magnificent, his confidence is so high, as it has been all season, he`s finished it himself.

It`s been a great week, two great teams, 2-0 against Dundee after 20 minutes and 1-0 down today at home to Hearts who have lost only 1 away game all season.

It was such an important game for us. Last year we got 26 points last year after 22 games so we`ve improved a wee bit, we`ll just keep plugging away.

December is normally a good month for us 5 games at home and 3 away. AND there is no Rangers or Celtic [at home] so we`re hoping to keep this run going. It gives us a bit of breathing space so anything you get at Ibrox is a bonus. We have Hibs in 2 weeks so it may be 3rd and 4th again.

[when asked about Europe] don`t get me wrong, we`ve got the ambition to do it, I don`t know if we`re going to be good enough, you saw the first half today we didn`t do it justice, its new for the players also, so they have to get used to it. Hearts made it very very difficult, we didn`t play as well as we should have, but we deserved to win in the end. Scott [Thomson] has a sore shoulder so we`ll see how it goes next week.
Jason Dair
we had a good second half performance, but we were disappointed to go 1 down, but like the game against Dundee we had great fighting spirit, great 3 points.

Recently we`ve gone ahead first then drawn but I`m not bothered how we win the game, if we lose a goal we know we can fight back. It`s been a great week, on the park at 1-0 down it didn`t bother us the players were capable of creating chances. It was a great equaliser, don`t see why we can`t keep this run going, we`ve played everybody at least once, its a long time since anybody has taken points [outside OF] from East End Park. If we keep nicking the points away from home we`ll do OK.

[also asked about Europe] Yes, I`ve played in Europe few times, distant memory now !! hopefully we can get a few more under our belt. At Dundee even at 2-0 down we knew we could pull back, its a good feeling to know that we can pull back. We`re all high in confidence, but its difficult to go to Ibrox at the best of times but we`ll see what we can do.

Derek Stillie
That was a massive game for us, our closest challengers, we were looking to consolidate and get 3 points and in the way we got it playing so well in the second half , its brilliant, yes I got a confidence boost from Wales save early on.

[asked if he was nervous prior to game] the team are playing well and we have some good players so that really helps makes it that much easier when you come in. Of course your always nervous before a game but once your on the park that dissapears.

We were disappointed in the first half as we didn`t do ourselves justice, the way we`ve been playing we know can play better, we lost the goal but we got one back soon after.

I had a good save in second half which was the turning point in the game, it was 1-1 at the time, we went on from that to get the 2 goals. Valois shot was over my head I don`t know who cut it back, so I thought I had to do something, I was aware that De Vries was coming in, don`t know who else was there it was all I could do to get a hand on it, sometimes it falls for you, it fell to Valois he didn`t manage to convert.

I want to play every week, but its not in my hands, Marco has a groin strain, yes I`d like to play at Ibrox but we`ll see what happens next week.

Lee Bullen
6 points and a baby girl, its been a good week. (daughter Jode born on Thursday). I was back in training on Saturday. I just hope Kerry set the video ! it was one of them, bounced up for me perfectly and you have to have a go at it, lucky for me it absolutely flew in, I`m quite happy with that [understatement Lee!]

I got to see it on the TV after the game. it was a perfect pass from Scott who pointed to where he was going to put it, they were shouting it was offside but don`t think it was - I`m not going to worry of it. first touch was decent it was one to be proud of.

[when asked about which position he prefers] To be honest I`m preferring the position I`m playing at the moment, I know its going to be heck of a difficult breaking up the front two !! I`m really happy playing where I am wing-back, I`m learning every game, it was a wee bit sticky at the beginning of the season. I`m learning runs and positional sense, so I`m really enjoying it now.

[the manger says he`s not sure if we can make that European spot, are you good enough] potentially we do, but last few seasons our form then let us down. But this season, especially our away form, has picked up which a lot of people have written about. I have to agree with the manager, we have to prove to ourselves and our fans, there`s always that doubt at the back of your mind, but the way things are going if we keep everybody fit and that means the whole squad. Its difficult for players to be dropped but its good for the manager who has a pool of players to pick, we still have to prove it so its far too early to be thinking of it. We`ll just get our heads down and battle away until the last 3 or 4 games and see how we are then. Don`t want to talk about Europe as it can always fall back on you, we have to keep our heads.

We`re now coming back from behind so its given us confidence, Severin goal as good as it was but it did give us a kick up the backside, so luckily we pulled back. Derek has come in and make a good save. But we went up the park to get the goal, Hearts come back at us, all their big lads, you`ve got to be on your toes, and I was delighted to see Stevie put that third one that killed the game, up until that point Hearts were still in it. you saw a few weeks ago at Easter road, they were always capable of getting back.

That was my first goal against Hearts, my Dad is a long term Jambo, I`m sure he`ll be delighted.

What with Motherwell going into administration, Hearts selling players, Dunfermline pushing on and bringing in players, the Hotel, Stadium, training ground, it keeps a good buzz around the place, theres no doom and gloom, its all positive at Dunfermline at the moment.

Craig Levein
thought we played OK, turning point was the defelcted goal when we looked fairly comfortable. its a mistake, talked to the players after the game and it was difficult to be hard on them.

We had a couple of mistakes and we got punished for them. until first goal, Stamp was injured he was the guy who was controlling midfield, Severin played well, felt comfortable at 1-0, all credit to Dunfermline.

Didn`t get a penalty (whether it was or not) disappointed to lose the points, get people back from injury five points isn`t an insurmountable amount. one we changed at 2-1 then it was a different story. they came into their own once we had forced changes, another day who knows we might have won the game. todays wasn`t too many mistakes, the players will learn from today. I can`t be critical of the players.
Related Stories


views: 3,898