Dunfermline Athletic 1-0 Hearts
Date: Saturday, 3rd Feb 2007

Ever since beating Rangers in the 3rd Round Dunfermline fans were quietly confident about overcoming last years winners Hearts but they left it so so late !
As has been the customary experience with Hearts in the last two seasons that the team sheet news was likely to be great talking point and today was no exception. With Pressley recently bumped out to Celtic and Hartley also joining Celtic on the last day of the transfer window, it was a expected surprise to see Craig Gordon`s name listed as a sub.

Great news for the Pars fans, but the 5,200 Jambo`s that turned up must be furious, and every time Gordon came out to exercise during the game they let it be known by their loud cheers of support.

Injuries Greg Shields (hamstring) and Scott Muirhead (knee injury) keep them out but Stephen Glass who was on the bench for Hibs in the previous round, but never played was forced to sit it out as he was cup tied (SPL rules).

Jim Hamilton dropped to the bench with Mark Burchill, Greg Ross, Adam Hamill and Scott Morrison all coming into the starting eleven.

New loan-signing Stephen Glass is cup-tied even although he did not come off the bench for Hibernian in the last round!

Phil McGuire is hopefull of making it after picking up a groin strain at Tannadice last Saturday.
With the late start of the game the ref Mike McCurry must have forgotton to perform the 30-second applause for the passing away of former club secretary and honorary director Jimmy McConville.

Once the game started Hearts attacked quickly and forced several corners within the first few minutes, obviously hoping to catch Dunfermline cold, but fortunately on this occassion the Pars defence were on their toes.

Mikoliunas is tackled in the box by Scott Wilson and there were the usual cries of penalty from the visitors, but Mike McCurry rightly ignored them.

In the first 15 minutes, Hearts turn the pressure on the home team with several jaunts upfield although they rarely troubled De Vries while the Pars managed to push forward but were really unable to breach the Hearts defence, so in defence of Ivanauskas choice of keeper it did not make any difference !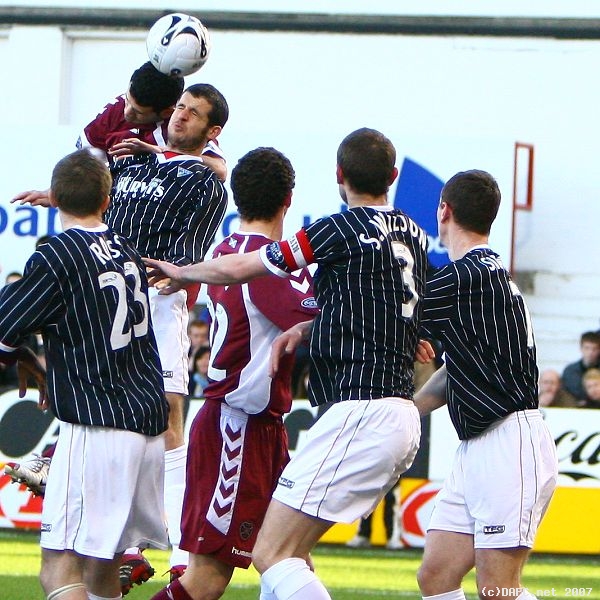 It took the Pars until the 17th minute to force their first corner with good play from Ross and Crawford working with nicely with O`Brien. Morrisons cross finds Burchill in the box but his header goes high.

Now the game was going through a spell where both sides began to match each other with end to end play (but both sides rarely troubling their opposing keeper).

However, in the 29th minute where Driver pole-axed Ross on the half-way line and McGuire comes steaming in to take issue with him. The officials are quick to break it up and Driver is booked, but on other occassions a red card would have been issued. Hearts were clearly getting rattled as Dunfermline were certainly not lying down to last seasons Scottish Cup Holders, who in all honesty needed extra time and penalties to beat a second division side.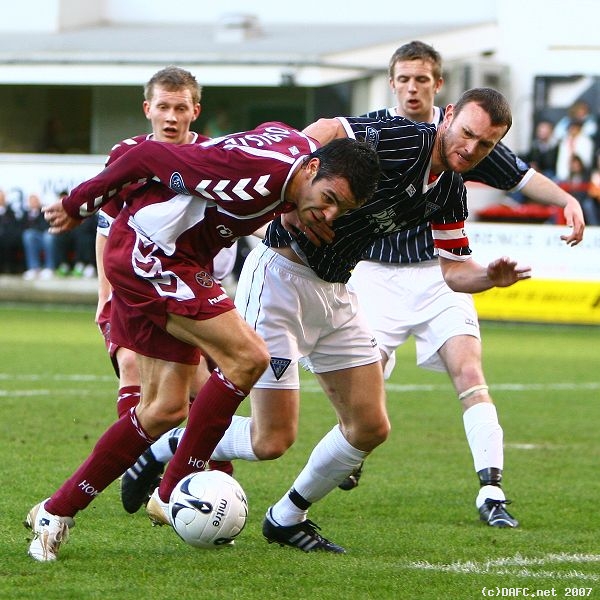 Dunfermline now start to play better and are able to start putting some passes together with the Pars midfield of O`Brien, Mason, Simmons and Hammill starting to get their mark and matching Hearts in midfield and getting them extremely frustrated. Although it has to be said that once the ball goes forward Crawford and Burchill are not getting the ball cleanly and unable to test Gordon`s understudy Banks.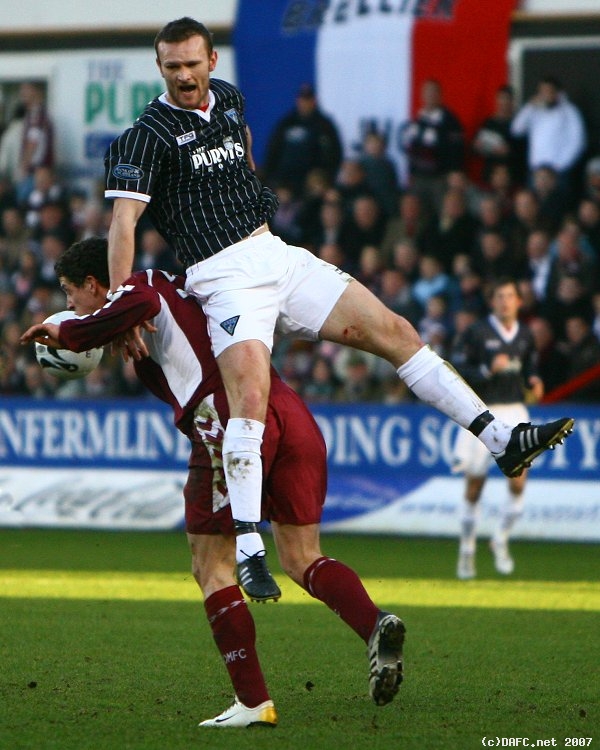 McCurry and his officials were givign some strange decisions at times although nothing too major, just simple thing. For example, Scott Wilson was adjudged to have fouled but he believed he was innocent and started to object to the Ref.

However, McGuire was quick to try and defuse the situation with his captain and tried to get him away. For some strange reason McCurry booked McGuire for what we can only guess as dissent which is very far from the truth as he was only trying to calm things down.

The free kick came to nothing and play raced up to the Pars half but De Vries easily catching the ball. A quick kick out and long ball forward over the Hearts defence saw Burchill running through but again McCurry`s assistant flagged for offside which clearly infuriated Burchill as he trully felt he was on-side.

Hearts had one free kick from 25 yards but the low shot produced a corner but the Pars survive to go in at half time level.
Half Time: Dunfermline 0-0 Hearts


Hearts come out of the blocks again hoping to get a quick goal, with Elliot getting a nice cross in to Pospisil, who for once doesn`t score.

McGuire is then upended by Kingston as he charges forward and a free kick for the Pars inside Hearts half. O`Brien sends it into the box and a clear push is ignored by the McCurry as Hearts head clear.

A few minutes later Pospisil gets a shot away but easily held by De Vries. Wilson is doing his captains role steadfastly and stands firm in the middle of defence as he has done the whole game, first booting the ball unceremoniously clear and then winning the header next time Hearts came down the field.

Hammil had a long shot which worried Banks.

In 56 mins Dunfermline survive a great attack by Hearts with
McGuire clearing off the line, and with Hearts finding a good spell they could easily have scored in one of several chances but De Vries is perhaps showing why he should be the Pars first-choice keeper with a string of excellent saves.




views: 4,024