Dunfermline Athletic 2
Queen Of The South 1
Date: Saturday, 9th Aug 2008

Dunfermline showed their good and bad sides in equal measure, as a poor first half was followed by a barn storming second and a double from Andy Kirk.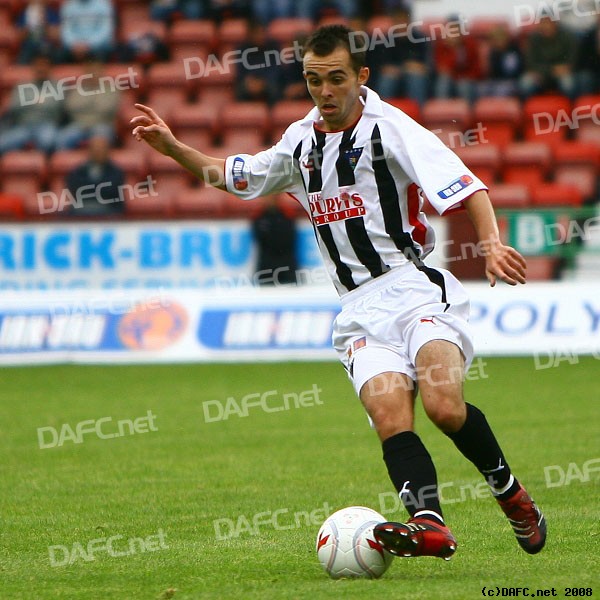 There were no changes to the winning team that travelled up to Peterhead on Tuesday night in the CIS League Cup. Paul Gallacher between the sticks, with a defence of Greg Shields, Scott Wilson, Scott Thomson and Austin McCann.

The midfield saw Kevin Harper, Nicky Phinn, Alex Burke and Stephen Glass. Graham Bayne and Andy Kirk continued to develop their strike partnership up front.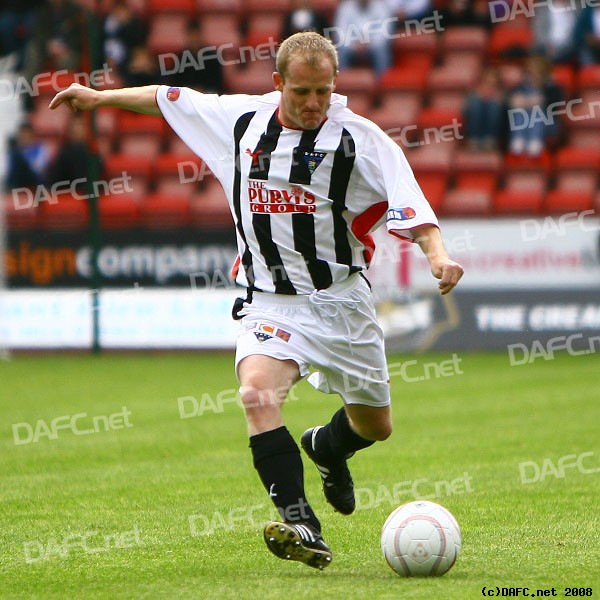 The game was kicked off by the visitors who were first to have an effort at goal, Kean having a long range effort that never troubled Gallacher.

Before long, Queens were dominating the game and Dunfermline were not having much of a look in. The warnings were not heeded as ex St Mirren striker Kean, linked for a move to Dunfermline earlier in the summer, broke the deadlock and slotted home with relative ease. Scott Thomson was injured in the process of trying to stop Kean and ended up going off the park to be replaced by Callum Woods.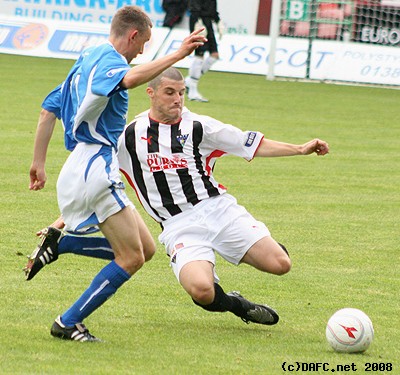 1-0 Queens and no less than they deserved at the time.

Dunfermline created little else as the half time whistle came as a relief more than anything else. There was only one team at the races and unfortunately it was not The Pars....

The home crowd could only assume that the dressing room would have some rather choice comments from Jim McIntyre during the break, and the side could surely not play as badly in the second half?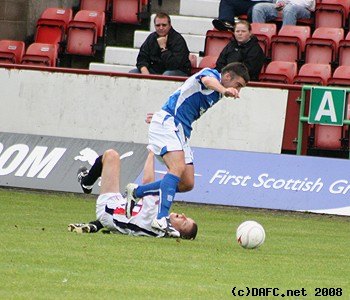 Before long, Bayne and Kirk seemed to just click and the former was winning what seemed like every ball that came his way.

Alex Burke was also doing a power of work behind the front men, and it was his pass to Kirk that finally brought Dunfermline back into the game.

Kirk`s home debut was to prove a fruitful one as the Northern Ireland international struck a sweet shot from all of 25 yards that beat former Pars keeper Bryn Halliwell. 1-1 and the atmosphere changed from doom and gloom to one of optimism! Pars fans behind the goal confirmed that Halliwell should have done better, but there were no complaints about that.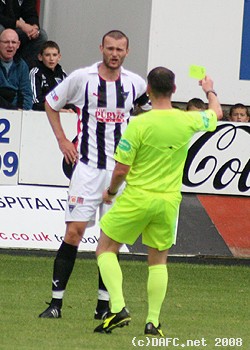 Kirk then attempted to double his tally with an overhead kick, but to no avail. The striker was clearly now in the mood as he then took a free kick which was not too far off the target, but ended up in the Norrie McCathie stand all the same.

He did do better with his next effort though. There did not seem to be too much danger as Kirk received the ball with his back to goal 20 yards out. One quick swivel later and the ball was drilled home with deadly aplomb. 2-1 Dunfermline and East End Park was a happy place once again!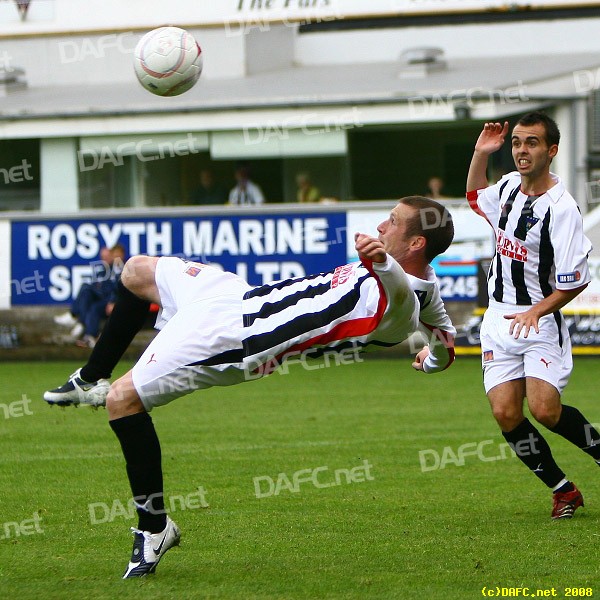 Iain Williamson came on for the relatively quiet Kevin Harper, but the youngster`s first contribution seemed to be conceding a penalty. He appeared to foul Gary Arbuckle inside the box, with the referee blowing his whistle and pointing in the general direction of the spot! However, the Ripping Yarns soundalike Arbuckle was penalised for a dive and the free kick went Dunfermline`s way.



views: 3,083