RAC Auto Windscreens New Top
Date: Thursday, 24th Oct 2002

Dunfermline Athletic Football Club players will be easy to spot this season thanks to a new vibrant away strip, ironically designed using the corporate colours of club sponsors, RAC Auto Windscreens.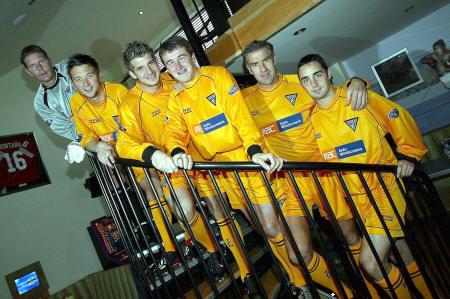 Made by TFG, the kit will be used as a substitute to the club's usual black and white strip throughout the 2002/2003 season. In bright orange with black piping, the striking design is completed with the RAC Auto Windscreens logo emblazoned on the front.

John Yorkson, Chairman of Dunfermline Athletic Football Club, comments: "We are pleased that RAC Auto Windscreens have remained our sponsors for such a long period of time and their support is greatly appreciated. We hope our partnership continues for many years to come".
RAC Auto Windscreens marketing and communications director, Richard Usher comments: "We have been sponsoring Dunfermline Athletic Football Club for over five years and have seen them go from strength to strength. We hope that this new change kit will be a good luck charm for them and bring even greater success".
The away shirt costs £39.99 and is available exclusively from our Club Shop.

Related Stories


views: 4,345