Six Half Hours, Six Goals, Six Points
Author: Stephen Meldrum Date: Monday, 16th Sep 2002

Six half hours, six goals, six points. The last week has indeed been pleasing for supporters of Dunfermline – a team who has always struggled to pick up good results away from home in recent years – because, all of an unexpected sudden, it has given them justification in travelling away from home believing that their team has a good chance of picking up a decent result.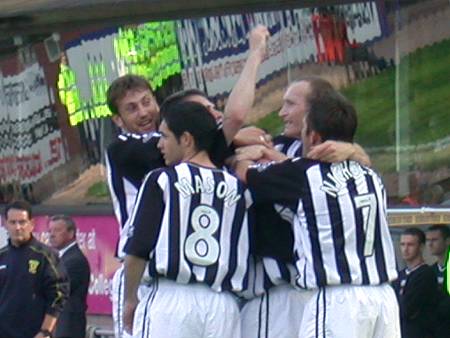 This, of course, was previously impossible for the Rennie seat- fillers because, despite the steady construction of Fortress East End Park over the past two seasons, the Fifers, before this week, had only managed three away league wins in the last thirteen months.

A sorry statistic, but things have changed. As new defender Scott Wilson commented after Saturday's match at Tannadice, the Fifers now believe that they are – for lack of an expression other than one used by the West coast media – the Best Of The Rest, and this confidence has been successfully transferred on to the pitch.

After Wednesday's Hans Christian Andersson exploits in Edinburgh, two excellent goals within the first fifteen minutes of the match at Tannadice – the first a dipping and swerving twenty- five yard shot off the outside of Gary Dempsey's left foot after a clever touch back by the industrious Brewster, and the second a well-taken effort by Crawford who was the first to react to an error in the United penalty area – made it apparent to all that the Pars are indeed a team who can go away from home and score goals.

"Crawford and Brewster" are now not only a well-known strike partnership within the Premierleague (with, as someone had the odacity to suggest on BBC Radio Scotland earlier this week, the potential for that to become the international scene), but a new song sung by Pars fans as they acknowledge the fact that this pairing – utilising the old tradition of a strong, tall number ten flicking the ball down to a more skillful and nimble number nine – can take the team places. In Saturday's case, up towards the top of the table.

Add to this an attacking midfield – including Dempsey who has two twenty-five yarders to his name this season, and Nicholson who has yet to perform as well as he knows he can – and a fair few ripples will be seen in opposition nets this year.

So, that leaves only the defence in need of mending and, as Dundee United came extremely close to showing on Saturday, that needs some prompt fixing.

For, had it not been for the heroic Ruitenbeek in the Pars goal, the six points may have been shaved down to four or, realistically, three. Because, in contrast to the the non-footballing world where the Arabs are not allowed to attack or do any shooting whatsoever, United created chance after chance after chance in the Fifers' penalty box.

However, time after time after time the Dutchman was more than adequate to deal with the tangerine efforts – firstly beating away a Steven Thompson drive after a clever slip through by Miller, then saving unorthodoxically with his feet after a deceiving shot almost put him the wrong way, and, finally, stretching acrobatically to scoop a Lauchlan header out from under the crossbar.

If he isn't named in the next Holland international squad, one can only assume that Advocaat wasn't in Dundee on Saturday.

However, despite their domination of the second half chances, it would be foolish not to remember that the score may have been even higher had Hampshire shot more powerfully when played through on Gallacher late on in the match (Crawford and Brewster had by this time both been substituted for being out of puff), or, if the referee – a Craig Thomson, presumably making his Premierleague debut – had not been so easily conned by Charlie Miller who insisted on blaming Gary Mason every time he fell flat on his face after tripping over his own seventeenth tyre.


The pies won him lots of freekicks on Saturday, but not so many friends and, happily for the Pars, absolutely no points.

And has nobody suggested to the United fans who insist on
singing about how much they hate Dundee that perhaps moving
house would be a good idea?

……………………………………
STATISTICS:

Shots On Target
Pars: 4 (2 & 2)
Utd: 7 (2 & 5)

Shots Off Target
Pars: 2 (1 & 1)
Utd: 9 (7 & 2)

Fouls Conceded
Pars: 17 (9 & 8)
Utd: 16 (7 & 9)

Offsides Against
Pars: 6 (0 & 6)
Utd: 0 (0 & 0)

Corners Won:
Pars: 5 (1 & 4)
Utd: 1 (0 & 1)
Related Stories


views: 1,966