Posted from the Android app

Topic Originator: GG Riva
Date: Thu 1 Nov 06:23

I'm well aware that many fans make a huge commitment to follow the Pars, home and away, often involving great personal sacrifice, in terms of time and money. It's perfectly understandable, therefore, that a poor result, coupled with a poor performance, provokes extreme disappointment among a section of our support and some are moved to vent their spleen during the game or on this forum.

Having said all that, it does no good to direct abuse at individual players, the manager, his assistants and members of the Board, who are all wanting and vying for the same thing we are - a winning team, playing attractive football and promotion to the Premiership.

While I would never be in favour of censorship, it would be good if some posters limited themselves to an honest assessment, rather than going over the top after every set back. e. g. "Williamson had a poor game and was at fault for the opening goal" is perfectly acceptable but "Higgy is a waste of a wage (or a wage thief)" is well out of order.

I realise this topic has been raised before and I'm probably wasting my time bringing it up again, but if it even makes one or two Pars fans think twice before hurling abuse during a game or posting it on here afterwards, it will have been worthwhile.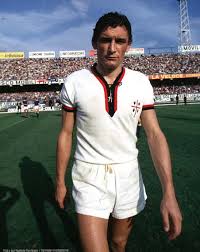 Not your average Sunday League player.