Posted from the Android app

Topic Originator: GG Riva
Date: Thu 6 Feb 11:25

With no game this Saturday or next, I've dusted down my crystal ball and had a peer inside. Things were a bit misty, so it may not turn out to be 100% accurate, but here's what I think I saw.

The Pars go on a wee run to finish 3rd behind Dundee United and ICT, with Dundee just edging Ayr out of 4th spot.

The Pars see off both Dundee and ICT to reach the play off final, where we meet Hearts. (Accies are relegated) Nobody gives us a chance after a late equaliser gives the Jambos a rather fortunate 1-1 draw in the first leg at EEP. At Tynecastle, we are the better team and take a first half lead. After the break, we continue to dominate, but miss two good chances to double our lead. The game turns on its head in the 80th min, when our goalie is harshly adjudged to have fouled a Hearts forward, resulting in a red card and a penalty. (Had VAR been in use, it would have shown that there was no contact and the dirty Jambo dived. ☹) Hearts converted the pen and found a winner in stoppage time as our brave young team ran out of steam.

At the bottom, Alloa are relegated to be replaced by the wee team and our favourite team from Grangemouth overcome QOS in the play off final.

So no Hearts in the Championship next season, but a good league, similar to the one in 2011, when we finished ahead of our derby rivals to clinch the title. Nothing wrong with a bit of deja vu.....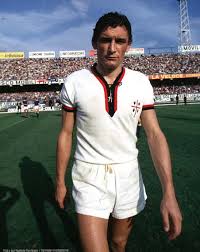 Not your average Sunday League player.