Re: Zola Top 10
Topic Originator: Raymie the Legend
Date: Wed 15 Jul 12:25

He was a great player, great professional and a very nice guy and the scorer of some superb goals





It's bloody tough being a legend
Ron Atkinson - 1983

Re: Zola Top 10
Posted from the Android app

Topic Originator: GG Riva
Date: Wed 15 Jul 13:06


Quote:

The One Who Knocks, Wed 15 Jul 11:59

https://www.bbc.co.uk/sport/football/53371142

Left an impression GG? ;-)


Absolutely, TOWK. I have a good pal who's a Chelsea fan and he says many Blues think Zola's their best ever player. 7 brilliant, brilliant seasons at Stamford Bridge. He was so good at Napoli, that Maradona was scarcely missed when he took over his No. 10 shirt. I'm not sure if Zola actually ever played WITH Maradona. He may have just started when Diego was out injured or suspended.

He was brilliant at Parma too when Napoli sold him to ease their cash problems, but it was in vain as they still did a Rangers and started out as a new club in Serie D. I still can't believe Carlo Ancelotti deemed him a luxury player and surplus to requirements. Parma's loss was Chelsea's good fortune. (Ancelotti repeated the trick with Roby Baggio but these lapses haven't stopped him managing some of the biggest clubs in Europe - maybe Man U after he gets the sack from Everton?) 🙂

A consummate professional and wonderful role model for any aspiring young player, Zola was only sent off once in his career, I believe, at USA 94. It's the most laughable I've ever seen. Zola planted his foot in front of the ball to shield it. VAR would have certainly overturned it.

Thanks for posting that TOWK. The podcast is a good listen. Zola comes across as a humble man with a keen sense of humour.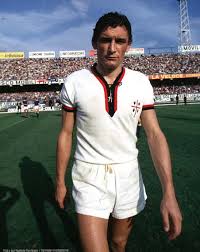 Not your average Sunday League player.
---