Tommy Docherty (D)
GG Riva
Date: Thu 31 Dec 16:49

The man who joked that he'd had more clubs than Jack Niklaus, has gone up to the Big Fitbaw Stadium in the Sky.

RIP. Tommy Doc. Your autobiography was a great read.

https://www.bbc.co.uk/sport/football/55501754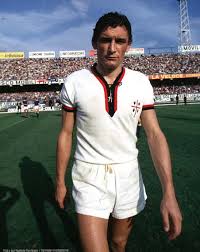 Not your average Sunday League player.

Post Edited (Thu 31 Dec 16:51)
Re: Tommy Docherty (D)
Topic Originator: Buspasspar
Date: Thu 31 Dec 16:51

Sorry G.G We must have been typing at the same time I will delete mine RIP Tommy

I have described nothing but what I saw myself, or learned from others of whom I made the most careful and particular enquiry.
Thucydides.

Re: Tommy Docherty (D)
MDCCCLXXXV
Date: Thu 31 Dec 16:58

He was manager of man u when I started watching football, larger than life character who later stated

"I don't think Henry Kissinger would have lasted 48 hours at Old Trafford."

RIP Doc


East End Park is a symbol of all that is DAFC.
Re: Tommy Docherty (D)
Topic Originator: veteraneastender
Date: Thu 31 Dec 17:09

More sad news.

R.I.P. "The Doc"


Re: Tommy Docherty (D)
Topic Originator: sammer
Date: Thu 31 Dec 17:16

For all his roguish charm, Tommy Docherty could never quite escape the perception of being a corner boy, a Glasgow fly-man wisecracking on the police station steps after his most recent brush with authority. Docherty's hard-boiled quips inspired many a media headline and in later life helped him become a star of the after-dinner speaker circuit. His nickname was a statement, not merely an affectionate abbreviation: The Doc. He repaired teams.

Docherty had been a more than fair player albeit his Scotland career came in the dog days of the mid 1950s when Uruguay and England were lining up the Sots for shooting practice. As a manager he should be remembered for his outstanding work at Chelsea, Scotland and Manchester United. In each case he took a team in decline and turned it into a serious competitor. With Manchester United Docherty was unable to prevent a rusting hulk from sinking into relegation in 1974, but he returned a year later with a young, freshly painted pocket battleship that was the terror of the seas.

Docherty's best work was with youngsters in his own image, players who were nimble, wily and abrasive. Macari, Dalglish, Hartford and Archie Gemmill were all blooded as internationalists under him, the first Scotland manager who dared not to select a player from Rangers FC. Unusual for the time he preferred brain to brawn and, long before Barcelona, played a double sweeper defence, first with Stanton and Buchan for Scotland, later with Greenhof and Buchan at Manchester United. Docherty's teams used the ball quickly and still look good to the modern eye; the counter attacking of Manchester United in the mid 1970s with Coppell, McIlroy, Macari and Hill was as slick as anything being done today.

In the final assessment Docherty was an inspiring project manager capable of galvanising his team and making great progress, but he never stayed or survived long enough to see any project through to its natural completion. His relationships with players, initially warm and cordial, eventually turned sour and then he was at the mercies of chairmen who saw him as a disruptive influence. He was more than that, but probably served himself badly by projecting the image he did. Deep down he was a good thinker and motivator but always in the shadow of Stein, Busby, Shankly, Revie and Clough whose qualities he could not quite match.

sammer
Re: Tommy Docherty (D)
Raymie the Legend
Date: Thu 31 Dec 18:16

Loved watching his team of the mid 70s
Coppell, Pearson, Hill etc





It's bloody tough being a legend
Ron Atkinson - 1983

Re: Tommy Docherty (D)
Topic Originator: wee eck
Date: Thu 31 Dec 18:25

The Doc didn`t have a high opinion of football club directors:-

`The ideal board of directors should be made up of three men - two dead and the other dying.`

Of his chairman at Aston Villa, the legendary Doug Ellis, :-

`He said he was right behind me. I told him I`d sooner have him in front of me where I could see him.`

He said he signed Jim Holton on the recommendation of Harry Gregg who told him he didn`t know the meaning of the word `defeat`. After a week he phoned Gregg up and said, `Defeat`s not the only word he doesn`t know the meaning of. There`s `pass`, `control`, `dribble`...`


Re: Tommy Docherty (D)
Topic Originator: parfection
Date: Thu 31 Dec 19:54

"For all his roguish charm, Tommy Docherty could never quite escape the perception of being a corner boy, a Glasgow fly-man "

Agree with this 100%. He wasn't someone I immediately warmed to if I'm being honest, but I accept that he assembled a few decent teams. He certainly never left anyone in doubt as to his opinion on things. From Scotland caps in the '50s to 2020 is a good long stretch by anyone's reckoning - a good effort. RIP


Re: Tommy Docherty (D)
Topic Originator: cougared
Date: Thu 31 Dec 21:00

He was manager at Old Trafford when I started skipping Pars` matches and hitching down after coming out of the High on Friday afternoons. Built a really attractive team in mid-late 70s that were a joy to watch.

Good innings.


Re: Tommy Docherty (D)
Topic Originator: Ben,D.A
Date: Fri 1 Jan 17:03

Cougared,
I always went to united games when the pars were away. Changed days, pay at the gate every time. Sunderland, Newcastle, Leicester when away. Mostly in the scoreboard when at old trafford.
I was always at EEP on home games, Stirling Albion one week and Chelsea the next .

only 11 make the team,the rest can just but dream.
---