Three Malt Whiskies
Topic Originator: sammer
Date: Wed 24 Mar 16:01

Since there's not much news to cheer about and we have an international football weekend coming up, I have sustained myself by reliving a few glorious moments from our past. Here's my top three Scottish goals.

3. JIM BAXTER v England 1963 (2-1)
There was no live TV coverage of the Wembley game then and even the radio only covered the second half. So my first glimpse of Baxter's opening goal came from the Saturday Evening paper, a muddy, pink photo of Slim Jim on his knees and Gordon Banks seeming to fall backwards as the ball went over his head. Later, TV highlights revealed the elegance, and arrogance too, of Baxter's goal.

First of all as a left half, Baxter should have been lying deeper to protect makeshift left back Davie Wilson, not supporting 10 man Scotland as they attacked on the opposite flank. Henderson's cross was missed by all and England's right back Armfield, aware that Scotland now had no outside left, set about a counter attack. Instead of retreating Baxter pounced, producing an unexpected right foot slide tackle, then glided into the English penalty area. The angle was tight but the best option seemed a low shot inside the far post, which is what Banks anticipated. He anticipated wrong: at the last moment Baxter dropped his right shoulder, opened up his body and swept the ball high inside the near post with a casual swing of his left foot. Its beauty remains undimmed.

https://youtu.be/pu4knK0fu0k

2. GORDON McQUEEN v England 1977 (2-1)
Watching sport as a boy you learned early that Englishmen were bigger and heavier than Scots. The English rugby pack always outweighed our forwards. At boxing our lighter men like McCluskey, Buchanan and McTaggart would box the ears off some ABA hopefuls before Willie Gilfillan was sent in at heavyweight to act as a heroic punchbag against a giant farmer from Derbyshire. England had a conveyor belt of powerful forwards like Hurst, Chivers and Channon whilst our nearest equivalent was the loose muscled, balding Alan Gilzean who looked like an uncle that had nipped out in his slippers for a packet of ciggies.

But not at Wembley in 1977. Gordon McQueen and Joe Jordan were genuine heavyweights who could overpower cruiserweights like Greenhof, Emlyn Hughes and Ray Kennedy, especially in aerial challenges. Hartford's free kick from wide left was well struck, an inviting ball placed with just the right amount of pace and flight though the England defenders were still favourites. Until McQueen leapt his full height and also threw himself over their shoulders, fair hair bobbing, tucking in his knees to gain leverage. The header was phenomenal, powered downward inside the post with the ball leaping up into the net.

https://youtu.be/VbEK2AtInn0

1. JOHN GREIG v Italy 1965 (1-0)
Our World Cup hopes were hanging by a thread and an inexperienced team, with Bobby Murdoch making his debut, was arranged in cautious formation by Jock Stein. A crowd of 109,000 turned up

sammer
Re: Three Malt Whiskies
Topic Originator: Buspasspar
Date: Wed 24 Mar 16:38

I was at the Italy game sammer Greig scored with about 2 mins to go .... Hampden was hoaching the guy beside me who i had never seen before grabbed me and we started jumping up and down ... then his glasses fell off and broke ... he picked them up shrugged put them in his pocket and we started jumping up and down again .... Ah the memories :)

We are forever shaped by the Children we once were

Re: Three Malt Whiskies
Topic Originator: sammer
Date: Wed 24 Mar 17:19

Apology; the last goal got whooshed earlier.

1. JOHN GREIG v Italy 1965 (1-0)
Our World Cup hopes were hanging by a thread and an inexperienced team, with Bobby Murdoch making his debut, was arranged in cautious formation by Jock Stein. A crowd of 109,000 turned up and I was part of another 100,000 I guess, listening on the radio as the game entered its final minute with no score. And about 100,000 settee springs across Scotland must have burst when we leapt up to celebrate Greig's famous goal. We waited impatiently for the TV highlights to relive the moment.

Once again Baxter seemed out of position, loitering just outside his own penalty area to take a push pass from goalkeeper Brown who was limping badly with a thigh strain. Why was Baxter so far back when we needed a goal? He cruised forward but as the move developed Greig, on the overlap, played a slightly undercooked pass infield. No matter, it drew the Italian defence on to the front foot and also forced Baxter to play the ball earlier than he might have. The result was what we called, in the days before pocket calculators, a slide rule pass. The Italian defence was sliced wide open and Greig found himself in nose bleed territory, about 12 yards out with the goal open. He didn't hesitate. Four passes, eighty yards, and the ball had never left the ground.

https://youtu.be/VPNvS-hlOeo

sammer
Re: Three Malt Whiskies
Posted from the Android app

Topic Originator: GG Riva
Date: Wed 24 Mar 18:40

Sammer, your writing is sheer poetry, you are to Dotnet, what Hugh McIlvanney was to journalism or David Francey to radio commentary.

I can see the action unfold - albeit in black and white - as you recount it. A career in football journalism beckons..... 🙂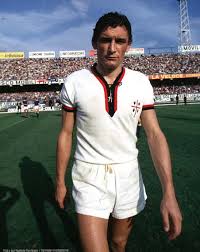 Not your average Sunday League player.
Re: Three Malt Whiskies
Topic Originator: wee eck
Date: Fri 26 Mar 13:52

Most fans might be surprised that Archie Gemmill`s goal against the Netherlands in the 1978 World Cup in Argentina isn`t included. For a while I think it was considered the best-ever goal at a WC Finals although that might not be the case now.

Other possible contenders would be David Narey`s `toe-poke` against Brazil in 1982 and James McFadden`s long-range strike against France in Paris in 2007.


Re: Three Malt Whiskies
Topic Originator: sammer
Date: Fri 26 Mar 14:41

In terms of whisky, Archie's great goal turned out to be no more than a snifter. I remember dashing through to the kitchen to grab some beer tins for those assembled in my flat, but we had hardly pulled the rings when Holland scored. Narey's goal was a special moment but another one that was to be clouded by defeat.

Probably the goals you see as a boy are the ones that stick for the most part. I saw Pat Gardner's two roaring strikes bulge the net as a teenager in 1968, but these did not compare in terms of excitement with Charlie Dickson's two yard tap in from 1961.

sammer
---