In defence of Herrera
Topic Originator: sammer
Date: Mon 5 Jul 02:40

Helenio Herrera is the Josef Stalin of European football: a man we are supposed to hate because of his totalitarian catenaccio style of football. I write this in anticipation of Italy beating England in the final when all the old strereotypes will be dredged up by the Brexit media.

Herrera, an Argentinean, was one of the greatest managers of all time. Jock Stein and Willie Waddell took the trouble to visit his training camp in the early1960s and the benefits were clear to all: Killie's only League Championship win and 9 in a row for Big Jock plus the European Cup. Herrera had already won the Spanish League twice with Ateletico Madrid in the late 1940s which is not generally well known. He was the Simeone of hs day. His short spell at Barcelona in the late 1950s saw him lift two League Championships from a Real Madrid team that was dominating European football. The Barcelona goal ratios were: 96-25 and 86-28. His Barcelona team was actually outscoring the Real team of Puskas and di Stefano. Kubala was an immense player, as good as George Best or Ronaldo today. Herrera was no more a defensive manager than Jock Stein.

Three titles followed at Inter Milan in the mid 1960s which similar goal ratios, ones comparable with the vaunted Man Utd team of the same era. Two European Cups as well. Herrera eschewed possession for effectiveness and knew that the best time to attack was when you turned defence into attack. They destroyed Liverpool 3-0 in Milan without any referee to help: the video footage shows that clearly. Liverpool also blamed the referee when they were beaten a few years later by the unknown Ajax team 5-1. Shankly did not do humility.

GG mentions the failed European Cup final effort of 1967 when Inter tried to sit on their lead. It's a fair criticism, but Herrera was minus Suarez, who along with Mazzola was his most creative player, and the Celtic midfield was able to take control of the game and win deservedly. Bobby Murdoch was the outstanding player on the park but even Bobby's greatest admirers will concede he was not such a great player running back after a midfield break. Suarez would have changed the dynamics of the game same as Eriksonn, the Danish player who was carried off, would change the game v England.

Catenaccio is a very good system if employed correctly. Most teams actually play it nowadays with modifications but the essentials remain the same: getting players behind the ball when not in possession and launching quick wing back attacks when regaining possession. Turn over football if you like. I think Mancini has the guile to beat England for he has absorbed the lessons of Herrera.

sammer
Re: In defence of Herrera
Posted from the Android app

Topic Originator: eastendalloapar
Date: Mon 5 Jul 07:04

A great post Sammer. The first time that I heard of Herrera was in 1967 in the eve of the final against Celtic. One of the older pupils was talking about him in the school bus, when I got home the was a picture of both teams in my dad's newspaper, they described the Inter team as Herrera's proud men.

matt forsyth
Re: In defence of Herrera
Topic Originator: Buspasspar
Date: Mon 5 Jul 08:30

Great Post sammer

We are forever shaped by the Children we once were

Re: In defence of Herrera
Topic Originator: veteraneastender
Date: Mon 5 Jul 08:50

It must be remembered that Inter were in a dramatic freefall scenario as the European Cup final loomed, and faced a crucial league title decider on the Sunday after Lisbon......something rarely mentioned by the Scottish press.

I`d need to double check specifics, but they had failed to win any of their last 6 league games and had slipped from leading Serie A into "offering" Juventus the opportunity to win the title based on respective final game results.

That final round of league matches took place just a few days after the Celtic match, so Inter had that crucial end of season encounter v Mantova in the back of their minds.

As sometimes happens in football, a team going for multiple major honours ends up winning nothing.

Juve won their final game 2-1 as Inter went down 1-0 to Mantova, the goal being scored by a former player...................so Juve became champions on goal difference.

Herrera moved to Roma the following year. His managerial reputation there became the focus of allegations made in 2004 concerning use of performance enhancing drugs claimed to have contributed to the death of a Roma player in 1969.

https://en.wikipedia.org/wiki/Giuliano_Taccola


Re: In defence of Herrera
Topic Originator: parfection
Date: Mon 5 Jul 09:05

I recall that very day also. We had discussed the game in the primary school playground and we were going hone to watch it LIVE - a rare event in itself. I recall too my dad (a Pars man all his days) getting home early that day to watch the game.
We were settled down to watch, and the match had just started when the local minister called. We were braced for the awful eventuality of the TV being switched off, when the minister beamed: "Oh, you've got the game on. The TV in the manse is on the blink." He stayed to watch the game and my mum set an extra place for tea. All on an old black and white TV - happy days.


Re: In defence of Herrera
Topic Originator: Parboiled
Date: Mon 5 Jul 12:56

I remember watching it, we had a power cut for a wee while and when it was restored Celtic were a goal down. I'm sure the fact all the tellys were on at tea making time blew a big fuze in the system!
Meanwhile my brother who lived in Dollytown had galloped down to our house in Queensferry Road because he thought his telly had conked out …doh!
As I recall, apart from the penalty conceded it was pretty much one way traffic for the worthy winners.


Re: In defence of Herrera
Topic Originator: GG Riva
Date: Tue 6 Jul 07:14

I always enjoy reading Sammer`s posts and this one is no exception. He has the gift of almost total recall, set in peerless prose.

I can`t escape the feeling that he`s Herrera`s PR officer all the same. Nobody can seriously argue that he was among the greatest managers of his day. The comparison with Diego Simeone is a good one and I`d throw in Jose Mourinho as well. All ruthless, single-minded managers able to grind out good results against more talented opponents by making the best use of their own players.

My dislike of Herrera is nothing personal. It`s based on the cynical, tactical, counter attacking football he employed at Inter. That his team scored a credible number of goals in a league campaign is testimony to the amazing ability of his strikers to convert chances into goals. I remember reading a survey in a late 60s issue of World Soccer magazine, where goals to chances ratios were examined across the major European leagues. Scotland didn`t feature but Italy and England did. The survey claimed that in Serie A the ratio was 1:2 whereas in the English First Division it was 1:5. This might explain why few British strikers have enjoyed any real success in Italy. Prolific marksmen in English football such as Denis Law, Jimmy Greaves and later Ian Rush, all discovered that Italian defences were much meaner than their English counterparts - if they missed a good chance in a game, they were unlikely to get another.

I cannot comment on Herrera`s time at Barcelona as I was still living in Italy with no TV and wasn`t even aware of football. I know that the yardstick for success many use for a manager is the number of trophies they have amassed, rather than any aesthetic consideration of the Beautiful Game their teams may play.

Give me Pep or Klopp over Simeone and Mourinho any day.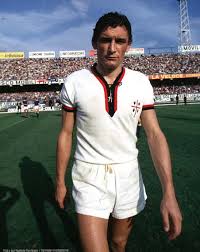 Not your average Sunday League player.
---