Re: Bk hacken
Topic Originator: General Zod
Date: Thu 22 Jul 22:19

Oaft, Im in that second photo and I have no recollection of it. I think I chose to forget that trip...


Re: Bk hacken
Frank Butchers LoveHandles
Date: Thu 22 Jul 22:20

Not got fond memories of that. Going ahead after 30 seconds, Sean Murdoch misjudging a harmless ball for the equaliser, Jim Hamilton absolutely throwing us under the bus in the 2nd Leg.
Was a fairly pathetic, spineless couple of performances which was more or less the norm at that point.

Awight Pat!
Re: Bk hacken
AdamAntsParsStripe
Date: Thu 22 Jul 22:29

The performance in Gothenburg was an utter embarrassment. The club let down the fans big style that night.

Zwei Pints Bier und ein Päckchen Chips bitte

Re: Bk hacken
GG Riva
Date: Fri 23 Jul 07:37

BK Hacken? Never heard of them.

They sound like a bunch of cloggers and hammer throwers.....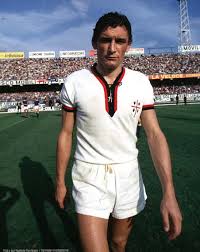 Not your average Sunday League player.
Re: Bk hacken
Topic Originator: brian
Date: Fri 23 Jul 08:28

jings!!
if I thought it was going to bring up so much negativity I wouldn`t have bothered.

Having taken part in these trips it was a good experience, indeed it maybe should have turned out better but you can`t go back and you certainly shouldn`t be continually moaning about :o)

sometimes if you haven`t got anything nice to say you should maybe have just kept quiet.

____________________
contact: email me
File Share: https://share2.co.uk
ParsTV: https://ParsTV.co.uk

Re: Bk hacken
Topic Originator: steaua
Date: Fri 23 Jul 09:33

Thanks Brian.
That was the night I will always remember for different reasons. Firstly, the wee mascots getting on to the pitch , they will never forget that.
Secondly the absolute disgraceful performance of some of the players, they did the fans wrong that night.

Footnote:
When I worked in Youth Football, we were in Sweden and a footballer friend whom I met in 1992 at the Euro Finals, played for Hacken at the time and he organised to show us the Hacken Hus which at that time was in the city , with a magnificent training area, players area etc. etc. The player i refer too is Henrik Dahl and is now a Director of Football with a club in Norway.
I am still friends with Henrik and his family and another two players I brought over for a training week with Dunfermline just after the finals.

Thanks Brian for stirring up one of my favourite memories , be it hurtful for a lot of Pars Fans.


Re: Bk hacken
Stanza
Date: Fri 23 Jul 09:41

It was the first time I had been to Sweden and I stayed on in Gothenburg for a few days. Absolutely loved the country and the people, and have been back for longer holidays several times since.

Pity about the Pars performance and result, but fond memories nevertheless.

_________________

Support Dunfermline Athletic Disabled Supporters` Club (it will cost you nothing) when you shop online with one of 4000 retailers and insurance firms etc
http://www.easyfundraising.org.uk/causes/dadsc

Post Edited (Fri 23 Jul 09:41)
Re: Bk hacken
Posted from the iOS app

Topic Originator: Pars232
Date: Fri 23 Jul 12:56

I loved this trip! So glad I did it and have loads of fond memories start to finish. Alas the quality of football wasn't one 🤣
Re: Bk hacken
Topic Originator: PARSpars
Date: Fri 23 Jul 13:01

loved the trip, apart from the 90mins of football lol

just goes to show what fans will do to get to games when flying to and from airports no where near your home or destination, travelling across country by car and train.

one memory from the trip was a certain poster on here forgetting to log out of her account for these forums and someone going on the hotel computer and posting under her name (not me by the way)!!!


---