Crystal Glass Football Auction
Stanza
Date: Sat 7 Aug 20:48

Bad result today - want a crystal ball to see how the rest of the season will play out?

Dunfermline Athletic Disabled Supporters' Club (DADSC) has been gifted a Gleneagles Crystal Glass Football. It is from a league match at EEP on 3 May 2003 between Dunfermline Athletic and Celtic – sadly the Pars lost 1-4! The whole ornament stands 15" high and the crests of DAFC and Celtic are engraved on it, along with the name of the Match Sponsor (Acetech Personnel) and the date of the match – see the pictures below (not great quality, sorry!)

It is now being auctioned, with all money raised going into the DADSC fund to provide access to the 1st Floor at EEP for wheelchair users and fans with mobility problems.

Bids should be submitted in whole pounds on this thread (preferred) or by email - click on "Stanza". There is a reserve price of £30, but it would be a steal at that price so higher bids are always welcome!

The auction will close on TUESDAY 10 August at 9.00pm (as measured by the dafc.net system). The winning bid must be timed at 20:59 (8.59pm) or earlier.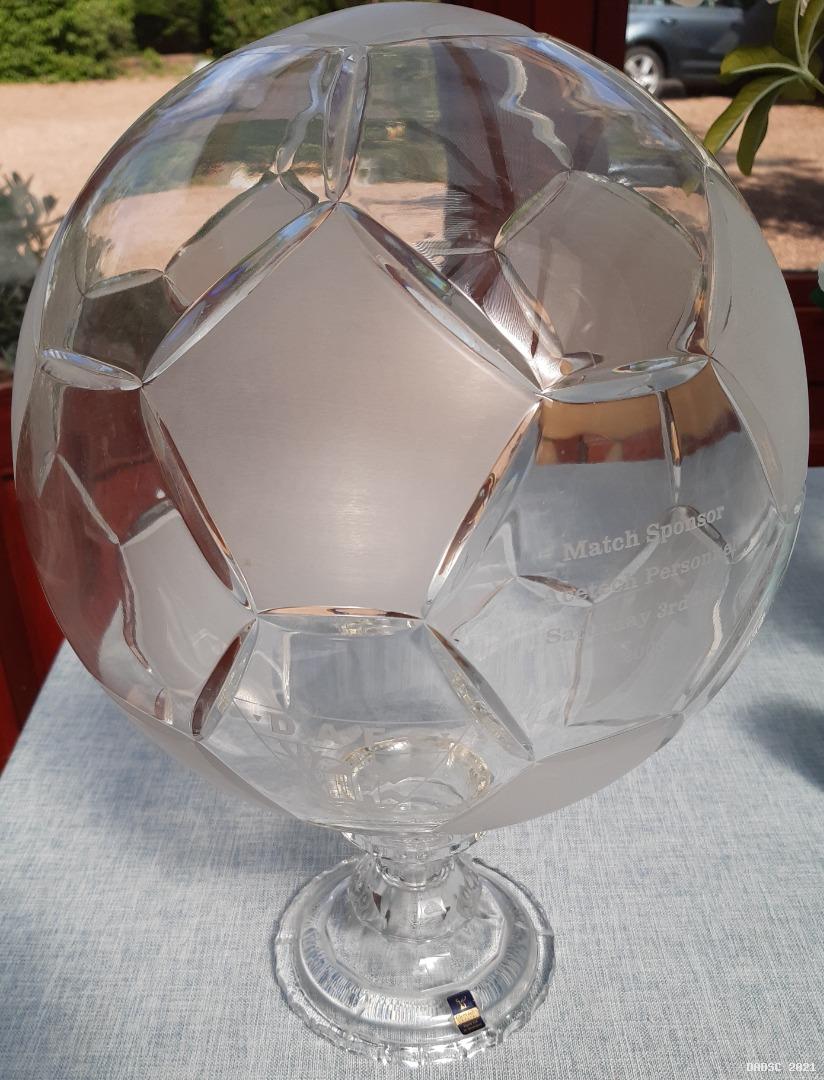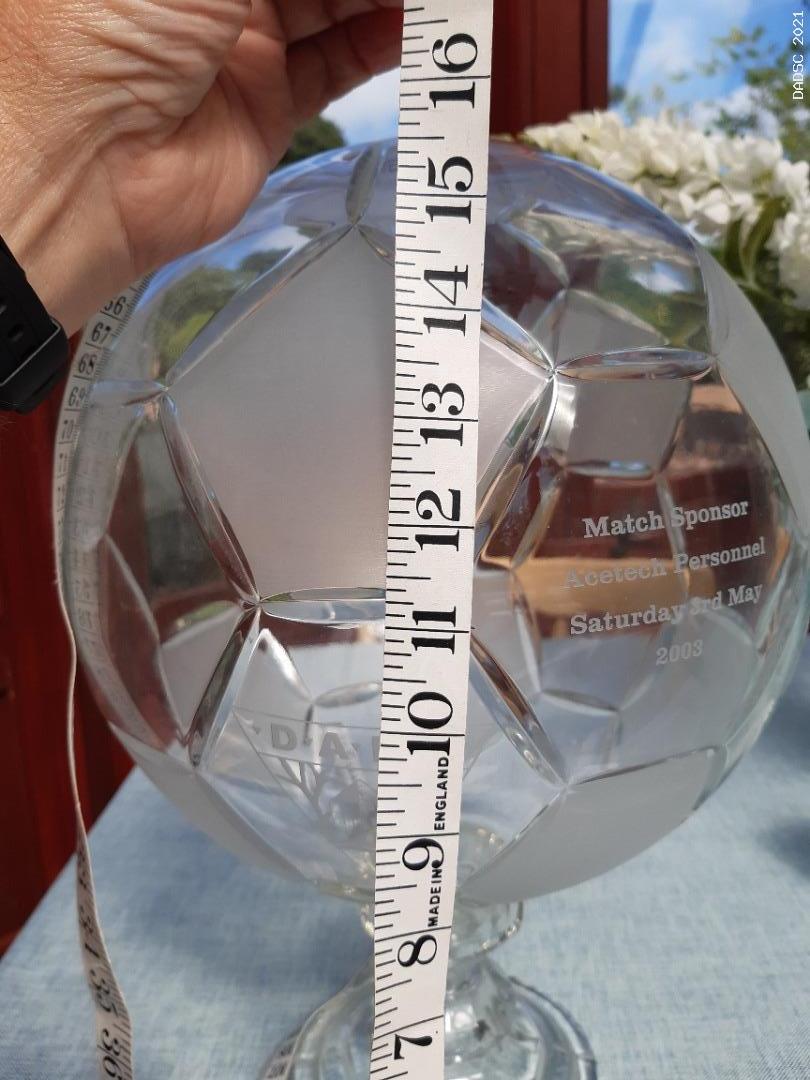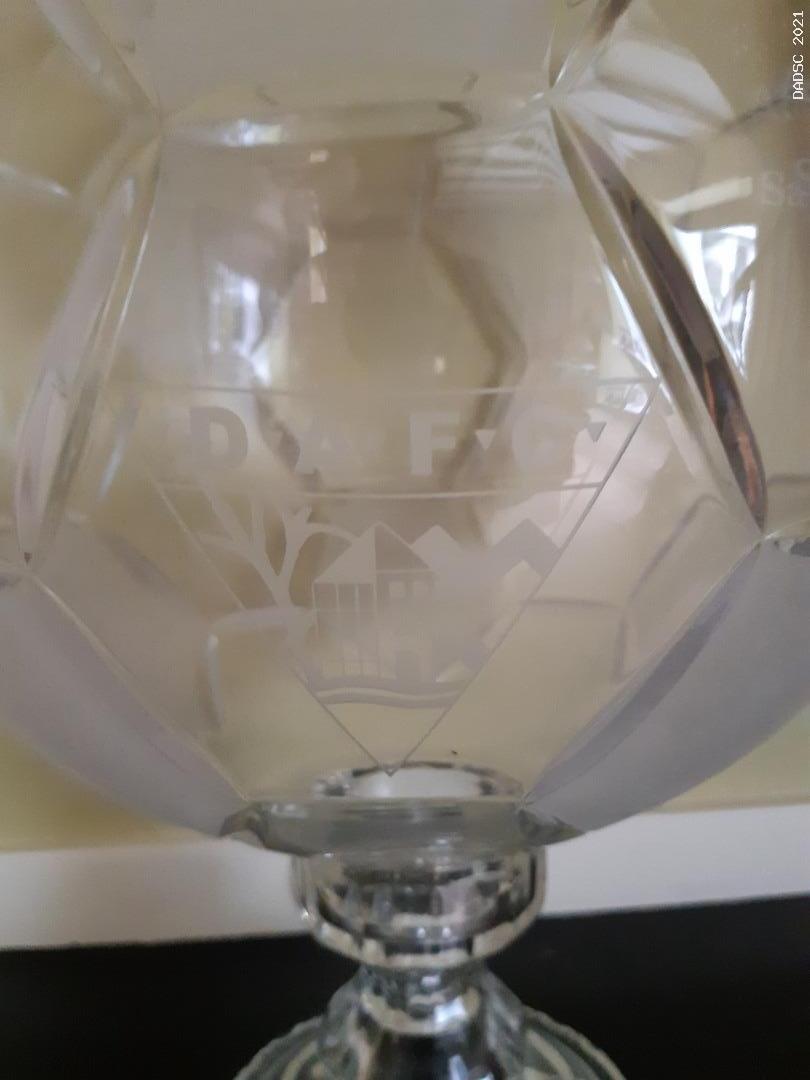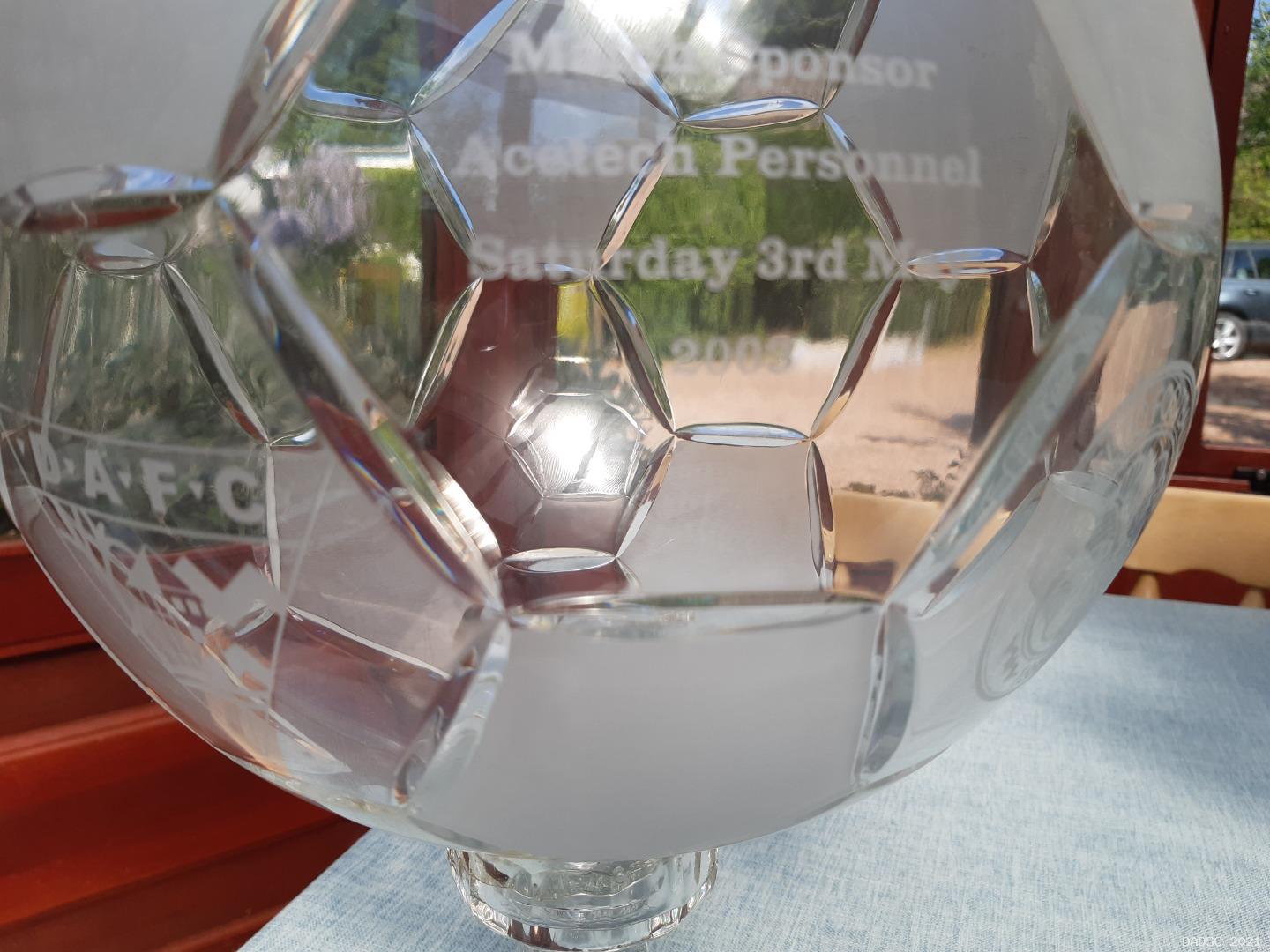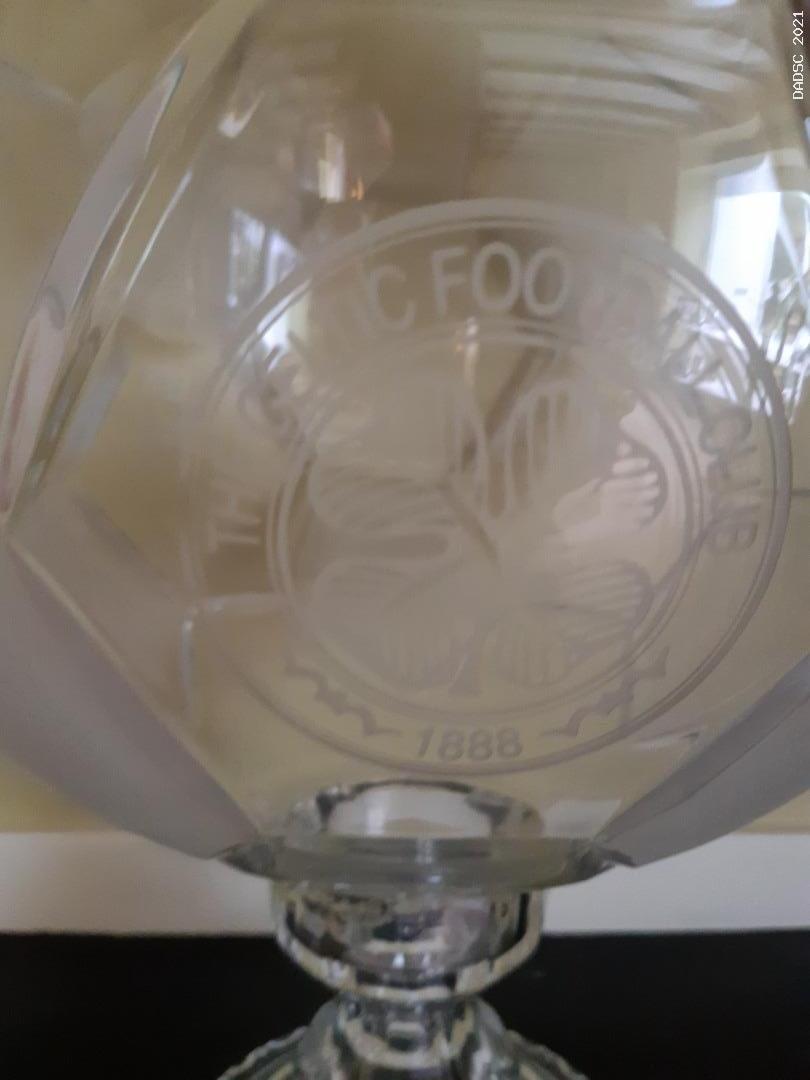 _________________

Support Dunfermline Athletic Disabled Supporters` Club when you shop online with one of 7000 firms: http://www.easyfundraising.org.uk/causes/dadsc
Or donate £5: text "DADSC" to 70970

Post Edited (Sun 08 Aug 21:30)
Re: Crystal Glass Football Auction
Tenruh
Date: Sat 7 Aug 21:19

£40
Re: Crystal Glass Football Auction
Topic Originator: Stanza
Date: Sat 7 Aug 23:06

Thank you, Tenruh.

£40 is a decent start to the bidding.

_________________

Support Dunfermline Athletic Disabled Supporters` Club when you shop online with one of 7000 firms: http://www.easyfundraising.org.uk/causes/dadsc
Or donate £5: text "DADSC" to 70970
Re: Crystal Glass Football Auction
Re: Crystal Glass Football Auction
Re: Crystal Glass Football Auction
Stanza
Date: Sun 8 Aug 21:14

I have just received an offline bid of £100 from Scott H, who takes the lead.

First day gone, and an excellent response, thanks folk.
Let's see what tomorrow brings - auction ends on Tuesday at 8.59pm.

_________________

Support Dunfermline Athletic Disabled Supporters` Club when you shop online with one of 7000 firms: http://www.easyfundraising.org.uk/causes/dadsc
Or donate £5: text "DADSC" to 70970

Post Edited (Sun 08 Aug 21:17)
Re: Crystal Glass Football Auction
Stanza
Date: Tue 10 Aug 09:19

Final day for this auction, all bids must be in by 8.59pm this evening.

Can anyone shatter the £100 bid by Scott H? Time will tell.

_________________

Support Dunfermline Athletic Disabled Supporters` Club when you shop online with one of 7000 firms: http://www.easyfundraising.org.uk/causes/dadsc
Or donate £5: text "DADSC" to 70970
Re: Crystal Glass Football Auction
Stanza
Date: Tue 10 Aug 18:53

Last bids in the auction must be timed at or before 8.59pm this evening on the dafc.net clock.

Will Scott H walk off with the ornament, or is someone lurking with a late bid, about to pounce? The next couple of hours will decide.

£100 is the current top bid.

_________________

Support Dunfermline Athletic Disabled Supporters` Club when you shop online with one of 7000 firms: http://www.easyfundraising.org.uk/causes/dadsc
Or donate £5: text "DADSC" to 70970

Post Edited (Tue 10 Aug 18:55)
Re: Crystal Glass Football Auction
Re: Crystal Glass Football Auction
Topic Originator: Captain_K
Date: Tue 10 Aug 20:55

£120


Re: Crystal Glass Football Auction
Stanza
Date: Tue 10 Aug 20:59

I've passed the info to Scott H.

Not much time now ...

_________________

Support Dunfermline Athletic Disabled Supporters` Club when you shop online with one of 7000 firms: http://www.easyfundraising.org.uk/causes/dadsc
Or donate £5: text "DADSC" to 70970
Re: Crystal Glass Football Auction
Re: Crystal Glass Football Auction
Topic Originator: Captain_K
Date: Tue 10 Aug 20:59

£150


Re: Crystal Glass Football Auction
Topic Originator: Stanza
Date: Tue 10 Aug 21:10

That was an amazing battle, and thank you on behalf of DADSC to everyone for taking part.

Commiserations to Scott H who led the pack for so long, and to NiallDAFC for what he must have thought was the winning strike. But a brilliant piece of timing right on the final whistle means the football will be beamed up to Captain K.



Post Edited (Tue 10 Aug 21:20)
---