Help DADSC (and maybe win £1000 for yourself!)
Topic Originator: Stanza
Date: Thu 2 Dec 00:26

Dunfermline Athletic Disabled Supporters' Club (DADSC) would welcome the help of all Pars fans and their families – it won't cost you anything and you could win £1000 for yourself!

We're looking for Pars fans to use our collective power to maximise DADSC's chances of success in a daily draw for £250 run by Easyfundraising - it's all free to enter, and every entry increases DADSC's chances. Not only that, every entry goes into a Christmas Day draw where the winning good cause collects £10,000 AND whoever nominated it gets £1000 to spend in John Lewis!

Just go to this link and click on the window with the jumping gingerbread man!
https://www.easyfundraising.org.uk/advent-calendar/
If you haven`t already registered with Easyfundraising to support DADSC you can do so when you click the window. It's worth doing that anyway, as you can then support DADSC at no cost to yourself when you buy goods or services online.

Get into the habit of doing this each day until Christmas – you'll get free extra entries by visiting the retailer's site for that day or by broadcasting the message on social media to your friends and family.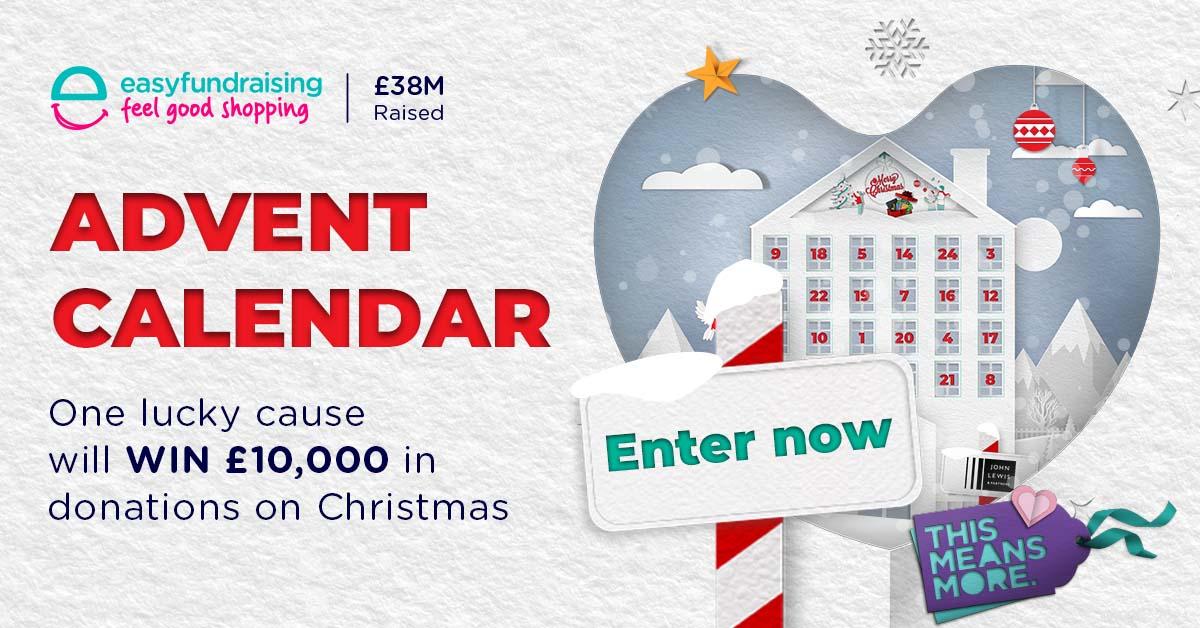 Realistically the chance of DADSC winning is pretty low, but you have to be in it to win it. So please build an entry for DADSC into your daily routine - you just might be the lucky one who wins some money for DADSC and also wins £1000 for yourself!

DADSC is dependent on (and grateful for) the support of Pars fans. Any money we receive goes into our fund for improving the accessibility of the 1st Floor lounges at EEP.



Post Edited (Thu 02 Dec 00:27)
Re: Help DADSC (and maybe win £1000 for yourself!)
ipswichpar
Date: Thu 2 Dec 07:53

I`ve clicked on the gingerbread man......quick and easy to do!
Re: Help DADSC (and maybe win £1000 for yourself!)
Stanza
Date: Sat 4 Dec 11:36

Day 4 today, and more chances for someone to win in the Christmas draw.

Many thanks to those who have already entered, remember to do so every day until Christmas to increase your chances.

If you haven`t done so already you can still join in. Good luck.

_________________

Support Dunfermline Athletic Disabled Supporters` Club when you shop online with one of 7000 retailers, insurance firms etc
http://www.easyfundraising.org.uk/causes/dadsc
Or donate £5 - text "DADSC" to 70970
Re: Help DADSC (and maybe win £1000 for yourself!)
Stanza
Date: Tue 7 Dec 11:05

There are still chances for you to win £1000 of John Lewis vouchers for yourself on Christmas Day, even if you don`t win the daily prizes.

See OP for details of how to enter (free).

_________________

Support Dunfermline Athletic Disabled Supporters` Club when you shop online with one of 7000 retailers, insurance firms etc
http://www.easyfundraising.org.uk/causes/dadsc
Or donate £5 - text "DADSC" to 70970
Re: Help DADSC (and maybe win £1000 for yourself!)
Topic Originator: Stanza
Date: Sun 19 Dec 17:59

Last few days for you to enter this (free) draw that might win you £1000 of John Lewis vouchers for yourself on Christmas Day. (DADSC would also win £10,000, which would be nice!) Thanks to all who have done so already.

Just go to this link, click the gingerbread man and you`ll be entered into the draw.
https://www.easyfundraising.org.uk/advent-calendar/

If you haven`t already registered with easyfundraising you`ll be invited to do so when you click the gingerbread man - click the "Support a good cause" green button, and enter "Dunfermline Athletic Disabled Supporters` Club". Alternatively you can do so via this direct link for DADSC:
https://www.easyfundraising.org.uk/causes/dadsc/



Post Edited (Sun 19 Dec 18:00)
---