Pars Books for Sale
Stanza
Date: Mon 5 Sep 12:33

Still basking in Saturday`s great set of results? Keep the feelgood mood going by enjoying a book about the Pars.

Dunfermline Athletic Disabled Supporters` Club (DADSC) is selling these books etc, which have been kindly donated by DADSC member Bob Ewen. Most of them are in almost new condition, and deserve a place on every Pars fan`s bookshelf.

We`ve put a suggested price against each (below the main picture), but of course if anyone wants to pay more you`re welcome to do so! Just state on here any book you want, and we`ll then arrange payment and delivery/collection.

All money goes to DADSC`s fund to provide proper access to the 1st Floor function suites in the Main Stand for those with mobility problems due to age or disability.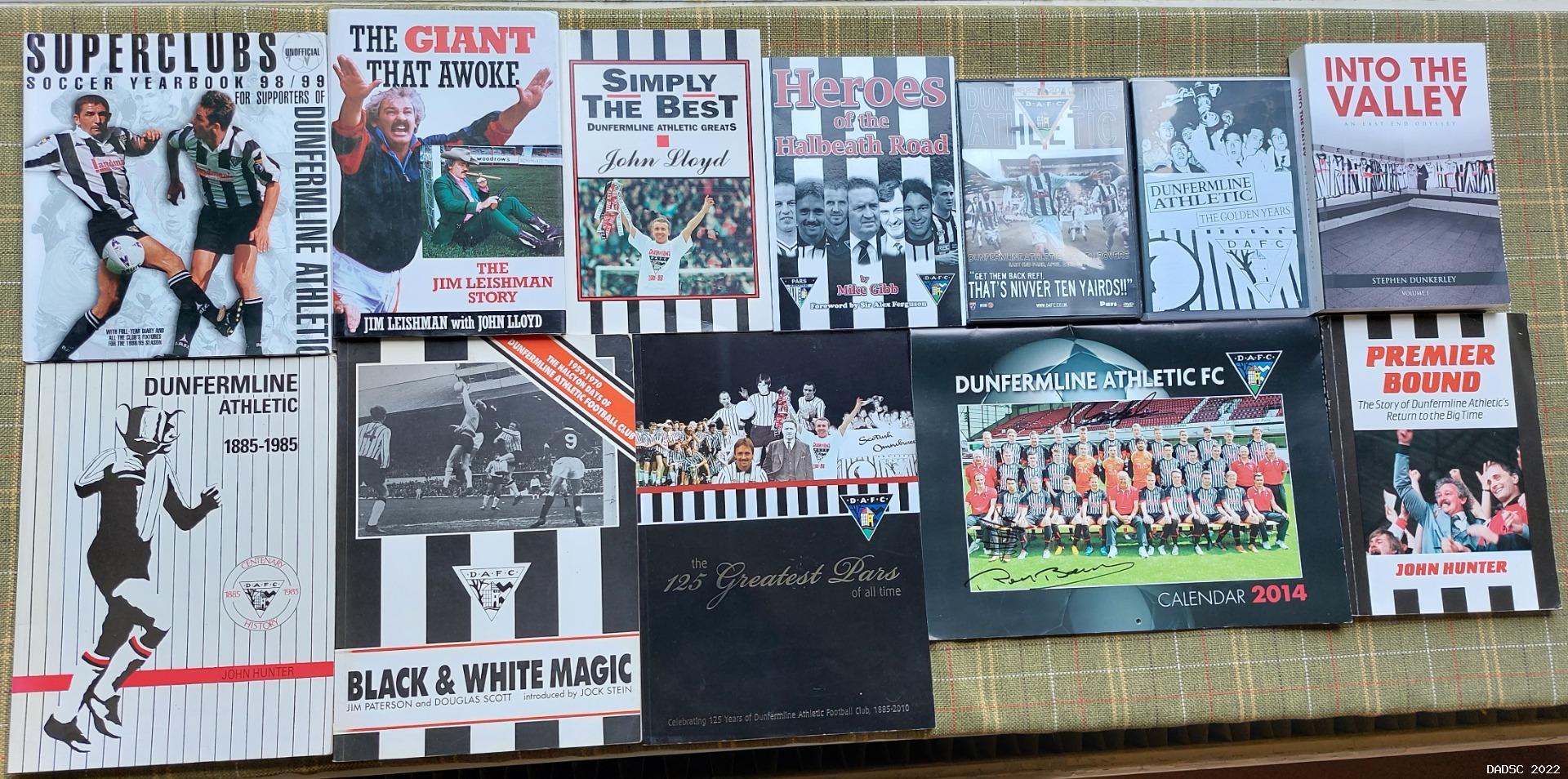 b]

SUGGESTED PRICES
Superclubs Yearbook 98/99 £3
Dunfermline Athletic 1885-1985 £5
The Giant That Awoke £5 - SOLD
Black & White Magic £5 - SOLD
Simply the Best £4 - SOLD
Heroes of the Halbeath Road £4 - SOLD
125 Greatest Pars £4 - SOLD
That`s Nivver Ten Yairds (DVD) £3
DAFC: The Golden Years (DVD) £3 - SOLD
DAFC Calendar 2014 (signed by Roy Barry & others) £3 - SOLD
Into the Valley £6 - SOLD
Premier Bound £3





Post Edited (Wed 07 Sep 13:28)
Re: Pars Books for Sale
Topic Originator: DA-go Par Adonis
Date: Mon 5 Sep 12:57

I could do with another copy of ITV, Stanza.

----------------------------------------------------------------------------------------------
I love it when we go sell Kevin Nisbet,
He's gonna pay for everyone this season.

Re: Pars Books for Sale
Topic Originator: Stanza
Date: Mon 5 Sep 13:25

"I could do with another copy of ITV, Stanza."

I think that`s a sale, then!

Send me an email (click on "Stanza" for address) and we`ll arrange payment and collection.

_________________

Support Dunfermline Athletic Disabled Supporters` Club when you shop online with one of 7000 retailers, insurance firms etc
http://www.easyfundraising.org.uk/causes/dadsc
Or donate £5 - text "DADSC" to 70970
Re: Pars Books for Sale
Topic Originator: Stanza
Date: Mon 5 Sep 15:17

I'll have The Giant That Awoke please

It`s yours, DM1 - Send me an email (click on "Stanza" for address) and we`ll arrange payment and collection.

_________________

Support Dunfermline Athletic Disabled Supporters` Club when you shop online with one of 7000 retailers, insurance firms etc
http://www.easyfundraising.org.uk/causes/dadsc
Or donate £5 - text "DADSC" to 70970
Re: Pars Books for Sale
Stanza
Date: Mon 5 Sep 22:31

That`s more than half the items sold already, many thanks to everyone who has bought them.

_________________

Support Dunfermline Athletic Disabled Supporters` Club when you shop online with one of 7000 retailers, insurance firms etc
http://www.easyfundraising.org.uk/causes/dadsc
Or donate £5 - text "DADSC" to 70970

Post Edited (Tue 06 Sep 19:03)
Re: Pars Books for Sale
Topic Originator: Stanza
Date: Tue 6 Sep 19:40

Only a few items left now, thanks to everyone who has bought the rest!

Superclubs Yearbook 98/99 £3

Dunfermline Athletic 1885-1985 £5

That`s Nivver Ten Yairds (DVD) £3

Premier Bound £3



Post Edited (Wed 07 Sep 13:29)
Re: Pars Books for Sale
parak obama
Date: Tue 6 Sep 22:51

Calendar can be used again in 2025, 2031, 2042, 2053, 2059, 2070, 2081, 2087, 2098, and 2110.

[IMG]https://share2.co.uk/f/1152_471_P300411_16.49_[02].jpg[/IMG]
Re: Pars Books for Sale
Topic Originator: Stanza
Date: Tue 6 Sep 22:55

Calendar can be used again in 2025, 2031, 2042, 2053, 2059, 2070, 2081, 2087, 2098, and 2110.

It`s a real investment, then! (It`s now sold.)



Post Edited (Wed 07 Sep 13:29)
Re: Pars Books for Sale
Topic Originator: bigdonnie
Date: Thu 8 Sep 21:26

got every one of them would never part with them

donald mcneil
Re: Pars Books for Sale
Topic Originator: ParsMad98
Date: Sat 10 Sep 07:00

Due to collect one of the items from the club shop today, any ideas if it's still open?

RM DAFC
---