On this day
Posted from the iOS app

Topic Originator: buffy
Date: Sat 24 Sep 13:57

I thought we already had a thread like this but can't find it on the search function. Anyhoo. This came up on my Facebook memories.
7 goals!

24th September 2016
SPFL Championship

DAFC 4-3 St Mirren

John Sutton (31) 0-1:
Nicky Clark (40) 1-1:
John Sutton (45) 1-2:
Andy Webster og (62) 2-2:
Nicky Clark (77) 3-2:
Ryan Hardie (81) 3-3:
Farid El Alagui (84) 4-3

Plus the halftime programme was a doozy too 😉

Feel free to add your own Pars memories folks.

"Buffy's Buns are the finest in Fife", J. Spence 2019"
Re: On this day
Posted from the Android app

Topic Originator: GG Riva
Date: Sat 24 Sep 14:33

Aye that was quite a game, Buffy. My abiding memory is not the game itself, however. It was the half time interval. A man I`d never met came up to me in the main stand and sprayed saliva in my face, shouting "That Callum Fordyce is fekking disgrace and should never play for the Pars again!" (I look nothing like Allan Johnston, btw.)

The unfortunate player had made two mistakes in that first half and both resulted in goals for the Buddies. Fordyce didn`t appear for the second half. I don`t know if AJ hooked him because of his errors or because he wasn`t fully fit. He looked a great signing for us before he had that horrific double leg break after a "tackle" from a horse in an Ayr United strip. He had been Livi`s captain and AJ gave him the armband for that Pars team as he had good leadership qualities. He was never the same player after his injury, but the general feeling was that he was rushed back too soon. He was a standout in his first game back Easter Road, but he made the error which led to Hibs winner.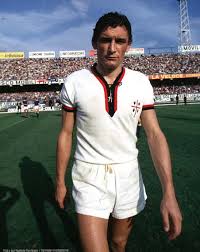 Not your average Sunday League player.

Post Edited (Sat 24 Sep 14:35)
---