CAFE Week of Action / DADSC Bucket Collection and Stall
Topic Originator: Stanza
Date: Tue 14 Mar 15:11

This is the 2023 Europe-wide Week of Action for CAFE (Centre for Access to Football in Europe). There will be some exciting half-time entertainment at the Pars` match this Saturday (18 March) - watch out for further details.

DADSC will also have a stall in the Norrie concourse before the match and at half-time, with items to buy including some cracking shirts and books.

And before the match there will be a bucket collection for the DADSC First Floor Access Fund. If you would like to help between 2.30pm and 3.00pm, please contact me (click on "Stanza" for email address) or be at the Club Shop before 2.30 on Saturday, ready to rattle. We`re particularly short of helpers for the Norrie and NW stands.

People don`t carry cash like they used to, but please try to remember to bring a few coins for the buckets (and notes for the stall!)

All money raised will go to the DADSC 1st Floor Access Fund.

_________________

Support Dunfermline Athletic Disabled Supporters` Club when you shop online with one of 7000 firms: http://www.easyfundraising.org.uk/causes/dadsc
Or donate £5: text "DADSC" to 70970
Re: CAFE Week of Action / DADSC Bucket Collection and Stall
Topic Originator: Stanza
Date: Fri 17 Mar 19:17

Many of you will already have seen the article in the Dunfermline Press about the exciting half-time entertainment arranged by Graham Ross of DAFC for tomorrow`s game, with Pars Legends playing a 7-a-side match against the Scotland National Cerebral Palsy team. See also the thread entitled "DAFC v Scotland" on this forum for more details.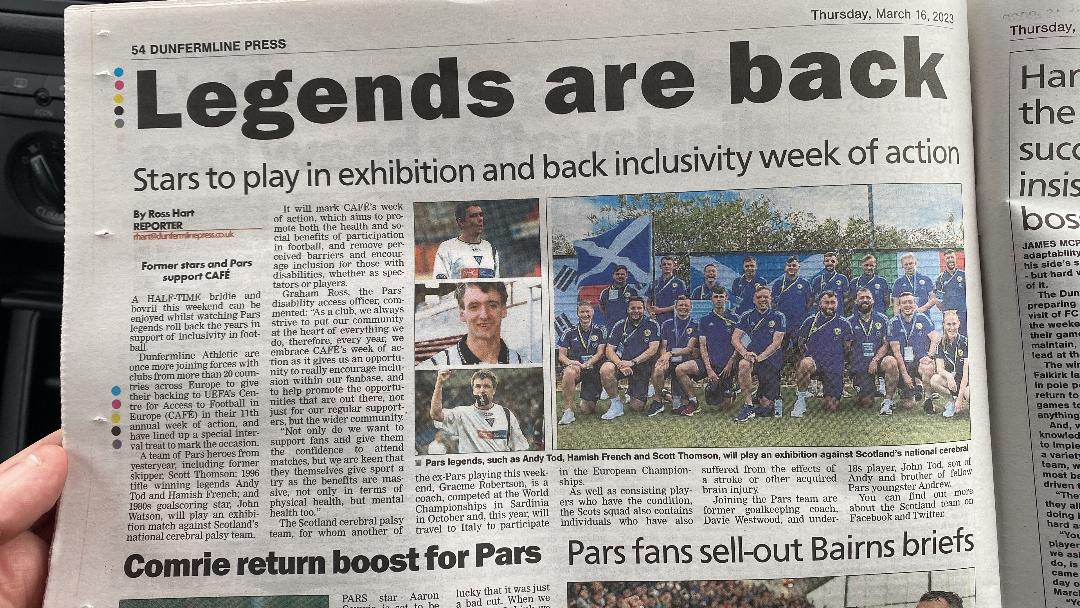 Before the match and at half-time there will be a DADSC sales stall in the concourse of the Norrie McCathie Stand, with signed shirts, books, clocks, badges, wristbands, candles and the final two unsold Paul Town prints of the 1968 Cup-winning goal, signed by Pat Gardner. get there early to browse the stall, and do try to bring some money as we haven`t yet gone cashless, (although you can pay DADSC by sending a text message.)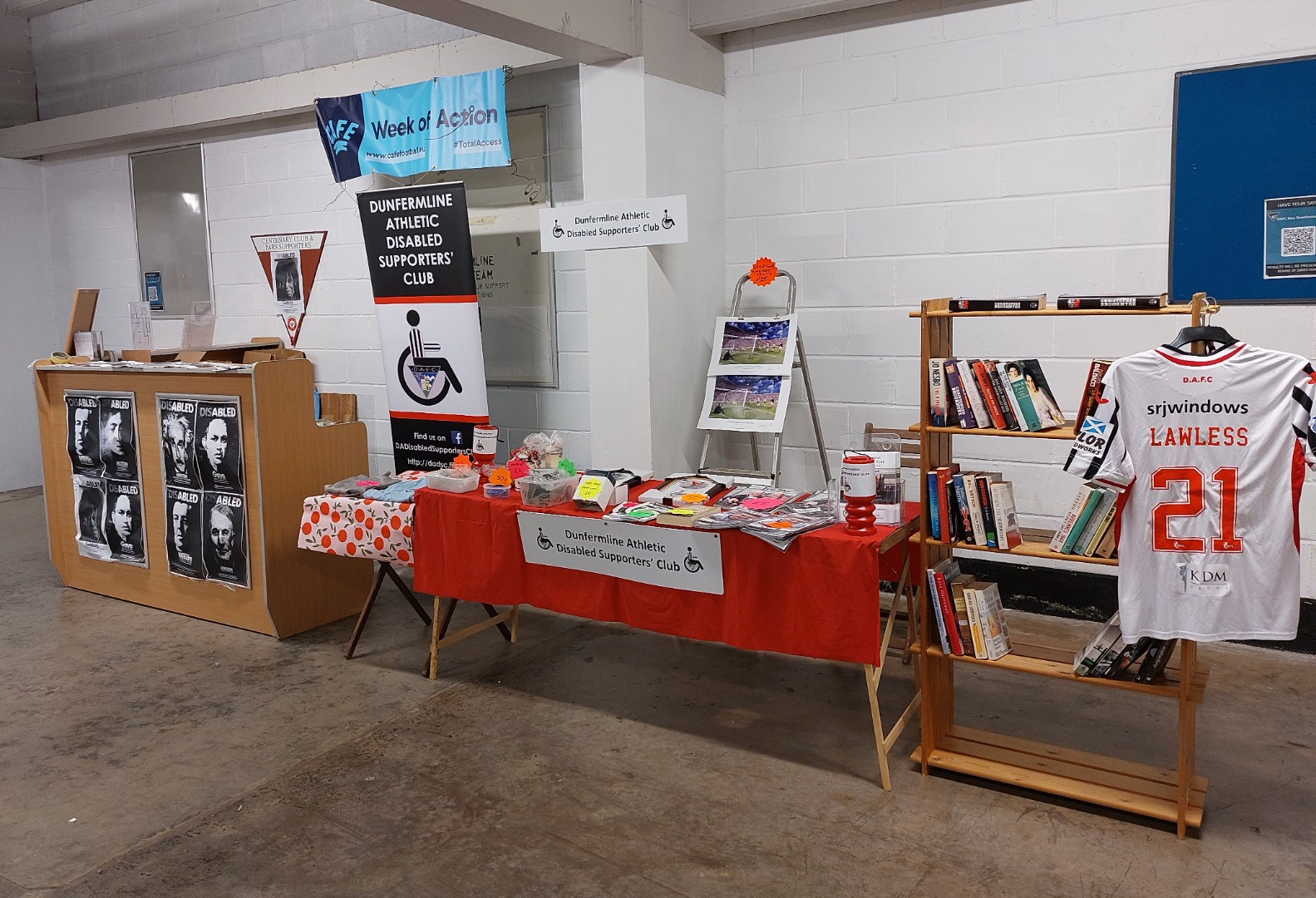 I also hear on the bearvine that Sammy and the Ball Boys and Girls will be doing something to commemorate the CAFE Week of Action.

And watch out too for the DADSC volunteers in light blue hi-vis jackets, who will be rattling buckets for the 1st Floor Access Fund, to give our wheelchair users and those with mobility problems the chance to use the function suites in EEP.





_________________

Support Dunfermline Athletic Disabled Supporters` Club when you shop online with one of 7000 firms: http://www.easyfundraising.org.uk/causes/dadsc
Or donate £5: text "DADSC" to 70970
Re: CAFE Week of Action / DADSC Bucket Collection and Stall
Topic Originator: Stanza
Date: Sun 19 Mar 14:24

Big thanks to everyone from DADSC who helped on the day - to Dave, Mike and Stuart for staffing the stall, and to all those who rattled the buckets in the various stands. We raised a few hundred pounds (haven`t counted it all yet!) but if you would have liked to contribute but weren`t able to (maybe you didn`t carry cash or you didn`t see the buckets), you can still do so by sending us a text - we would really appreciate it if you would:
To donate £1, text DADSC to 70201
To donate £3, text DADSC to 70331
To donate £5, text DADSC to 70970
To donate £10, text DADSC to 70191

And well done to all those in DAFC who put together and managed the match between the Pars Legends and the Scotland Cerebral Palsy team as part of the CAFE Week of Action - shame about the weather but we hope you enjoyed it. I want to make special mention of Graham Ross, Drew Main, Margaret Miller, Craig Brown and Jordan Burt, but there were lots of others - EVERYONE played their part and went beyond reasonable expectations to put this together - even Sammy joined in!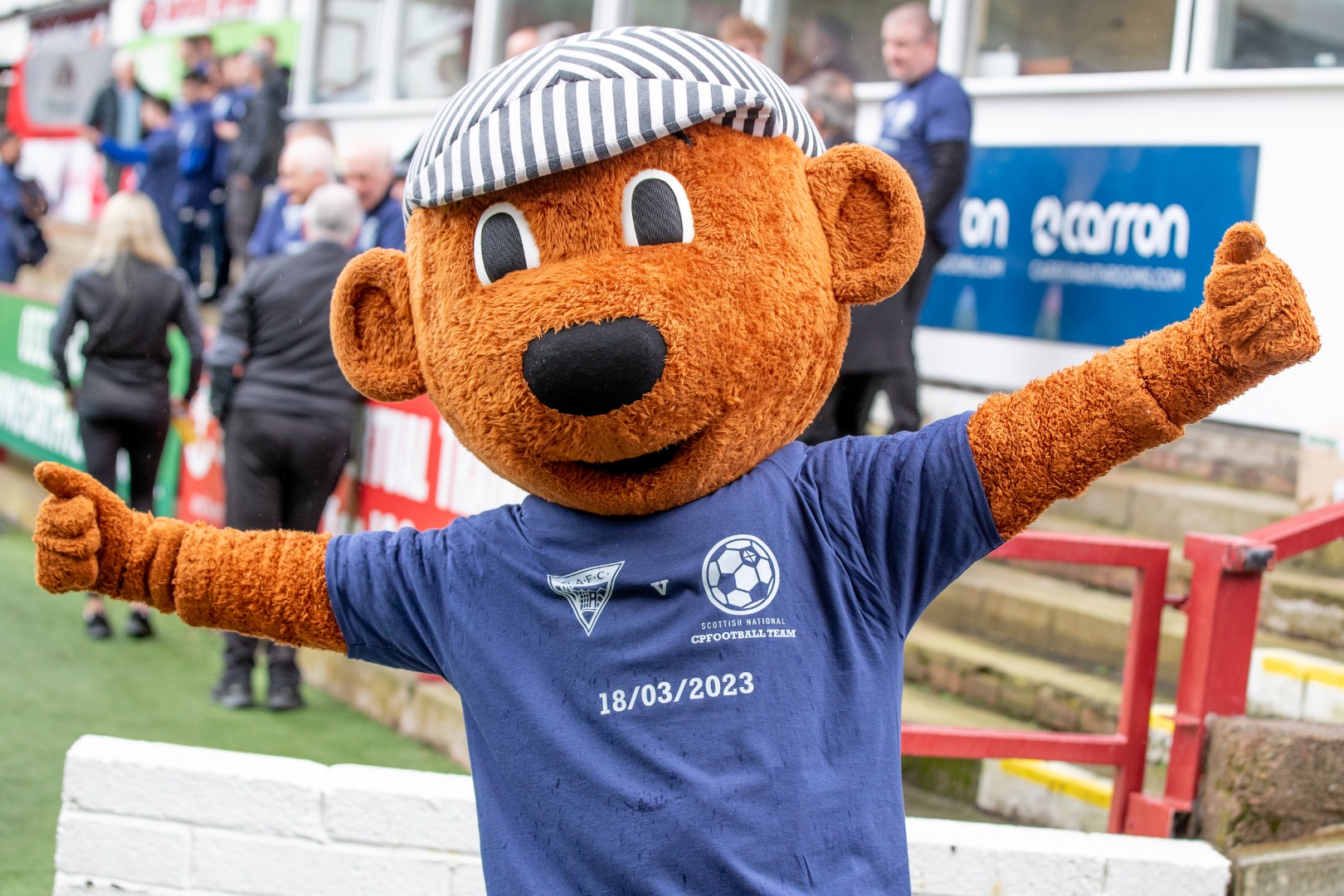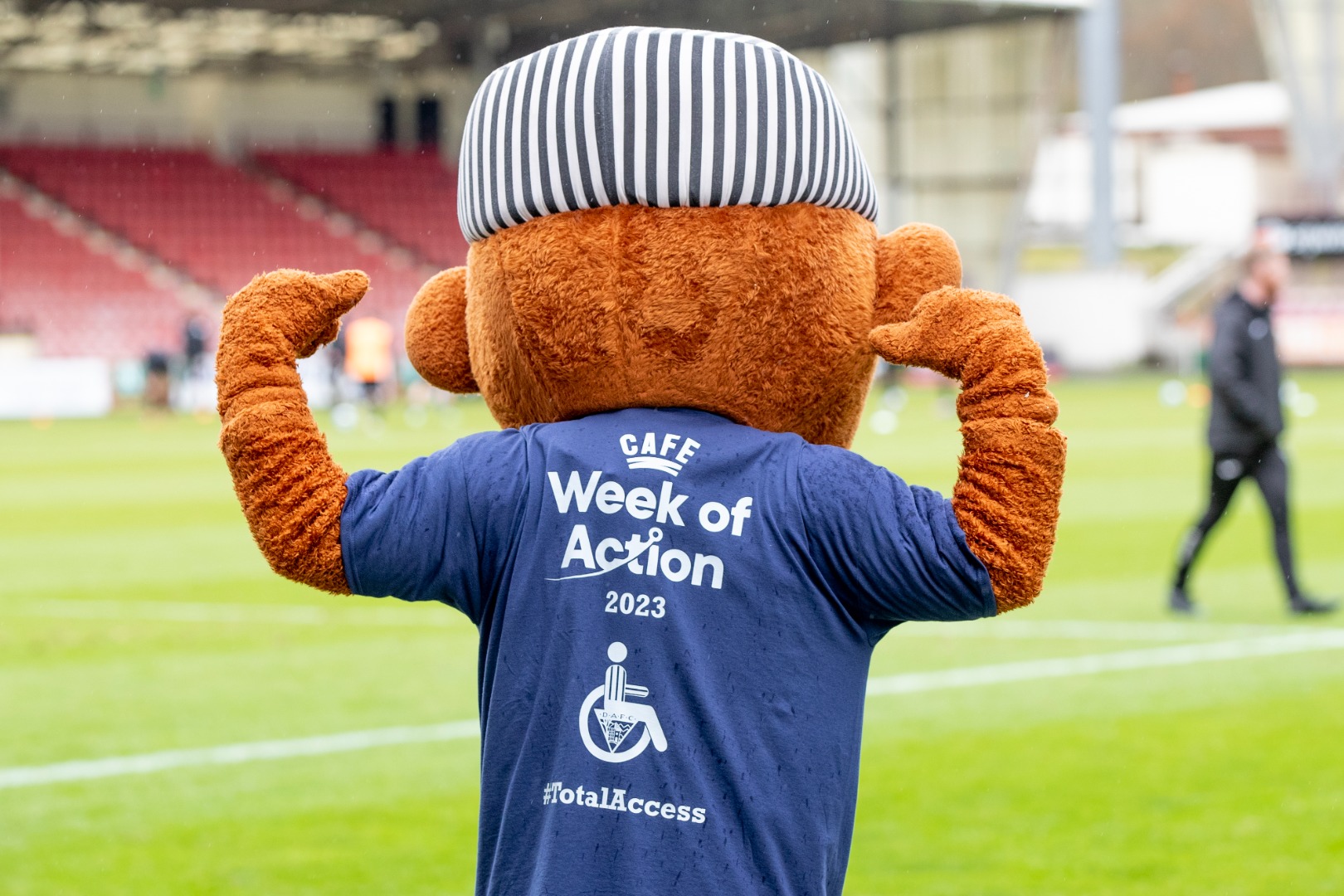 _________________

Support Dunfermline Athletic Disabled Supporters` Club when you shop online with one of 7000 firms: http://www.easyfundraising.org.uk/causes/dadsc
Or donate £5: text "DADSC" to 70970
Re: CAFE Week of Action / DADSC Bucket Collection and Stall
Topic Originator: Stanza
Date: Mon 20 Mar 13:31

DADSC is delighted to report that Saturday`s bucket collection and merchandise sales raised £636 for our 1st Floor Access Fund.

That`s a tremendous figure and a huge credit to Pars fans for your continued support for this project, especially at a time when the cost of living is increasing pressure on people`s budgets. Thank you so much.

If you missed out on the collection buckets, you can still donate to DADSC at this site:
https://tinyurl.com/4h937m4d



Post Edited (Mon 20 Mar 13:38)
---