DAFC V Scotland
Topic Originator: Pars D.A.O
Date: Fri 17 Mar 14:07

DAFC Productions proudly present to you….. DAFC vs Scotland (Yes you read that correctly)

For the last few years DAFC, in association with our friends at DADSC, have taken part in UEFA's Week of Action (hosted by their Centre for Access to Football in Europe- CAFÉ) which is geared to encourage inclusivity in Football for fans with disabilities whether that be to encourage them along to watch games or to give them the confidence to participate themselves. It's a week we always look forward to and this year is no different (and has a bit of a twist).

With the help of former Par Andy Smith, and their current coach Greig taylor, we have managed to entice along to the KDM Group @ East End Park, Scotlands National Cerebral Palsy Team for a short exhibition game against some true Pars Legends (as well as a couple of future stars).

The game will take place at Half time of tomorrows match with FC Edinburgh and gives us the chance to celebrate the achievements of the National team, who finished runner up to Columbia in their World Championships which were held in Sardinia a few months ago (Imagine Scotland in a World Final- Incredible). The team seen off big countries (we love Big Country here at EEP 😊) along the way including hosts Italy.

Tomorrows game also lets us all show our appreciation for a number of Pars hero's from yesterday with 80's icon John Watson leading the line ably supported by 90's superstar Hamish French, naughties Captain and Scotlands best uncapped player Scott "Nipper" Thomson, Keltys finest son, Pars Hero and producer of two future Pars stars, Andy Tod. To provide stability at the back we have former Pars GK coach Dave Westwood between the sticks while the teams legs in midfield will be provided by Pars young guns John Tod (now known for being Andrews brother..) and his under 18's team mate Freddie Rowe.

The players will be introduced to the crowd prior to kick off and before featuring at half time. The Pars fans were brilliant last year in the welcome they gave to Gold Medal Winner Owen Miller. It'd be brilliant to see both teams receiving similar acclaim.

Mascots tomorrow are Pars daft Calvin Early and his wee brother Shay as well as brothers Fraser and Logan Glynn who's dad Blair is a veteran of almost 80 games for Scotland and will be playing tomorrow.

There will be a special piece on the match tomorrow in the match programme and watch out for footage on COWS next week.

For more information on how to follow the CP team or get involved, you can contact admin@scottishdisabilitysport.com or call on 0131 3171130 or by via Twitter and FB.


Re: DAFC V Scotland
Topic Originator: Stanza
Date: Fri 17 Mar 18:50

Well done to Graham Ross and Drew Main of DAFC for putting together such a great half-time entertainment package as part of the CAFE Week of Action 2023. I also hear on the bearvine that Sammy and the Ball Boys and Girls will be doing something to commemorate the occasion. There`s a super article about it all by Ross Hart in this week`s Dunfermline Press, which you can see here.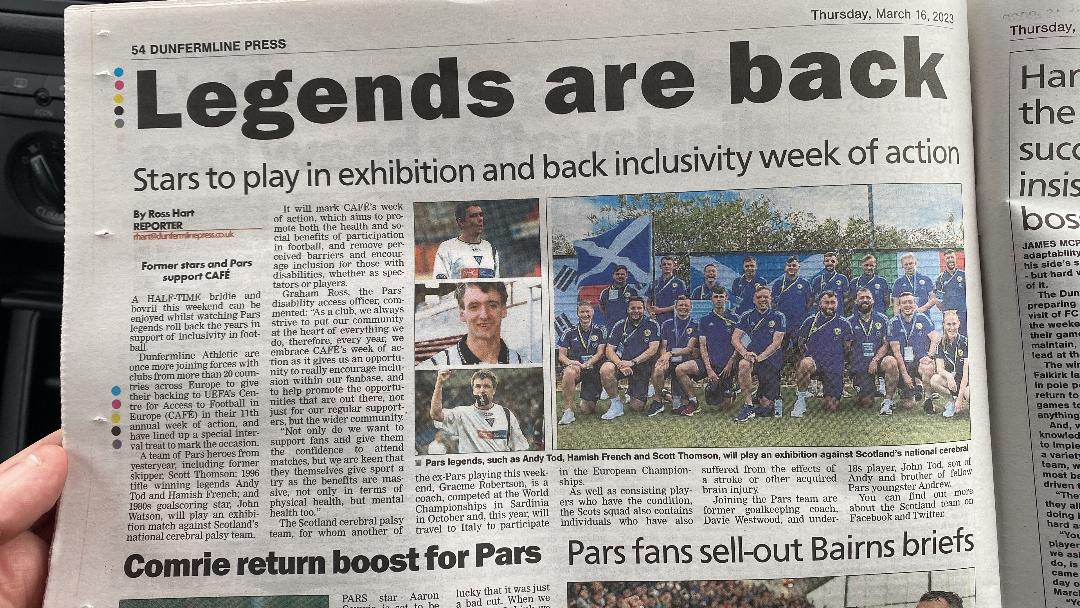 As part of CAFE`s Week of Action, before the match and at half-time there will be a DADSC sales stall in the concourse of the Norrie McCathie Stand, with signed shirts, books, clocks, badges, wristbands, candles and the final two unsold Paul Town prints of the 1968 Cup-winning goal, signed by Pat Gardner. Do try to bring some cash as we haven`t yet gone cashless, although you can pay DADSC by sending a text message..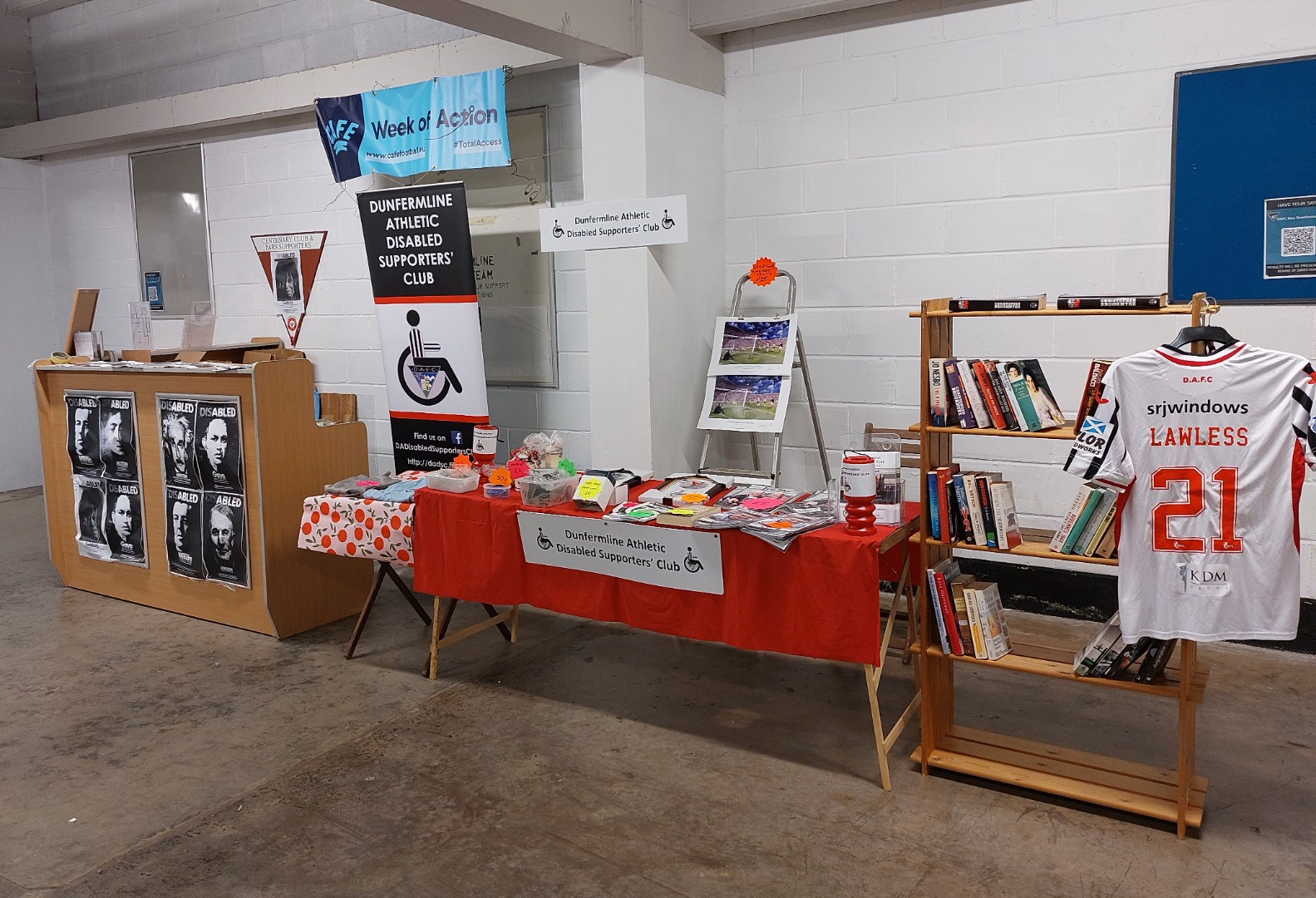 Post Edited (Fri 17 Mar 19:04)
---