Search:

Ivo obviously relished his time at Dunfermline and asked for the following message to be given to all Pars fans:
Read more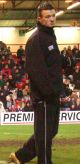 Noel Hunt finally arrives at East End Park and we have a couple of minutes of audio after the game against Dundee.
Read more

Read more
Should The Pars win through the replay at East End in 10 days time, they will face another home tie this time against Hibs.
Read more

Stewart Petrie is off to join Ian Ferguson in Australia.
Read more
Following the success of the Xmas Season Ticket package, the PARS are now offering another ticket package for the next four home games.
Read more

Saturday 25th January 2003 12-1 p.m. Sammy the Tammy has become a proud father – with the arrival of a squad of WEE SAMMY'S at the DAFC Club Shop.
Read more
Its about time we had another competition ! Thanks to Coors Brewers for the prizes.(Closes Mon 3rd Feb 23:59pm)
Read more

Pictures from Stewart Petrie`s Testimonial Match.
Read more
DAFC.net is on the look out for well travelled Pars tops during the forthcoming season! competition still on.

Send in a picture of you wearing a Pars top in a distant exotic land, or next to a famous location and it will be considered at the end of the season for first prize!

Thanks for your existing photo`s, I`ll upload them onto the site soon, but keep sending in.
Read more

The current Dunfermline side will take on a Pars select from recent years gone by, managed by none other than Bert Paton and Dick Campbell.

Here we have a look at the line up of ex-Pars who will be donning the black and white once more on a very special night at East End Park.
Read more
FANS of clubs allover Scotland are signing on online petition aimed at removing the Old Firm from the Scottish Football League
Read more

Jimmy Calderwood is delighted to have had confirmations from both Scott Thomson current captain of the PARS and Marco Ruitenbeek, that they will stay with the Pars for some time come.
Read more

...from old Brockville girders. Now is the time for the winter shutdown
Read more
Tickets going on sale for crucial SPL match at Hearts on 1st February 2003.
Read more

Pars star defender Andrius Skerla rates current boss Jimmy Calderwood alongside the likes of some of the worlds best Bobby Robson and Dick Advocaat.
Read more

The evening was a great success with plenty of stories about the "old days" from the likes of Dick Campbell, John Watson and Graeme Robertson.
Read more

Tickets are available for only £3 from the Centenary Club and the Young Pars for what promises to be a great evening!
Read more

Rossi, who has been AWOL since last season, will not be allowed to kick a ball for another club until his DAFC deal runs out in 18 months time.
Read more

After two good performances recently but no points what was said about the first win of 2003 at EEP ?
Read more

Read more