Search:
The dafc.net Prediction League
Read more
The Pars dander along the road to Cowdenbeath for the first round tie of the 2013-14 Ramsdens Cup. After a few well played friendlies it`s back to business for our youngsters and a good win tomorrow over the Blue Brazil would make for an interesting opener the following weekend for the start of the SFL2 season. Come along and support your local team. COYP!
Read more
The Pars welcome SPL visitors Dundee United to East End Park for the third of our pre-season friendlies. After their under-20s beat Buckie Thistle 5-0 last weekend DUFC will be hoping their winning ways - and the resigning of David Goodwillie - continue in today`s match.
Come along and support your local team - Come on ye pars!


Saturday, 20 July 2013
The U-20s won 5-0 in their pre season friendly against Buckie Thistle today with goals from Smith, Trialist, Moore, Hilson and Ryan.



Read more
Our second pre-season friendly; this time v our favourite over-the-forth rivals Falkirk FC. Let`s hope the visitors bring a good crowd with them, like Hearts did last weekend, as the sun is set to shine once again on East End Park. Come along and support your local team - Come on Ye Pars!
Read more
The Pars kick off the first of their pre-season friendlies with a visit from Heart of Midlothian. As a gesture of goodwill to the Edinburgh club, who are on shoogly ground similar to that of our own club, the gate money from this game shall be split 50-50. Sure to bring along a hearty (!) crowd the Jam Tarts will no doubt be wanting to get one over on former manager Jim Jeffries. Come on ye Paaaaars!
Read more
The PST would like to thank all supporters who have given so generously to the Buy the Pars campaign in so many different ways. So far raised in excess of £80,000 towards our target of £100,000. This is a magnificent effort by all but they need to ask you now to help them with the final push.
Read more
Pars Fans have been fantastic over recent months with auctions and donations.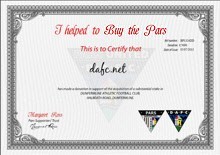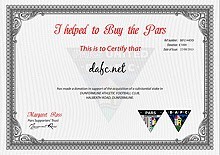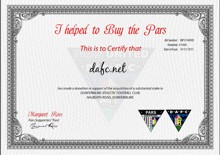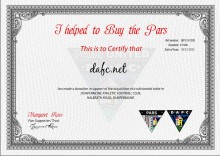 A donation of £5,000 was handed over to the PST by Kenny Mclachlan on the day that Pars United were awarded Preferred Bidder status.

Further donations of £10,000 wer made on 11th December 2013 and a further 2 certificates were received.
Read more
A new Android App has been developed to make it easier to access the forum from Android Mobile devices. This free app is available now on Google Play – search for "dafc.net forum".
Read more