Airdrie Utd. 0 - 2 Dunfermline Athletic (Challenge Cup Q/F)
Author: Stephen Taylor Date: Tuesday, 18th Sep 2007

The Pars edge past Airdrie United with a 2-0 win in what was a fairly unimpressive game played in a bleak (almost) empty stadium.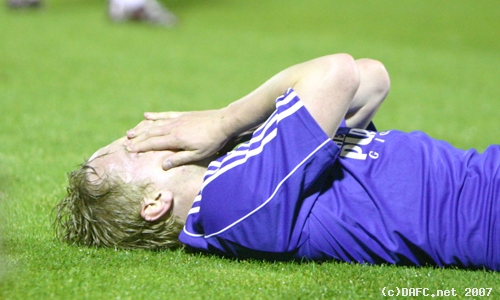 It would appear Stephen Kenny is not making the Challenge Cup his top priority as once again a much changed line up started against Airdrie tonight. Bamba, Crawford and Hamilton all being rested and still no sign of Scott Wilson or Kevin Harper. A new centre back pairing with Woods and Labonte starting for the first time and Scott Muirhead was also making a welcome return from injury. Sean Murdoch was in goals with Iain Williamson making a surprising appearance at right back. In midfield Simmons and Glass took up the central roles with Morrison and Ryan on the flanks. Tam McManus started the game alongside Burchill. On the bench youngsters McCulloch and Willis sat alongside Crawford and Darren Young.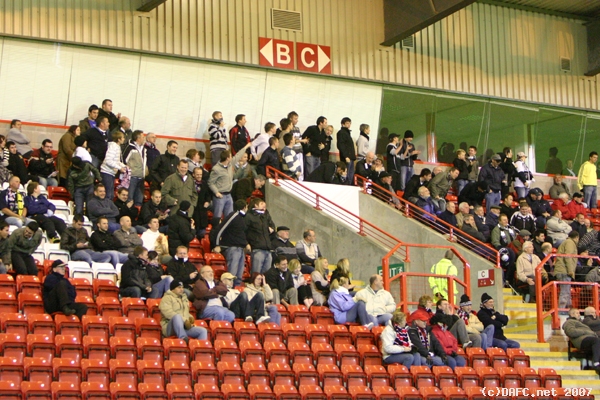 Darren Young had to make an early appearance (and perhaps an unwanted start) as Scott Muirhead had to limp off injured after only 6 minutes which was sad to see. There had been one other point to note in those opening minutes when McManus lobbed a ball that landed on the roof of the Airdrie net in 4 minutes. Stephen Glass dropped back to left back and Young played his usual role in midfield.

Airdrie`s McKeown hit well over in 9 minutes as the home side looked up for the game. Owen Morrison ran in from the right with the ball breaking to Williamson who shot low but it was blocked. Holmes hit a shot over as the Pars failed to clear properly in 11 minutes. Simmons showed that he could do the same in 12 minutes as both sides struggled to play a possession game in the dreich conditions. It was noticeable the referee was being awful fussy with the slightest physical challenge being deemed a foul.
Tam McManus hit a good shot saved by Robertson in the Airdrie goal in 20 minutes. The Pars were playing too many balls chipped forward down the channels for McManus and Burchil with little success. Airdrie had three efforts at goal in a 10 minute spell with Prunty, Russell and McKenna all havng a bash to no great effect or danger for Murdoch.

The Pars best move came in 36 minutes when Glass overlapped on the left and put over a good cross to McManus with the Pars winning a corner. Half time 0-0.
For once the Pars made a rare early re-appearance after half time with the opposition taking their time to come out.

Darren Young hit a good low shot in the first minute of the half just fizzing past the post. McKenna hit a woeful shot for Airdrie as neither side seemed to have a real cutting edge. But sooner that when Burchill socres theopeneing goal. Morrison to McManus and Tam slid a ball low across the goal mouth and despite a crowded area Burchill managed to get a foot on it to direct the ball into the net.0-1.
McManus tried to increase the lead in 57 minutes with a good shot just past the keeper`s left hand post. A free kick for the Pars in 59 minutes on the left saw Glass put over a good cross that Simmons and Woods both tried to head over. Bobby Ryan was having a quiet game but was fouled on the edge of the semi circle on the Airdrie penalty area. Morrison took the free kick and hit it low past the wall and past the post.

Then a golden chance to finish the game fell to McManus in 67 minutes as he broke forward and rounding the keeper he had taken it a bit wide and his weak effort hit the outside of the post and went out for a bye kick. He should have scored.

A spell of Airdrie pressure and some schoolboy defending by the Pars saw Airdrie waste a couple of half chances with shots wasted. The Pars makeshift defence was a bit unsure at times but they survived.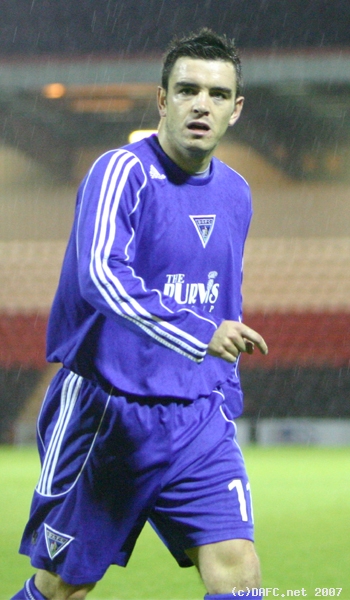 McManus made another good run to the bye line and his low cross was blocked. In 80 minutes another shot by McManus was deflected for a corner and from Stephen Glass` corner Burchill headed the ball home from about 6 yards out. 0-2.

Ryan had a shot saved in 82 minutes when a pass to Burchill on his left may have allowed the striker his hat trick. McCulloch came on for Williamson in 84 minutes.

To finish on a sour note Woods made a solid challenge on McKeown which looked fair enough but there was a bit of facing up to each other and a movement of heads as they growled at each other. Two red cards were shown which seemed a complete over reaction from the referee with only 2 minutes to go. A bit of common sense would not have gone amiss from the referee. It had not been a dirty game and it really was a matter of handbags at 6 paces, pathetic. Final score 0-2.
Related Stories


views: 4,899