Airdrie Utd 1 - 3 Dunfermline Athletic
Author: Alistair Campbell Date: Tuesday, 4th Nov 2008

As the eyes of the world turned west, anticipating a night of drama and excitement with the possibility of history being made, the small band of hardy souls who made the journey to Airdrie on a chilly night were not to be disappointed, and were rewarded with a good win, although Gallacher saved them on more than one occassion.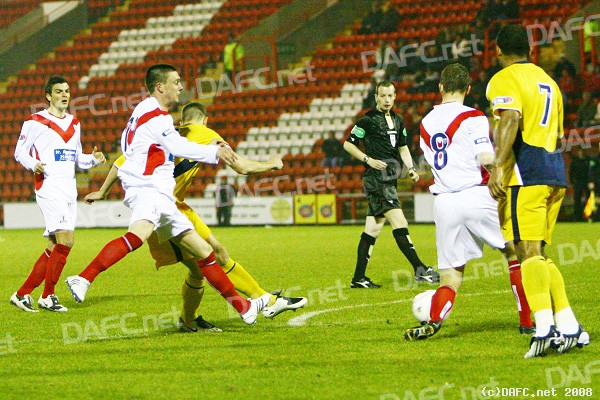 Jim McIntyre named an unchanged side from the one that lost at home to St Johnstone, although this was perhaps more due to the lack of serious alternatives than a vote of confidence in Saturday's starting eleven. However, a settled side is often an asset and certainly lack of familiarity could not be used as an excuse for any failings in performance. So, lining up in their yellow changes strips were Gallacher in goals, a back four of Woods, Shields, Wilson and McCann; a midfield of Harper, Glass, Phinn and Burke, and Kirk and Bayne up top.

No place for Bell on the bench, injured warming up on Saturday, so Muirhead got the nod joining Wiles, Williamson, Thomson and Reidford as potential substitutes. There was no sign of the mysterious Greg Roffe, identified in the program as an "Albanian with one first team start", nor, less bizarrely, of Greg Ross...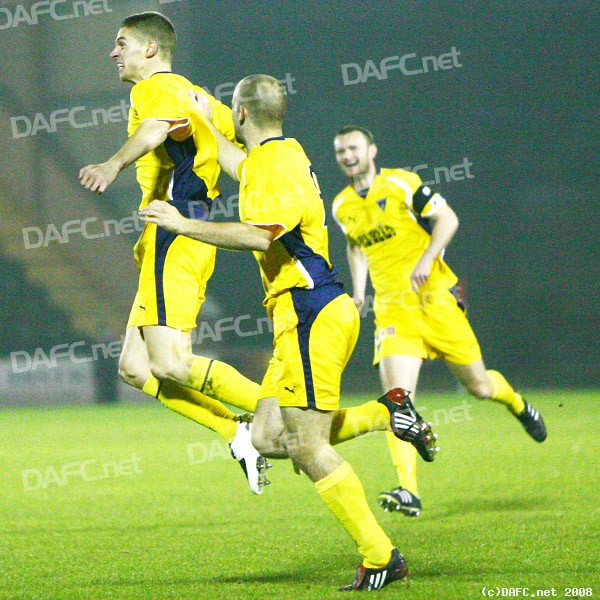 A delighted Calum Woods celebrates!
Even Scott Wilson is happy!
The Pars kicked off towards the town end and took only 4 minutes to take the lead. Woods and Harper played a one-two on the half way line and the Scouser strode forward. As Harper struggled to find space for a return, Woods kept going, cut inside, and, just as on Saturday, with the Pars fans shouting shoot, turned inside again onto his left foot before letting fly from the edge of the area - this time he kept his shot low, and found the net inside the right hand post. A tremendous goal, his first for the club, and he will be hard pushed to score a better one. One nil Pars.
However the lead only lasted 5 minutes - as the Pars attacked, a ball across the box was nipped away from Harper and the home side broke forward - Di Giacomo exchanged passes with Cardle but with Wilson having the option of clearing or of passing back, he did neither, playing a diagonal ball across the edge of his box.

Gallacher made a desperate effort to get there in time but Di Giacomo coolly skipped over the challenge and rolled the ball into the empty net despite Wilson's best efforts to get back. One each.

With both Phinn and Shield being late with tackles, one might have expected some early bookings, but although referee Collum still favours the quick dash to the scene of the crime, he now tends to leave his cards in his pocket, in pleasant contrast to his card-happy reputation.


In 29 minutes the Pars tool the lead once more and again Woods was involved. In similar style to his goal, he charged forward, but appeared to lose control of the ball. However, he is quick and managed to draw a foul, 25 yards out in a central position.

Up stepped Stephen Glass and effortlessly curled the ball left-footed over the wall and into the top left hand corner. Another great finish. 2-1 Pars. Almost immediately Woods trudged off injured to be replaced by Thomson in a straight swap.

This seemed to unsettle the visitors and Airdrie finished strongly - with Cardle in particular on the left trying to put pressure on the substitute although given he would cut inside every time onto his right foot such predictability may have been easier to defend.


With 2 minutes left of the half Harper was replaced by Wiles, having received a knock just above the left knee some 20 minutes earlier. The substitute was quickly into the action, sending the ball one side of Lovering before running round the other side of the Airdrie skipper, reaching the bye-line and crossing to the back post; however, Kirk could not control Bayne's knock down and the half finished with no more scoring.

Half time: Diamonds 1 - Pars 2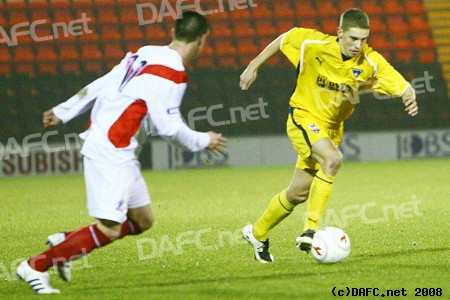 Calum Woods in action.




The Pars were out first for the second half and nearly made another good start; Phinn played a neat ball to Bayne, whose cross-volley went wide and in 49 minutes keeper Robertson fluffed a clearance straight to Bayne, but Nixon was quick enough to apply pressure and the big No 9's toe-poke was just off target.

In 53 minutes Cardle cut inside again and this time Gallacher had to get down well to his right to palm away. But 2 minutes later the Pars extended their lead - Wiles used his pace down the right, cut inside but was tackled and went down. There seemed to be a moment's hesitation as the ball broke to Phinn, who had the space, time and awareness to curl home from 25 yards past the stranded Robertson. Another fine goal, and 3-1 Pars.





views: 4,526