All I Want For Christmas...
Date: Thursday, 20th Dec 2018

It is the final game of quarter two in the SPFL Ladbrokes Championship and the Pars are hoping to head into Christmas with an early present as they face league leaders Ayr United at East End Park.
In the summer of 2017, it would be unimaginable to think that Livingston would now be in the Premiership...so, for Ayr United to continue the trend of League One promoted sides battling for a spot in the top flight is unbelievable. As we head into the final match of the second quarter this weekend, the Pars face their toughest task yet, against an in-form and table-topping Honest Men side managed by former Dunfermline player Ian McCall.
The Pars fought to a 0-0 draw last Saturday against Queen of the South at a rainy, windy and snowy Palmerston Park. After warnings by Police Scotland to not travel unless necessary, many people chose to stay indoors last weekend, including football supporters. Only 74 brave souls made their way to Dumfries from the Kingdom and only 727 turned up to watch their sides in total. Thankfully, for most who didn`t or couldn`t make it, not a lot was missed. While Allan Johnston`s men had a lot of possession and dominated the play, Queens were resilient defensively and their keeper Alan Martin pulled off a few terrific saves.

Another frustrating afternoon for all associated with DAFC after another 2 points went abegging in a match they could easily have won. 19 points from their opening 17 league matches see them sit in 7th position, but, only 4 points off the play-off places. All is not lost but a run of consistent form and momentum is desperately needed to aliviate the pressure on the players and managemtn staff. This weekend`s fixture couldnt be much tougher - especially as they will be facing familiar foes in Steven Bell, Lawrence Shankland and Michael Moffat.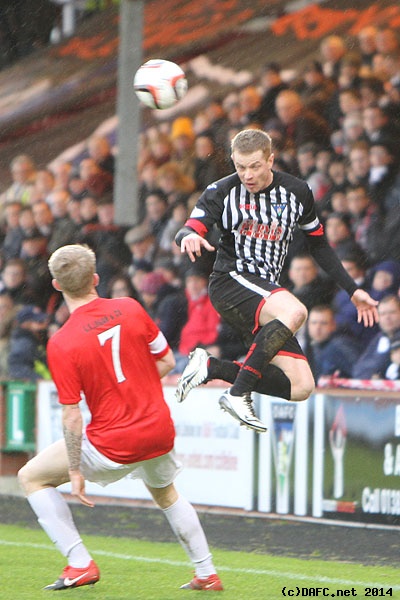 Geggan has played in this fixture plenty time before...
Another player who is formerly of the East End Park side, returning for the first time since his release in 2017, is Andy Geggan. The experienced midfielder spoke to Jordan Burt earlier on this week ahead of the match:

Geggan has been re-united with the Somerset Park club following his release by the Pars in the summer of 2017.

"It has been good; I am enjoying my football again with us having won League One last season. We just hoped we could stay in the division this year, so, I think we have surprised ourselves, never mind everybody else out there. We have proven we can challenge at the top end of the league.

I know we are right up there, but, staying in the league would be brilliant as that was our first objective. In the next month or so, we have a lot of big games: if we are still right up there, I think we can then say we are in a title race."

The versatile 31-year-old was with Dunfermline from 2012 until 2017, making over 150 competitive appearances for the Fife club. Saturday will see 'Geggs' return to East End Park for the first time since his departure last summer, alongside fellow team-mate Michael Moffat.

"I'm really looking forward to it – I love the stadium, the fans and everything about the club in general, to be honest with you. I am quite excited to return, if truth be told: I am looking forward to seeing the staff and everyone associated with the club as I haven't been back since I left. I went through everything while I was at the club – I have been through administration to winning League One…some times were tough, some times were excellent; I was gutted when I was released, to be fair."

The Premiership is the only division in which the former Dumbarton midfielder hasn't played in as of yet – but, could this be the season?

"Possibly," replies Geggan. "You can never say never! You don't know what the future lies – as things stand, we are top of the division and things are going good, so, we certainly have a chance but we aren't and won't get ahead of ourselves: our feet are on the ground and we are only focused on Dunfermline this weekend."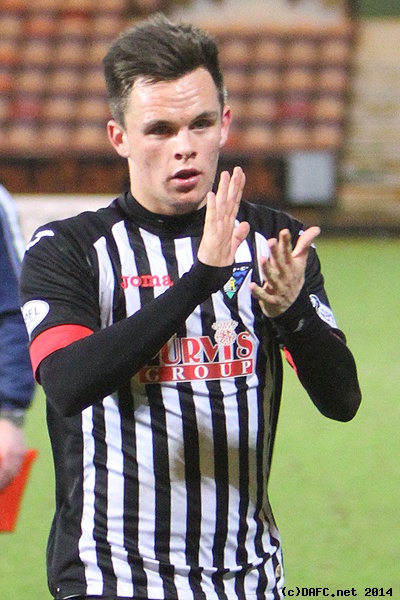 Shankland was a Pars loanee during the 2013-14 campaign
A major player in the Honest Men's rise in recent times has been Lawrence Shankland; a player Andy worked with while at East End Park, also.

"Lawrence has always been the same player to me. He was always just needing that little bit of confidence, in my opinion, and it is clear that he has definitely got that now: hopefully he can keep it until the end of the campaign! When you are enjoying yourself and you are enjoying your football, then you can show that happiness on the pitch and I think that is what has happened in the past 18 months; he has improved a bit – he has always had the qualities he has shown, but, it is great he is now fulfilling his potential."

A 3-3 draw last weekend saw Ayr remain top as they battled it out with second placed Ross County. Geggan grabbed his second goal of the term and hopes he can add to his 49 strikes in the SPFL so far in his career.

"We were disappointed more than anything else as the wind and the rain changed things a little bit in the second-half: I am not using that as an excuse because the two goals we conceded after the break were poor from our point of view. However, I think it is good we have that wee bit pressure on us, it can only be a positive.

I had a wee feeling I was going to score; I have been getting chances, but, I haven't been taken them, sadly. Hopefully I can kick on with a little run now and I can help the team out over the next few weeks. I was playing right-back at the start of the season, but, I've been moved forward to right-midfield now and I am really enjoying it. To be honest though, I would play anywhere as long as I am getting a game: you could put me in goals and I'd still give it my best shot. I am just happy playing regularly."

The Pars are on a difficult run of form, but, Geggan knows Allan Johnston won't make it easy for the Championship leaders.

"You never know what is going to happen in this league; one week, you can have a stinker and the next you are all absolutely flying – we know it'll be a tough game. It'll be a challenge as Allan Johnston will have them up for it, but, we are ready to go as well – guys like myself and Michael Moffat are looking forward to returning, so, that'll give it a wee bit more of an edge for us, too.
These are the games you need to win if you are going to be up the top challenging. You need to win your home games, first and foremost, but, it is just important to win on the road, as well. We are hoping to get the result we want – hopefully it'll be a good weekend for Ayr United, so, then, we can all enjoy our Christmas!"

It is clear what both teams want from Santa this year.... 3 points!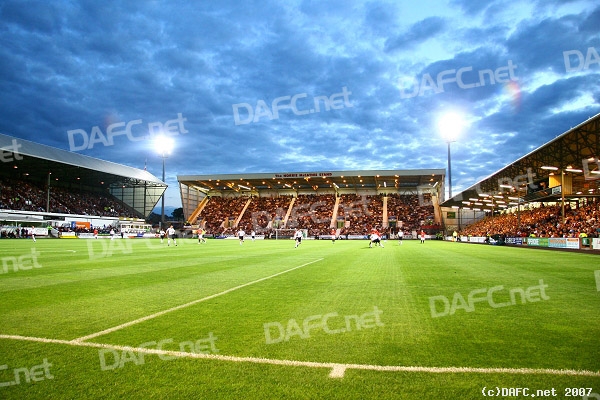 Let`s get right behind the team... Come On Yeeeeee Paaaaaaars!!!
Related Stories


views: 2,696