Andy Tod testimonial match details!
Author: Jason Barber Date: Tuesday, 1st May 2007

DAFC.net has received details from testimonial secretary, Mark Wilson, and can confirm some of the players who have already signed up to play in the match which now takes place on the new date of Wednesday the 2ND OF MAY at 7:30pm.
Andy Tod was signed by Bert Paton and made his Dunfermline Athletic debut way back in December 1993 for The Pars. His first goal soon followed just days later as he scored against Hamilton Accies in a 4-0 first division win. A prolific goal scorer in his early seasons, Tod was a key member of the team that won the first division championship in 1995/96 season, one that Pars fans will never forget.

Toddy`s first spell at the club looked doomed when he was sent on a loan spell to Stockport County in 2000, and it finally came to an end when Jimmy Calderwood sold him to Bradford City in May 2001 for £175,000.
After Bradford ran into financial difficulties, Tod found himself on the sidelines as an additional stage payment would have been required had he played another game for the club! Loan spells back in Scotland at both Hearts and Dundee United (both of which saw him score AGAINST Dunfermline!) did not materialise into a permanent move, and Calderwood signed Toddy back from Bradford in July 2003.

Tod`s Dunfermline Athletic career has seen him play for perhaps more managers than any other player in the club`s history:

Bert Paton, Dick Campbell, Jimmy Nicholl, Jimmy Calderwood, Davie Hay, Jim Leishman, Craig Robertson and Stephen Kenny have all named Andy Tod on their team sheets over the years since he signed for The Pars. If anyone knows of a player to have "survived" under so many different bosses, please let us know!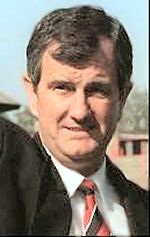 Bert Paton signed Toddy back in 1993
As with any player who has played so many times for a club over so many years, there have been plenty of ups and downs in terms of team selection since 1993. Tod`s current spell on the sidelines has seen him slip down the pecking order since the festive season, but he recently returned to playing (and scoring) action for the reserve team and could yet play a vital part in the battle against relegation over the coming weeks.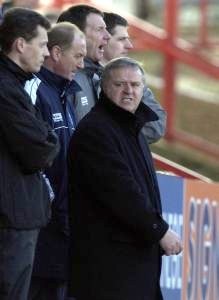 Jolly Jim took Toddy down to Bradford
Experience to the level that Andy Tod has amassed with Dunfermline, along with the length of service that goes with it, is a rarity in this day and age. With over 300 games and nearly 50 goals to his credit, those figures could yet be added to before May 2007.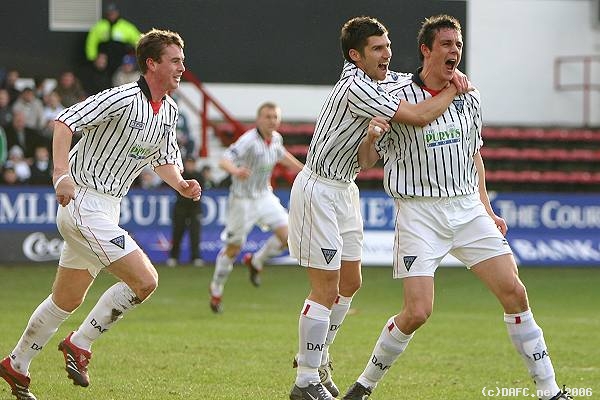 Toddy has been a saviour at both ends of the park




Toddy now has a testimonial match to look forward to playing with, and against, just some of the players he has befriended along the way:

Craig Brewster, Billy Dodds, Russell Latapy, Ivo Den Biemen, David Bingham, Gerry Britton, Lee Butler, Paul Deas, Gordon Durie and John Watson have already signed up and more are waiting in the wings to join them.

Added to the original list on 5th April is a true Pars legend, one of the finest to have ever pulled on the black & white, namely Istvan Kozma!

Important notes for your diary re kick off are:

Wednesday 2nd May 2007, Kick-off at 7.30pm. Prices are just £10.00 for adults and £5.00 for concessions.


Hospitality packages are available through DAFC with a 5pm start in the Kingdom Suite for just £40 PER PERSON INCLUDING VAT

Itinerary
 Corporate hospitality commences in the Kingdom Suite at 5pm
 Delicious three course meal will be served
 Cash bar available
 Testimonial game will kick off at 7.30pm
 Return to the Kingdom Suite at half time for Pie and Teas/Coffees
 Second half of game
 Finish



views: 7,909