Centenary Club events for 2006
Author: Jason Barber Date: Monday, 25th Sep 2006

DAFC Centenary Club have a number of events being organised for the coming weeks and bookings are being taken now:
After the success of a similar event last season, a "meet the new players" evening is taking place in the Kingdom Suite at East End Park on Thursday the 12th of October at half past seven. Tickets are free for this and all ten of the signings made since the summer have been invited along for informal chat with Pars fans on the night.

All the summer transfer window signings have been asked to attend, so hopefully you can come along and discuss your football with:

Sol Bamba
Stevie Crawford
Dorus De Vries
Jim Hamilton
Owen Morrison
Phil McGuire
Jim McIntyre
Roddy McKenzie
Noel Whelan
Calum Woods

Free tickets are available in the first instance by emailing Jason@dafc.net to confirm your place.
Next event planned is an Andy Tod Testimonial Forum, again held in the Kingdom Suite at East End Park. Tickets for this are priced at just £5 and the forum will take place from 2pm on Sunday 22nd October.

A panel will be confirmed nearer the time, but it will include Toddy himself who will be able to do a question and answer session as part of his testimonial year which recently kicked off. There will also be a raffle and a prize quiz on the afternoon.

Tickets are limited and have been selling fast, so please do not hesitate if you want to come along to the testimonial event. Tickets can be bought from Centenary Club chairman Pete Campbell, or again by emailing Jason@dafc.net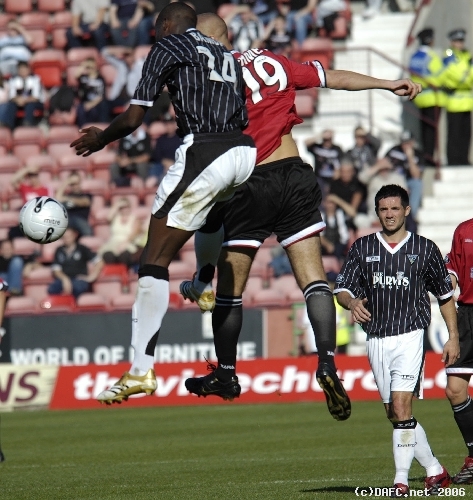 Big Bamba is one of 10 players invited along
The ever popular quiz is returning to the Kingdom Suite on Thursday 16th November. Always a sell out, no one ever leaves empty handed on the night! The trophy will again be up for grabs, as well as the cash prize fund that goes with it. Various other Pars prizes will be up for grabs as "Norfolk in Chance" defend their title against other past winners and new challengers. Entry is just £1 a head and teams can have up to a maximum of six members each. Plenty of teams have already booked their place and numbers are limited to a total of 120, so please book if you want to take part in the quiz night.

Finally for 2006, the Centenary Club has booked The Gallery restaurant for carvery hospitality on Boxing Day, when Dunfermline host Motherwell in a vital SPL match. Hopefully as many members and their families will attend the event. Prices are still awaited from DAFC, but hopefully an excellent package will be made available for the festive day out. To pre book your place, please email Jason@dafc.net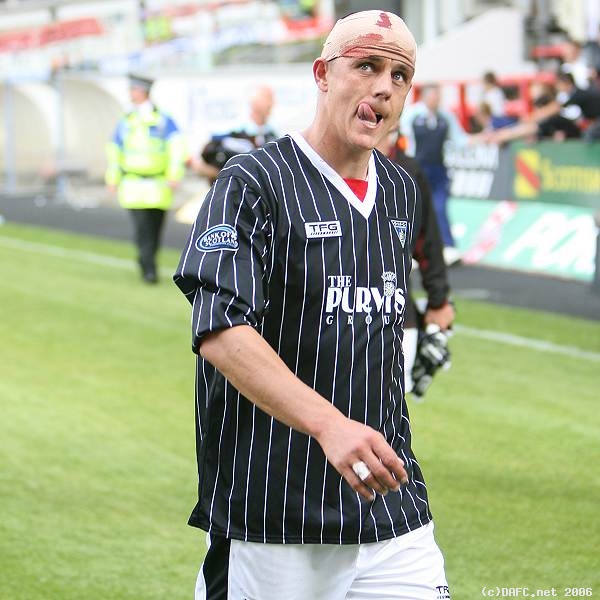 Another event upcoming for Toddy`s testimonial
Hopefully as many members, and non members, will take up places for these events which will all help raise funds for DAFC. As always, the more members who subscribe for just £104 a year (or £8.66 a month) enable more regular cash donations to the football club. Along with the glass hospitality box which has now been purchased for the second season in a row, donations to DAFC now total over £1 million since it was formed in 1985. Membership has not increased in price since then and there are no plans to do so!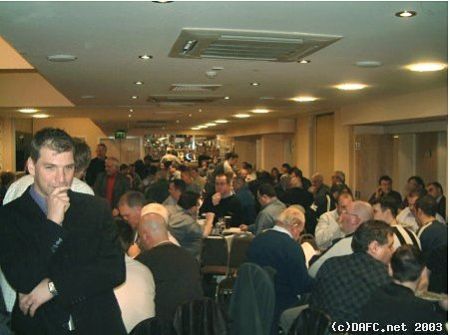 Kingdom Suite at EEP




As well as cash donations, regular purchases are made of one off kit at the request of the football club. Bibs and footballs were bought last season for Hamish French and the community coaching department. This season has seen tracksuits bought for the under 13/14 and 15 teams.

Another cash donation is due shortly, thanks once again to members for making such regular donations to the football club possible.



views: 2,374