Comments from Livi 2nd Jan
Author: Brian Date: Saturday, 4th Jan 2003

After two good performances recently but no points what was said about the first win of 2003 at EEP ?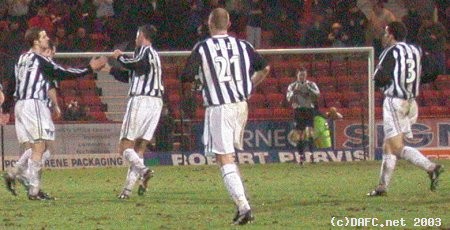 Jim Leishman
I think losing a goal in the last minute of the first half really gave Dunfermline a lift. I thought the first half was very even ball sticking in the mud, a striker who is having a great year, probably Stephen Crafwford`s best year, what an improved player he is, he got a wee break with the ball sticking in the mud, and then a great finish.

Second half we had a lot of possession. we got caught cold after Broto came off (back problem) young David, he was a bit disappointed he lost the goal, it hit his knee and bounced out and again the alertness of Stephen Crawford was great, he stuck it in the net. The last 15-20 minutes they just changed it, sat in and wanted to win the game. I thought we had a lot of possession but we had that scrimmage from the corner, if that goes in then maybe they would have been on the back foot and we could have fought back to 2-2, but it wasn`t to be.
Lee Bullen
I think the result was the most important today after 2 good performances, but coming away from them with no points has been very disappoiting. I think the manager stated in the papers today that the result was definately the most important also.

I think it was a pretty decent performance as well so we`ll take a lot of plusses from it. I think the first 10-15 minutes we started really well, and if we`d got a goal then things would have changed, but Livingston came back into the game. with Craig going off for 4 minutes it gave them a litte bit of initiative, to be honest we maybe scored against the run of play.

I think Livingston were knocking the ball about well and pinning us back. They changed there system because we were given a lot of freedom with Nipper at one side and Chris at the other side, and I felt they changed their system to combat that, and they came back into the game, it stopped us playing as much as we were at the first part. Stevie`s great finish again, that put us on the upper hand.

I had a chance also, I heard a shout from someone to step over the ball, but I wanted to at least connect with the ball, so I was disappointed it didn`t come off. I`ve not been in the box that much this season and when you do and you get a chance you at least want to connect to the ball.

The second half was a fantastic display defensively, they had a go at us, they have good players allround, they`re hard to get hold of, our lads stuck to their tasks brilliantly, ok, it was nitty gritty at times, when corners were coming over, and a little bit pin-ball in the box, but we stuck to our tasks. Derek`s done great and the defenders, we can take a lot of positives from it, especially defensively, and Stevie popping up a couple of times, delighted.

The ground was very difficult, it was slippery underfoot, the keeper was finding it difficult. Also your standing foot was giving way underneath you and your slipping, and on passes and crosses it was going all over the place, not just Dunfermline but Livingston also. But give credit there was a fair bit of football played even though it was a bit of a quagmire.

With the score 2-0 and Hibs-Hearts drawing it was a good result all round for us.


Do you think there should be a break ? There`s always plusses and negatives, you always want to finish on a break positively, and thats what we`ve done but when your winning you want that to continue. From a personal point of view its nice to finish with 3 points, and then let the lads recharge their batteries a little bit and get back on track for the latter part of the season, push to get this 3rd place - but it will be a heck of a battle. There`s 3 or 4 teams in there if we can get a break we`ll have a go at it when we get back.
Related Stories


views: 4,065