Dundee 3 Dunfermline Athletic 2
Author: Alistair Campbell Date: Sunday, 17th Jan 2010

Dundee virtually extinguished any lingering hopes of promotion that the Pars retained with a barely deserved victory. The Pars did well to come back twice from going a goal behind, but despite dominating for large parts of the second period, they couldn't score a third, and paid the penalty late on.


After the off-field shenanigans of the last week it was a relief for the spotlight to turn to events on the pitch. Of course, it being Dens, there was the usual diverse mix of pre-match listening –Journey instructed us "Don't stop believing", Alexander Burke (I may have misheard that) suggested "We can do it even better", which is always good advice, and Lady Gaga also had her tuppence- worth to add, but by that stage team-sheets were again causing consternation with the news that a "J McIntyre" would be on the bench for the Pars.


Closer inspection revealed that Jimmy Mac was indeed hoping to make a comeback, but his starting line-up was unchanged from last week – Greg (or Craig, as the announcer persisted in calling him) Fleming in goals, Ross at right back, Captain McCann at left-back, McGregor and Dowie centre backs, Gibson left wing, Graham right wing, Bell and Phinn in the middle of midfield, McDougall and Kirk in attack. Holmes, Cardle and Woods (legitimately this time) joined Macca and Paterson on the reserve-list. No sign of Alexander Burke, presumably rested rather than suffering from broken heels...

Jocky Scott had opted for a fluid 4-3-3 with Gary Harkins flitting from left to right alongside Griffiths and McMenamin with further Pars interest on the bench where Pat Clarke and Darren Young found themselves.


If there was one thing the Pars didn't need, it was to concede an early goal, but with 130 seconds gone Fleming was already picking the ball out of the net. Malone played a one-two with Hart, and with Gibson not close enough, the full back had room to play the ball across the six yard box – the sort of ball defenders hate, but forwards love, and Griffiths had the easiest of tasks to score. Hopeful appeals in the direction of lineswoman Morag Pirie were fruitless and the Dees were one up.


The Pars fans responded by getting behind the team some more, chanting "there's only one Calum Woods" as the subs warmed up. Some more shaky defending with McCann gifting the ball to Harkins was tidied up by Dowie, before we saw our first sign of Ross and Gibson combining, but the latter's cross was too close to Douglas, a theme that would recur. However, the Pars levelled in 10 minutes, from a Dundee attack. Malone again was pressing forward but this time opted for a more central route where he simply ran into McGregor, standing tall. Bell quickly swung the ball out to McCann, Paton started to come out then changed his mind allowing Ozzie to advance, Graham timed his run through the channel to perfection, got the ball just inside the box, cut back onto his right foot and curled it in to the top right corner in Cardlesque fashion. One apiece.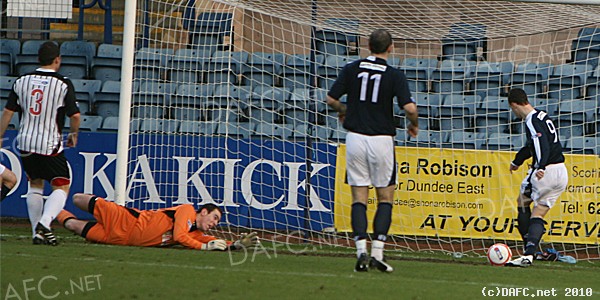 Dundee take an early lead
Parity didn't last long however – after a clash of heads between Gibson and Malone that nearly resulted in subsequent clash of physios as they both raced on with sponge at the ready, Forsyth got the ball 35 yards out, neatly avoided McGregor's attempted obstruction and sent Griffiths clear on the right of the box. Sparky cut it back from the bye-line, another ball that defenders must hate having to deal with and McMenamin bundled it home. 2-1 Dundee, and only 16 minutes played.

The Pars nearly equalised two minutes later, Ross wrong-footing Malone to set up the chance to drive in a cross which the front players missed, but Phinn screwed his shot wide. The next chances fell at to the home team – McMenamin narrowly failed to get on the end of Paton's dangerous cross before McGregor got booked for grabbing Harkins' ankles as he fell. Hart's free-kick sailed just over Griffiths at the back post.


The Dundee defence can only watch as Grahams shot flies in of the bar




Underfoot conditions were good to soft (soft in places) with players slipping, but both teams were trying to play football. Graham skipped past Paton in 28 minutes, and fed Phinn, but Kirk couldn't connect properly with McDougall's knockdown – a good chance going a-begging.

Fleming and Ross nearly got into a fankle with a pass-back, a corner surprisingly being given after McMenamin charged down the keeper's kick, before we saw the game's most controversial moment. Bell had hassled well to win the ball from Harkins deep in his half and sent McDougall away. Benedictus couldn't keep pace and his tackle brought Steven crashing to the ground at the edge of the box. Not the last man (Lauchlan had got back) but wasn't it a clear goal-scoring opportunity? Yellow sufficed, and Douglas held Gibson's free-kick at the second attempt.

Half time: Dees 2 Pars 1





views: 2,620