Dunfermline 0-2 Carlisle United
Author: Jason Barber Date: Saturday, 22nd Jul 2006

Another new Dunfermline line up took to the field today, with some of the more experienced heads being rested or suffering from injury.
Roddy McKenzie continued in goal, rather than Dorus De Vries as reported by the media. Aaron Labonte again lined up at right back, opposite Calum Woods on the left side. Soulemayne Bamba and Philip McGuire started as the centre halves.

Jamie McCunnie and Gary Mason were the central midfield engine room, whilst Scott Muirhead and Craig Wilson were either side of them.

Mark Burchill and Freddie Daquin were the two front men as Jim McIntyre again missed out due to his shoulder injury.
Having been made to switch ends, Dunfermline played the first half shooting towards the barely populated Norrie McCathie stand. The Pars looked quicker out of the blocks and a number of half chances came their way. A Muirhead corner after only five minutes found Bamba`s forehead, but unfortunately he could not keep it down and Westwood was not troubled in the Carlisle goal.

Mark Burchill was next to have a go, with an excellent corner after fifteen minutes. Westwood made a "TV" save to push the effort wide for a corner.

Kevin Gall, number 25 for Carlisle, was to give an early warning of what was to come when he attempted to chip McKenzie, however the new Pars keeper saved easily.

An early injury scare occured when Thursday`s man of the match, Scott Muirhead, had to leave the field to be replaced by Owen Morrison after only twenty minutes. A hip injury appeared to be the problem as the ever busy ice pack was quickly applied.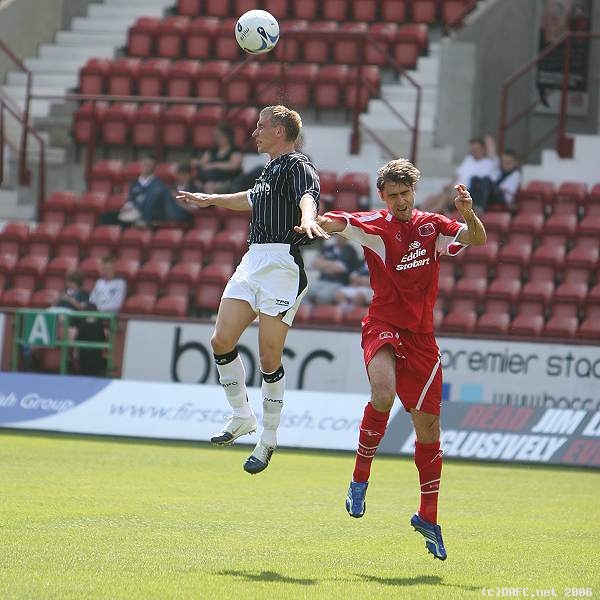 Calum Woods wins this ariel battle.
Mark Burchill, so often quiet during the pre season so far, dropped down a gear in the 25th minute and burst away from his marker after a through ball from Morrison. McCunnie ended up with the ball at his feet on the 18 yard line and his low drive was well blocked.

Calum Woods ventured upfield and had Dunfermline`s next chance, with an excellent 30 yarder which was again well saved by Westwood.

Chances kept on coming however, as Dunfermline carried on where they left off on Thursday evening. Freddie Daquin had a headed chance that was just too high for him, then Bamba had a volleyed effort that unfortunately went straight into Westwood`s arms.

Gall had his second effort on goal when he was found unmarked on McKenzie`s left. Thankfully he paniced and sliced the ball well wide.

Owen Morrison was proving to be a very useful addition to the side and he beat Arnison before chipping over the keeper`s head. Unfortunately his chip sailed just over and what would have been a sublime goal was not to be.

Minutes later, Morrison again skinned Arnison and chipped the ball into the box, though a corner was the end result.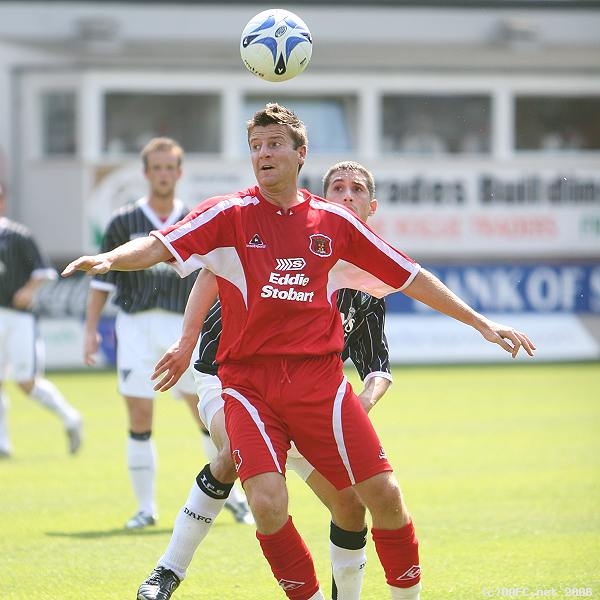 Aaron Labonte v Michael Bridges.
As half time approached, Jamie McCunnie (who was doing a quiet but very effective job in the middle of the park) had a volley from all of 25 yards which took everyone by surprise, not least Westwood in Carlisle`s goal. His shot went clean through the pack of bodies in the box only to hit the inside of the post and eventually clear for a corner.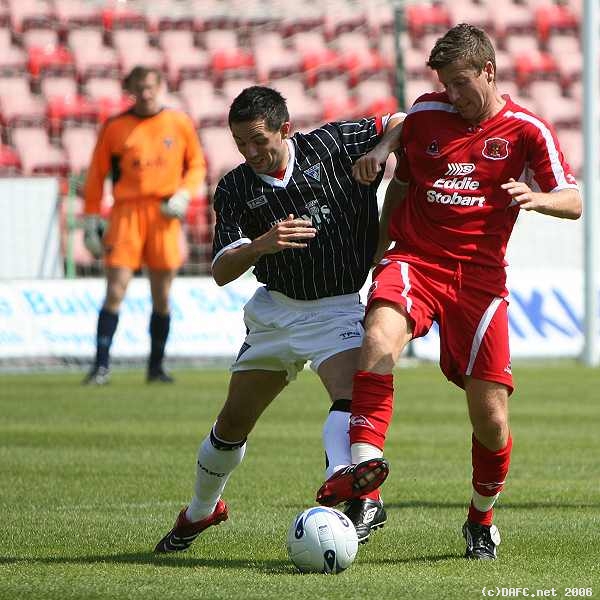 Gary Mason giving no peace to the Carlisle midfield.
The second half kicked off with Labonte having been replaced by Iain Campbell. Woods moved over to right back, whilst Campbell took on the left back slot.

Not a lot happened in the early part of the second half, with the pace having dropped somewhat from that of the first.

On the hour mark though, Mark Burchill again showed what he is capable of when out of next to nothing he suddenly headed the ball through for himself and easily beat his marker. Clean through on goal and about to shoot, his legs were taken away from him in as clear a penalty as you are likely to see! The referee, Mike Tumility, looked across at his linesman despite the incident being right in front of him. End result was no penalty and an incredulous Burchill was left wondering what might have been.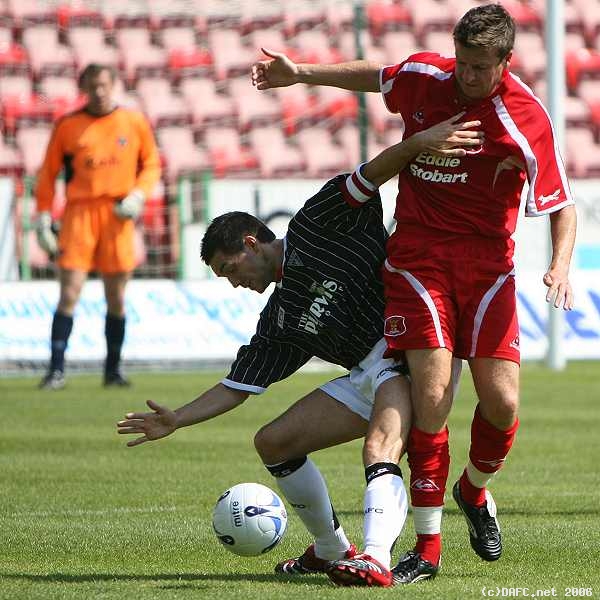 Solid performance from Gary Mason today.
Five minutes later, Carlisle took the lead after a breakaway fell to Kevin Gall who wrong footed McKenzie to put the Cumbrian side 1-0 up.

Just three minutes later, it was 2-0 as the same player scored a screamer from 30 yards that left McKenzie clutching at thin air. No doubts about the second goal, it had a touch of class that was fit to win any game.
Related Stories


views: 4,973