Dunfermline Athletic, 'Black and White Magic'
Date: Wednesday, 14th Dec 2011

Dunfermline legend Roy Barry will be making an appearance in the Kingsgate Shopping Centre on Friday 16th December between noon and 1.00pm to sign copies of the newly reprinted history of Dunfermline Athletic, 'Black and White Magic'.
Roy appears on the front and back cover of the book, such was his influence on the team during the nineteen sixties during which he captained the 1968 Scottish Cup winning team.

The reprinted book has just short of two hundred pages devoted to the story of the Pars from 1959 through to 1970 and has an introduction by Jock Stein who says that "I'll never forget those early days and the great players we had at East End Park then. Winning the Scottish Cup in 1961 was the biggest achievement of my career".

The book is packed with photographs and first-hand accounts of their most famous games, as well as statistics galore including the fact that more than 200,000 people watched the Pars lift the Scottish Cup in 1961 at the Final and replay. Younger readers might be surprised to learn that Dunfermline were playing in Europe before Celtic and Liverpool!

The book will be on sale at the Kingsgate Centre outside Debenhams between 10.00am and 5.00pm on Friday 16th, Saturday 17th and Sunday 18th December priced £10.95, and also at Abbot House and the Club Shop at East End Park.

Want to win a copy of this book ?

then email us with your answer to this question :
"Who were Dunfermline Athletic's first opponents in European competition?"

competition closes: 22nd Dec 2011 at 10.00am

Competition winners are Fraser from Rosyth and Sandy Galbraith in Australia.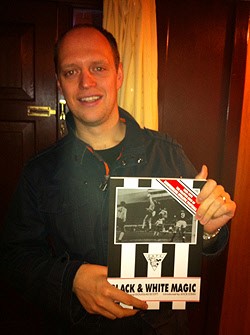 views: 4,285