Dunfermline Athletic 0 - 3 St Johnstone
Author: Alistair Campbell Date: Saturday, 24th Dec 2011

Two Chris Smith presents gift St Johnstone an easy win with the Pars now looking to be in real trouble after this 3-0 defeat. This was a game the Pars really could have done with winning, but after Smith punched the ball into his own net the stricken keeper couldn't keep hold of a Heber shot in the second half and allowed Sandaza to score a second. Craig's third rubbed salt in the wounds of a dispirited and dejected Dunfermline.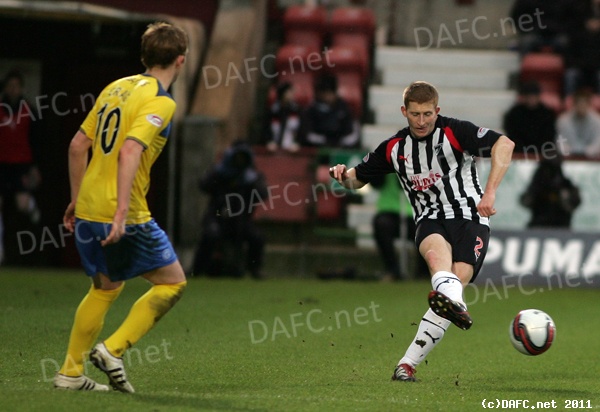 I think the last time I went to a game at East End Park on Christmas Eve was in 1988 and due to staggering incompetence on my part I accidentally followed black and white clad supporters into the Ayr end, forcing me to stand on the terracing as the Pars scored 5 goals, none of which I could celebrate. This year, despite going to the game with a Rovers supporting mate, the blind optimist in me made extra sure that I would be in the correct end to allow unfettered goal celebrations when they occasion inevitably arose.

There were some surprises in the team selection – the expected change to the goal-keeper materialised with Chris Smith making his first start of the season after Gallacher's shoulder subluxation at Tynecastle but there were also unenforced changes to defence, midfield and attack. Macca opted for a standard back four, with returns for Jason Thomson and Paddy Boyle in the full back roles flanking Dowie and Keddie, Potter being the player to miss out. Gary Mason was a surprise omission from the middle of the park, with Paul Burns starting in the holding roll just behind Graham and Hardie, and with Willis and Cardle on the wings. Andy Barrowman would once more have to plough a lone furrow as Buchanan was also dropped to the bench, where along with Potter and Mason were named Ryan Thomson, Andy Kirk and young keeper Ryan Goodfellow.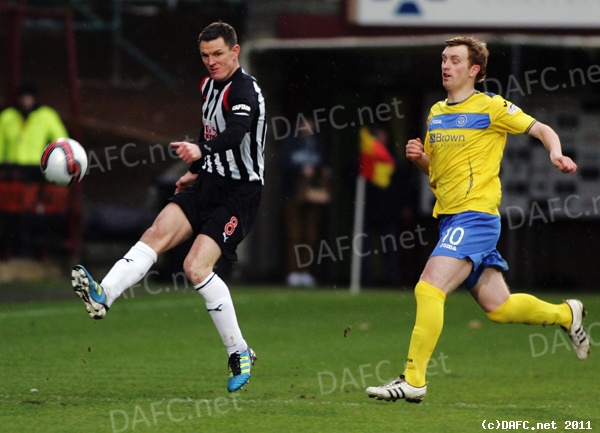 On the other hand the Perth Saints were boosted with the news that Morris and Sandaza were fit enough to start in a 4-4-2, Murray Davidson and Liam Craig would be in the midfield and Calum Davidson would be at left back. Of course, Cillian Sheridan was still injured so no sign of him (or his Christmas sweater).

Pars captain for the day Martin Hardie won the toss and elected to play towards the Cowdenbeath end. A quiet start ensued, with Sandaza featuring prominently but neither keeper saw any action until the sixth minute. First, a Keddie foul thirty yards from goal allowed the Saints to fire in a free-kick that went straight into a grateful Chris Smith's hands, before a decent move that started with Jason Thomson on the Pars' right found its way via David Graham to Cardle on the left and Joe hit a shot that was half-blocked, Enckleman taking no chances in tipping the ball over his bar for the game's first corner. Willis played a short one to Burns, got the return and fed Thomson but his drive was well off target.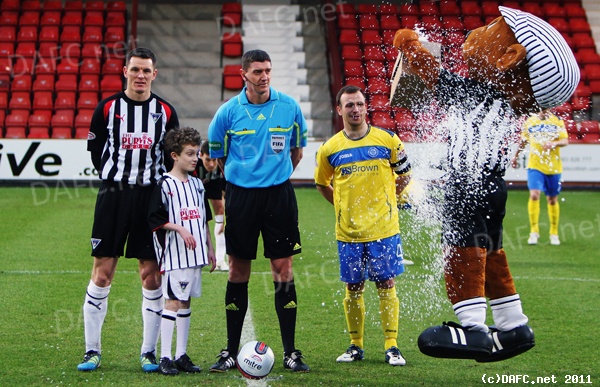 This was a rare piece of action with there being more happening in the crowd – the size of the visiting portion of which had caused the stewards some unexpected problems, forcing them to open more sections of the away end, whereupon a couple of flares were let off. Sadly, there was no sign of any continental features transmitting themselves to the park, although Enckleman had a rush of blood a couple of minutes later, rushing 25 yards from his goal to intercept an overhit Burns pass, only to be second to the ball as Barrowman got there but his hurried effort was just wide of the open goal.



That was exactly the sort of gift the Pars need to be able to take right now. The Pars' keeper on the other hand was looking calm despite several pass-backs to his weaker foot, Chris Smith coming early off his line to half-claim a cross, not quite getting there but making sure 10 seconds later when the ball was recycled. Willis and Burns then combined with a very measured 1-2 for the former to drill the ball across goal, but there were no takers.



So a fairly even start, and no sign of the calamities that were about to befall the home side. The Pars got a little sloppy – a poor Burns pass was easily intercepted and when Craig got past Thomson Keddie had to slice wildly over his own head to clear. Sandaza next used his strength to make two firm challenges before hitting a snap-shot that Smith saved low to his right, and then Keddie again defended well after Boyle played in Heber, tracking the attacker, forcing him wide then winning the ball.

Saints now had the upper hand, but there was still every chance of reaching the break when disaster struck. The Saints won a corner on their right, Craig swung in the kick and 3 Pars went for the ball, Smith contriving to punch the ball into his own net, despite Willis's spectacular attempt to clear. 1-0 Saints.



The Pars were stunned – a minute later a ball came in from the left, Smith stayed on his line and Burns appeared to shove Davidson to stop him getting on the end of it. A break then, and a further one a couple of minutes later when Sandaza held off Keddie, squeezed the ball to Craig, and when Smith could only parry the shot back into the danger area, Sandaza crashed the ball off the bar when it seemed easier to score.

Half time: Pars 0 Saints 1





views: 3,638