Dunfermline Athletic 1-0 Hearts
Author: Stephen Taylor Date: Wednesday, 16th Jul 2008

The Pars start off their home pre season friendlies with an impressive 1-0 win over SPL side Hearts.
Despite the comings and goings at East End over the last three months there were still a number of familiar faces in tonight`s line up. Making their home debut`s, however, were left back Austin McCann and centre forward Graham Bayne.

The starting line was Gallacher in goals with possible the 1st Divisions most experienced centre back pairing Scott Wilson and Scott Thomson. Calum Woods was a right back and McCann at left back. There was a distinct lack of height across the midfield,Kevin Harper wide right, Stephen Glass and Nick Phinn in centre midfield with Scott Muirhead on the left. Alex Burke linked the midfield with lone striker Graham Bayne up front.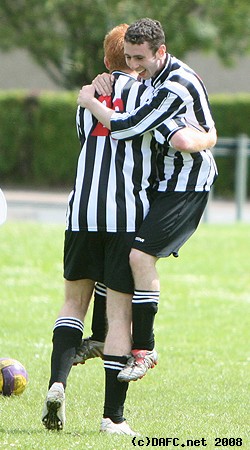 The Pars conceded a corner in the first minute but from then on they took early control of the match. The formation seemed to be 4-3-3 with Harper and Muirhead the wide men supporting Bayne. Nick Phinn took the eye with some great supporting runs.

Harper will run riot against teams in the 1st Division but he must get more involved and not become too isolated on the wing. That said Woods supported him well with good overlapping play. Harper showed a glimpse of this when he put over a great cross in 11 minutes.

The Pars were easily outplayng Hearts with some neat passing with good triangles and quick one touch passing, There was an obvious enthusiasm for the task in hand.They took a deserved lead with a fairly simple goal in 23 minutes after some good attacking play by Glass setting up Harper with low cut back at the near post.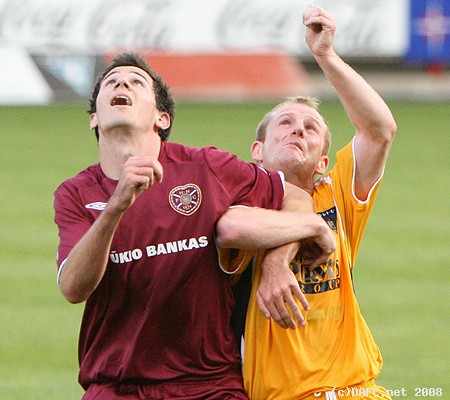 Graham Bayne was also impressing not just to the fans but on the Hearts defence. He chased and harried and has a good touch. He looks every inch the target man and should have had a penalty when he was clearly shoved by Berra as they jumped for a cross. Half time 1-0.


Hearts did try to get out of their half but to little effect. Paul Gallacher did have to make two fantastic saves in the second half but apart from that he was never threatened. That was in part due to the way Wilson and Thomson were stopping any attacks that Hearts could muster ably supported by Woods and the tenacious midfield quartet.

When the Pars started to make some changes they could have been forgiven for taking their foot off the pedal but the youngsters slotted in well and the Pars stayed in control of the game. Iain Williamson replaced Scott Muirhead (who had played well), Paul Willis and Harry McGregor replaced Scott Thomson and Stephen Glass as the average age of this Pars side plummeted! In the closing minutes Scott McBride and Jordan White came on for Harper and Bayne. Hearts made a final effort for an equaliser but they were woeful plus Scott Wilson stepped in to make a couple of excellent tackles. Final score 1-0.

A very promising start. Being a bit critical perhaps the lack of clear cut chances could be highlighted but sometimes that was because the option of a pass was chosen instead of a shot but the lead up play was very good.

Paul Gallacher showed why he is one of the best shot stoppers in the country. His experienced defence was superb with Wilson and Thomson continuing on from last season. Calum Woods at right back has surely made that position his own, his defensive work was very good and he has good pace going forward. Austin McCann was steady.

Probably the outstanding player was Nick Phinn but he wa swell supported by the exoereince of Stepehn Glass. Alex Burke had a slow start but came onto his game and again did a lot of good backtracking and covering. Scott Muirhead looked re-vitalised and his pace on the left will cause problems in the 1st Division as will Harper. Graham Bayne was also impressive. There is the look of former Par Lee Bullen. He was aggressive but had good control. He needs a good finisher to play alongside him.

OK, it`s very early days but there were surely clear signs of a significant improvement over the performances and attitude seen last season.



views: 4,897