Dunfermline Athletic 1 Airdrie Utd 3
Author: Alistair Campbell Date: Saturday, 12th Jan 2013

After winning the hard games, this was meant to have been an easier fixture for Dunfermline. However, one of the beauties of football is that it doesn't always follow its predicted path. Airdrie deserved their win – two goals from Ryan Donnelly and a late penalty from Paul Di Giacomo giving them the points with the Pars only having a Ryan Wallace goal to celebrate; that and the memory of Norrie McCathie.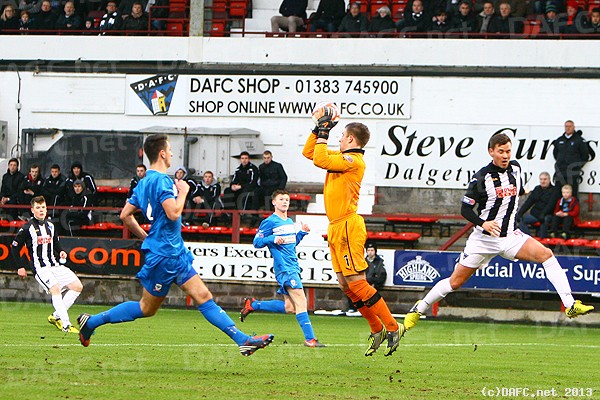 It was a beautiful day for football – cold, but dry, and with top of the league Pars taking on an Airdrie side that had struggled to adapt to life in the higher division, omens were good for seeing a few goals and a good win.

The Pars were down to the bare bones with Falkingham suspended and Byrne and Potter away with the under 20s in Cyprus. That meant pretty much all available players were stripped and ready for action, and Jim Jefferies made two forced changes to the side that had gone top of the table at Dumbarton with Husband and Thomson coming into midfield. Alex Whittle kept his starting place despite Cardle coming into the squad, and Barrowman again started despite not having the best of games at the Bet Butler Stadium. So we had Gallacher in goals, a fit again McMillan at right back, Dowie and Morris the centre-backs and Jordan at left back; Whittle on the left wing, Geggan, Thomson and Husband in midfield and Wallace and Barrowman in attack. Kirk, Dargo and Cardle were joined on the substitute's bench by Hrivnak and Chris Kane.

I haven't seen Airdrie for a couple of years and so most of their line up was new to me – Willie McLaren is well-known and a tricky customer, and Ryan Donnelly was renowned for knowing where the goals were, but overall, it was a pretty youthful side.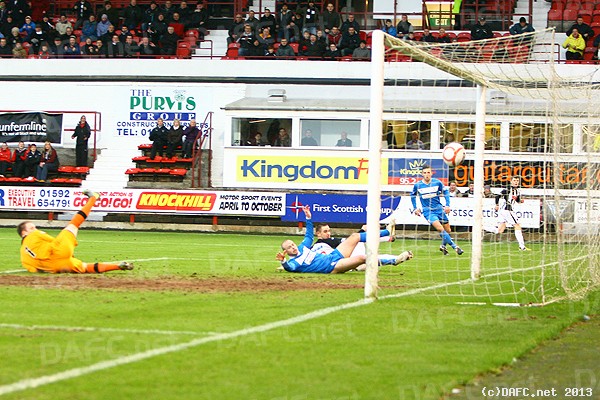 Pars v Airdrie Utd. 12th January 2013. Ryan Wallace equalises! (3of3)
It was a strange start – the Pars won the toss, and unaccountably chose to play "the wrong way" – attacking the Norrie McCathie stand in the first half. The visitors, in their all blue kit, kicked off and were soon on the back foot. Barrowman found space and possession early on, but couldn't find a colleague, and then Thomson hit the ball off the bar after the Airdrie keeper had dropped Whittle's cross under pressure, but he had been fouled. With the game entering its fourth minute, Wallace spurned a great chance to give the Pars' fans something to cheer about – breaking through on the left but Adams saved. Airdrie then came down the right, and Morris and Dowie both had chances to clear, but wouldn't you know it, the ball broke to Donnelly twelve yards out and he finished clinically. Four minutes had elapsed, and bizarrely not only were the Airdrie fans on their feet celebrating, but the Pars fans were on their feet as well, with their minute's applause in memory of their old captain.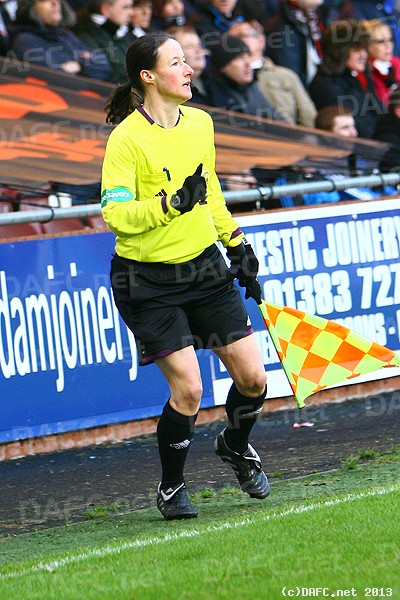 Dude looks like a Laydeeeeeee!
Of course, an early goal allows plenty of time to fight back. Husband soon hit in a free-kick from deep that Lamie seemed to try to head back to his own keeper, Adams then coming well off his line to claim McMillan's cross after the ball had been cleared. However, the Pars equalised in 13 minutes. Whittle seemed to bump O'Neill as they both chased a ball over the top but referee Norris waved play-on as the full back went to ground. Whittle raced down the left and his cross was met by Wallace who deflected the ball into the far corner of the net for the equaliser. 1-1.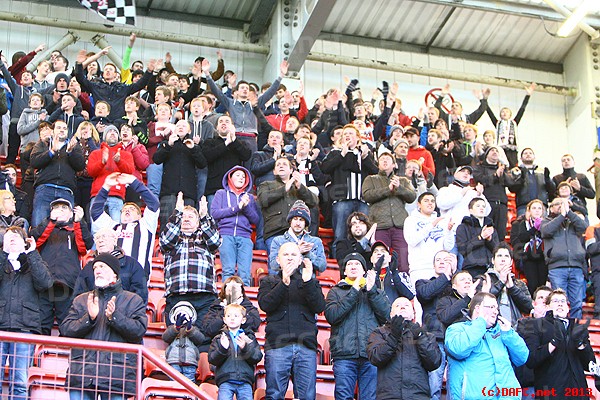 A minutes applause on the 4th minute for Norrie
McCathie, 17 years since his tragic death.
With parity restored, the Pars could start again and set about winning the game. Only it didn't work out like that, with Airdrie giving as good as they were getting, and looking particularly sharp in the final third. Morris headed a Husband free-kick straight at Adams but was also involved at the other end when he tried to dribble the ball out from the back, lost it, and was relieved when Donnelly fired past. Then Dowie slipped under pressure from Boyle, but just about recovered to put off the Airdrie man's shot.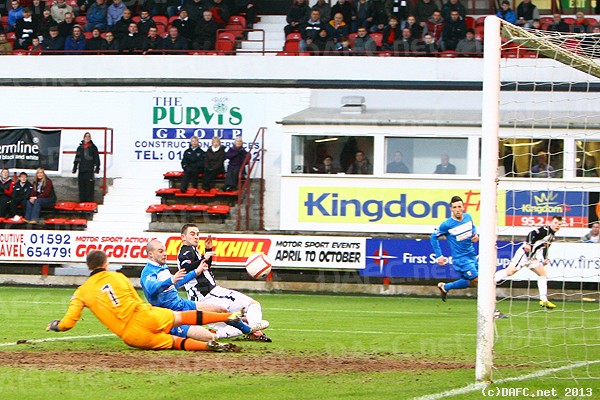 Ryan Wallace equalises! (1of3)
The Pars probably had more possession, but weren't converting it into chances – Whittle skipped past 3 men in 27 minutes but his cross was blocked, and a minute later McMillan made up a lot of ground in an attempt to get onto Wallace's flick but Warren held his nerve to clear. Barrowman managed to stay onside, assistant Morag Pirie keeping her flag down in 31 minutes, but Adams palmed away his cross. That was the centre-forward's last taste of the action as he picked up an injury and when he went down for a second time, the ball was put out of play to allow Kirk to take his place. Geggan ceded possession to the visitors with a rather firm pass, but Adams dealt with that as well.

As the half drew to a close Husband hit a low, swerving effort from 30 yards that looked as if might sneak in, but Adams was wise to the danger and turned past for a corner before the Pars had a let off with a minute to go, Boyle accelerating away from Jordan and Dowie, only to lose his footing when he only had the keeper to beat.

Half time: Pars 1 Diamonds 1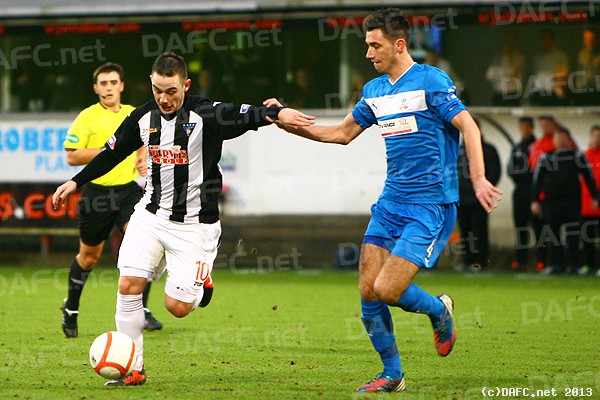 Ryan Wallace v Gregor Buchanan.




After the excitement of half-time, when the crossbar challenge was won with the very first kick Whittle got the second half under way with a nice double-double back to create a bit of space for a cross but he could only find a blue jersey. Airdrie hit back with a Watt's snap-shot skimming the bar, before the Pars should have taken the lead, Wallace bursting through, rounding the keeper before slicing left-footed wide of an open goal – a quite astonishing miss.

Airdrie nearly took full advantage 5 minutes later as Boyle just got ahead of Dowie to tee up McLaren but Gallacher did well to save with his legs. We'd had good chances at either end then before it was the visitors who took the lead on the hour mark, Thomson losing possession in the middle of the park, Boyle holding off Morris this time and an unmarked Donnelly finishing well from 14 yards. 2-1 to the visitors.





views: 5,408