Dunfermline Athletic 1 East Fife 2
Author: Alistair Campbell Date: Sunday, 23rd Mar 2014

The Pars continue to limp towards the finishing line with an insipid performance in the latest Fife Derby. After an excellent opening goal, finished by Shankland, the Pars had the lead only to concede a daft penalty, ably scored by Buchanan, before a rare Scully mistake allowed the visitors to take all three points.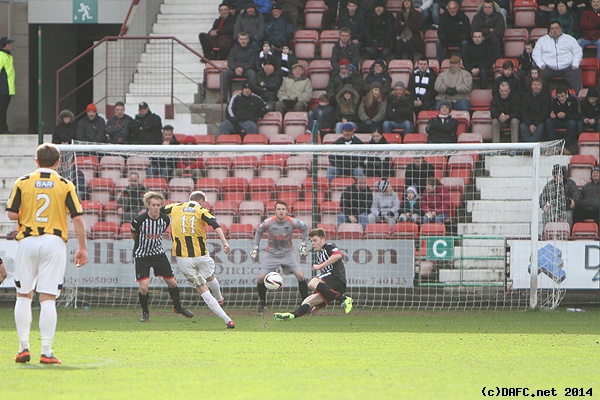 After a relatively poor run, the Pars were hoping to get back on track with a victory over a team they had already beaten twice this year, although curiously, an outfit they had not beaten at East End Park in the league since 1978. Danny Grainger was suspended after his red card at Ibrox so Alex Whittle got a chance to redeem himself by playing the more familiar position of left back. There were other changes – Williamson came in at right-back, Byrne started on the right of midfield and there was the welcome return of Wallace in attacking role. Scully too was passed fit despite dislocating a toe at Rangers, so the Pars lined up with Scully, a back four of Williamson, Morris, Page and Whittle, a midfield of Byrne, Husband, Geggan and Forbes, and a strike pairing of Wallace and Shankland. With Falkingham down with tonsillitis, there was promotion to the bench for Lewis Spence, and he took his place alongside Thomson, Smith, El Bakhtaoui, Martin, Millen and of course Goodfellow.

As for the visitors, they had a more circumspect line-up with Liam Buchanan leading the line on his own, but had Stephen Hughes, who had played at a much higher level, in midfield, Kevin Rutkiewicz organising things at the back, and Greg Paterson in goals.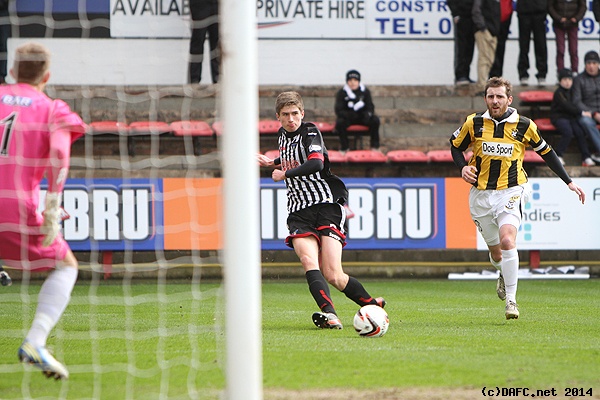 Ryan Williamson sets up the first goal of the game.
East Fife kicked off and caused an early alarm when Austin outpaced Whittle down the right but Page was back to defend. Page was next seen at the other end of the pitch in the 6th minutes, when, supplementing the attack, he stepped inside and hit a well-struck shot from 20 yards, but it was straight at Paterson.

There was extra focus on Scully to see how he was coping with his toe-injury. For the most part he didn't seem troubled but in the 10th minute he made a bit of a mess of things, when a poor pass out was behind Morris; Callum returned the ball, Scully fluffed his clearance 30 yards to Austin, and seemed a little slow to get down to the subsequent shot which came back off his left hand post; Morris was there to sweep up.


The Pars were doing their best to give East Fife a boost – Page misjudged the bounce of the ball, but again Morris was around to nod back to Scully, before Forbes misplaced a pass allowing Hughes a chance to shoot from distance, but he couldn't find the target.

However, midway through the half, the Pars took the lead with a goal of simplicity yet quality. It started from the back, when Scully passed out to Morris. He played it to Byrne in midfield who let it run before making space to play the ball inside the full-back for Williamson to run on to and square to the near-post for Shankland to knock home.

Dunfermline Athletic 1 East Fife 0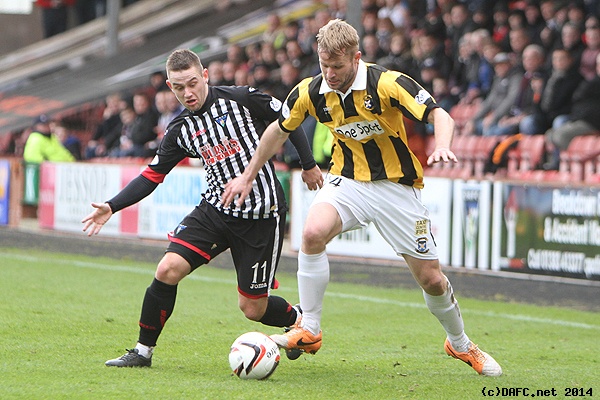 Ryan Wallace v Kevin Rutkiewicz.
The Pars seemed to relax a bit, and started to see more of the play, although Page was slightly fortunate not to be penalised when Buchanan's shot appeared to come off his hands 25 yards from goal. Husband and Forbes had a couple of shots from distance before the Pars won a corner on the right and Page was unlucky to see his net-bound header cleared off the line by Buchanan. The ball was only half cleared, and Wallace, after suffering a complete air-shot, regained the ball and cut inside onto his right, only to drive over the top.

There were slight concerns when Scully suddenly went down injured six minute before the break –he seemed in a bit of bother, but possibly he just needed to get some strapping adjusted, as he seemed to be fine to play on, and overall, the Pars seemed to be in reasonable shape at the break.

Half time: Pars 1 Fife 0


Although Goodfellow didn't feature in the half-time kickabout, there were no changes to personnel at the break. However, it was East Fife who made a swift start, sweeping the ball from left to right to allow Durie to send in a cross-cum-shot that Scully dived full length to punch out to the edge of the "D" – a strange looking save, but effective as the follow-up shot was blocked by Page and Morris. The Pars continued on the back foot with Buchanan giving Morris some problems, before Forbes got booked for a trip 20 yards from goal as East Fife tried to profit from a poor Scully clearance. The resultant free-kick hit the wall and looked like looping over a rather flat-footed keeper, only for Scully to stretch and tip over the bar.

The Pars were struggling to get into the game, although Forbes set Wallace clear down the left, but as he waited for reinforcements to arrive, Ryan allowed the ball to slip out for a goal-kick. Perhaps coincidentally, that was his last contribution as Smith soon replaced him.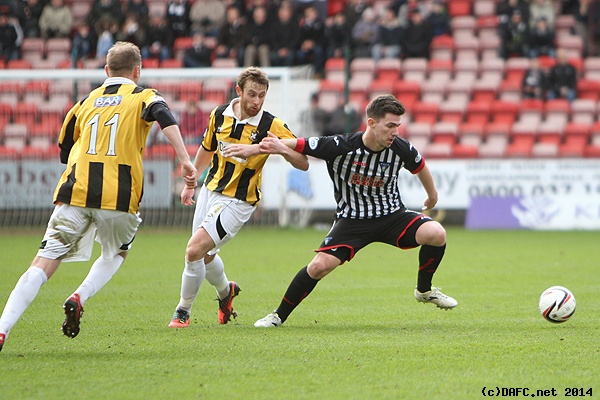 Ross Forbes v Scott Durie.




East Fife continued the offensive, Page clearing a ball that looked to be Scully's to concede a corner, which was defended, but the visitors soon had the ball back in the area, but with Buchanan heading away from goal. Page was smart enough not to dive in, but Whittle stuck in a foot, was done by Buchanan's brief burst of pace, and tripped the former Par to concede a soft penalty. Buchanan took the kick himself, his slow run up prompting Scully to dive almost before the kick was taken, allowing Liam to roll the ball into the other side of the net.

Dunfermline Athletic 1 East Fife 1





views: 4,874