Dunfermline Athletic 2 v 3 St Johnstone
Author: Stephen Taylor Date: Sunday, 25th Nov 2007

The Pars, yet again, lose in a cup final this time for the Challenge Cup despite a good, but ultimately futile, fightback from the dreadful position of being 3-0 down.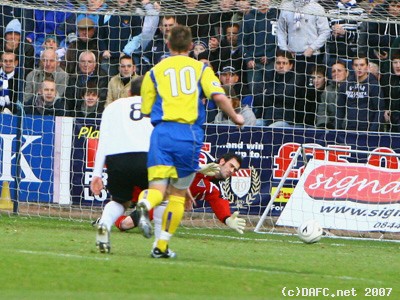 After a fortnight off the, surprisingly, large Pars support must have snapped up last minute tickets to see their side play another cup final. Unfortunately, things did not go to plan and there were worrying signs that the Pars were again going to be humbled by another side continuing the recent poor form.

Paul Gallacher returned from injury in goals. He started with a back four of Woods, Wilson, Bamba and Murphy. In midfield, Simmons and Glass were in the centre with Ryan and McGlinchey the wide players. Stevie Crawford partnered Burchill up front.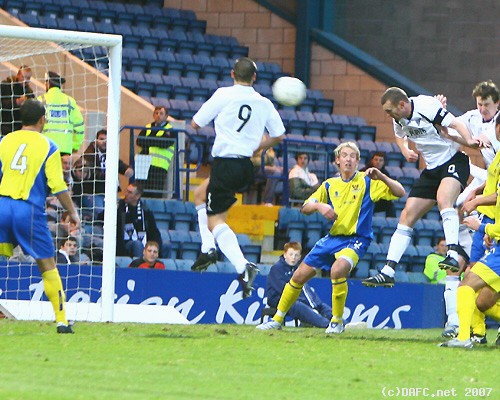 Scott Wilson scores
The Pars actually started the game well with McGlinchey doing well on the left. The passing and movement was good and, therefore, it was a bizarre twist of fate that has dogged the Pars all season that saw Simmons penalised for fouling Anderson in what appeared a fairly innocuous challenge but as things are in football these days the "victim" collapsed in a heap on the ground and the referee pointed to the penalty spot. Sheerin scored from the spot. 0-1 after only 13 minutes.

Once again the Pars seemed to lose heart from going a goal behind and the Saints had a header wide and another good shot before they made it 0-2. In 19 minutes McDonald hit a shot from the inside left position that beat Gallacher high to his left. The wheels were rapidly coming off the Pars bogey as Gallacher had to make a great save in 21 minutes when it looked a certain goal and then Bamba had to throw himself in front of an effort to block for a corner.
Stevie Crawford was the Pars best player at that stage and he tried to get a goal back in 28 minutes with a good effort that resulted in a corner for the Pars. It seemed like game over in 30 minutes as some helpless defending allowed Deucher a chance to shoot past Gallacher to make it 0-3.

The Pars fans must have been tempted to leave but the Pars did try and get back into the game and again Crawford had a good effort saved. Stepehn Kenny made an early change taking off Woods and bringing on Darren Young. They went to a 3-5-2 formation and the Pars almost immediatley scored. A corner from the left was cleanly headed into the net by Scott Wilson to make it 1-3. In the next couple of minutes Crawford had two shots that were close and then a good cross by Glass from the left saw Ryan get on the end of it but his shot was blocked. Then on the half time whistle Darren Young hit the post when it seemed he had scored. Half time 1-3.
The Saints came out quickly in the second half and almost re-established their 3 goal lead as Quinn hit the post in 46 minutes. Alan Main was forced to tip a cross over his bar in 50 minutes as the Pars set about getting themselves back into the game. Stephen Glass forced Main to make a save from a free kick in 50 minutes and McGlinchey had a good effort in 52 minutes. Darren Young then had another effort in 58 minutes. Murphy picked up a yellow card 59 minutes. Jim Hamilton came on for McGlinchey in 62 minutes.
Deuchar hit the side net with a rare St Johnstone effort in the 67 minutes. Then the Pars were rigth back in it with a penalty in 70 minutes. There seemed to be a moments hesitation by the referee after Hamilton was fouled. Glass stepped up and scored.

The Pars laid seige to the Saints goal area for the final 20 minutes without finding that incisive move to open up the packed Perth defence. In fact, the closest the Pars came to scoring again was when Stanic headed against his own bar in 72 minutes. Burchill had a good chance in the 6 yard area but could not beat Main. Despite a number of half chances and a good amount of effort the Pars could not find the equaliser. Final score 2-3.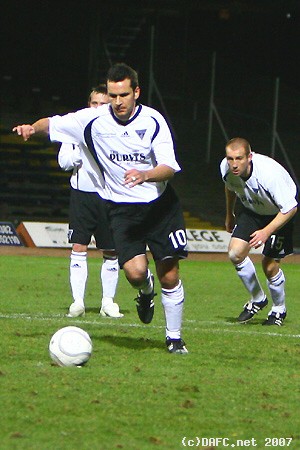 Stephen Glass penalty




Some shocking defending by the Pars was their undoing this afternoon added to the fact creating goals is still a problem. There definitely an improvement when the Pars went to 3-5-2 which was no slight on Woods who was taken off after only half an hour. Wilson and Bamba were pretty awful and only Danny Murphy played well throughout the game. The midfield was again absent giving the defence no cover and no support for the attack until the tactical switch. Stephen Glass played well and was a contender for the DAFC.Net MOM and he must play to that level every week.

Stephen Simmons struggled on but failed to dominate the midfield area. Bobby Ryan had a better game and caused the Saints defence a lot of problems but his lack of pace and desire to hold onto the ball too long took the edge of his performance.



views: 5,129