Dunfermline kick off new season with Hearts coming to town
Author: Jason Barber Date: Thursday, 27th Jul 2006

With Dunfermline looking to get this season off to a better start than last, it is a tough opening as Champion`s League hopefuls Hearts visit.
With last season now yet another consigned to the record books, and another relegation battle won by the Pars, season 2006/07 kicks off with Heart of Midlothian our visitors.

Both teams go into the new campaign with their respective targets set, Dunfermline aiming to improve on their 11th placed finish of the last two seasons and Hearts looking to build on their excellent second place which has seen a club split the Old Firm for over 10 long years.

After a season that got off to such an incredible start under George Burley a year ago, many eyes will be on this latest Hearts side to see if they can emulate the feat under Valdas Ivanauskas. The Lithuanian manager may be short on interview prowess when pressed by the Scottish media, but his short tenure in the job has seen his pick up silverware and qualify for the Champion's League qualifying stages!
The Scottish Cup win in May, won on penalties against Gretna, may have been nerve wracking for Jambos but the end result was the famous old trophy returning to Tyncecastle. The match may not have been pretty, but their name in engraved on the trophy which is all that matters to most.

Dunfermline's start to last season was as bad as Hearts' was good. Without any wins in their first seven matches, all at East End Park will be hopeful of a much more solid start to 2006/07. With Dunfermline being rooted in the bottom six for each week of the season, Hearts were flying high in either first or second place. That being the case, the two sides only met on three occasions, with all three ending in resounding Hearts victories……..

The first meeting between the sides was more memorable for events that took place in the hours leading up to the three o'clock kick off. Dunfermline fans gathered in the usual Edinburgh drinking dens only to be met with rumours that George Burley had sensationally quit (or been sacked) that very day. Hearts fans were left with quizzical looks on their faces as they walked to the ground, the club's new manager who had taken them on an unbeaten run to the top of the league had suddenly gone!
Ross and Hartley both injured for Saturday
The Hearts players did not appear to let the surprise departure affect them too much, with a rather routine 2-0 win the end result. Paul Hartley displayed a t-shirt dedicating the win to his former manager and an all too expected Tynecastle defeat saw Dunfermline tamely return home.

The one and only match at East End Park between the sides last season was an even more one sided affair. Having had a reasonably decent home record against Hearts in recent years, the potential for causing another "upset" was blown away with a second half goal blitz which saw Hearts run out easy 4-1 winners. Former Jambo Mark Burchill scored what was to be a scant consolation goal for Dunfermline as their foreign legion marched on.

As if that was not bad enough(!) an even worse performance was to come in the final game between the sides last season, with a quickfire trio of goals setting Hearts 3-0 up after only 27 minutes back in April.
Burch will be keen to get the season off to a flyer
Whether Hearts took their foot off the pedal slightly, we'll never know, but the score remained that way until Makela got a fourth goal just before Greg Ross finished a completely miserable day for Dunfermline by being given a straight red card. Driving home, Dunfermline heard that both Falkirk and Livingston won their matches that afternoon on a pretty miserable day all round!

As we all know though, the prime objective of staying up in the Premier League was achieved with some room to spare, in comparison to the previous season at least.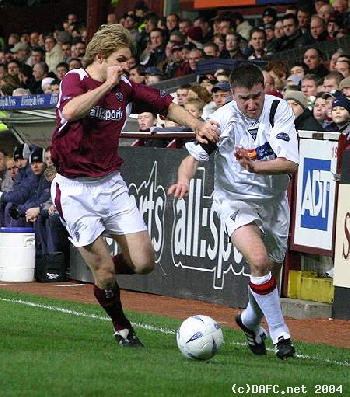 Nipper will not return for a few weeks




Having lost out on a 9th place finish on the last day of the season, Dunfermline's transfer budget has been adjusted accordingly over the summer. With numerous thrifty purchases though, Jim Leishman has managed to add some potentially excellent new players into the fold. With full debuts for at least some of those signings this afternoon, Dunfermline will be keen to impress against undoubtedly one of the better sides Scottish football has produced in recent years. A good performance, ideally coupled with an even better result, would send out signals that this Dunfermline team is not going to be rolled over by anyone this season.

Here's to season 2006/07 and best of luck to the coaching staff and the playing squad as another top flight campaign beckons!

Come on ye Pars!



views: 2,609