Dunfermline play Rangers in League Cup
Author: Jason Barber Date: Tuesday, 19th Sep 2006

Live on the telly, perhaps not many in the ground, but Dunfermline face Rangers in the CIS League Cup all the same.
With the season already still in its infancy, tomorrow sees Dunfermline host Rangers for the second time since the campaign kicked off. Not for the first time, it is a league cup tie that again sees the sides take each other on.

The recent SPL clash between the teams saw a highly enjoyable game end up 1-1 between the sides, with Owen Morrison's goal quickly cancelling out Thomas Buffel's opener for Rangers. Even without the oft quoted and extensive injury problem at the time, the result was a boost for a Dunfermline side that had been heavily criticised for it's non performance at Falkirk the previous week.

Since the game on the 13th August, Dunfermline have had a real mixed bag of results (and indeed performances!) The long trip to Ayr finally ended with THAT penalty shoot out, with Scott Wilson coolly placing home the decisive penalty. That was only after Dunfermline were three times facing elimination should their next penalty be missed.

No matter who takes to the field in this CIS League Cup tie, Jim Leishman will at least have had far more selection options at his disposal than that night down at Somerset Park when the team literally picked itself.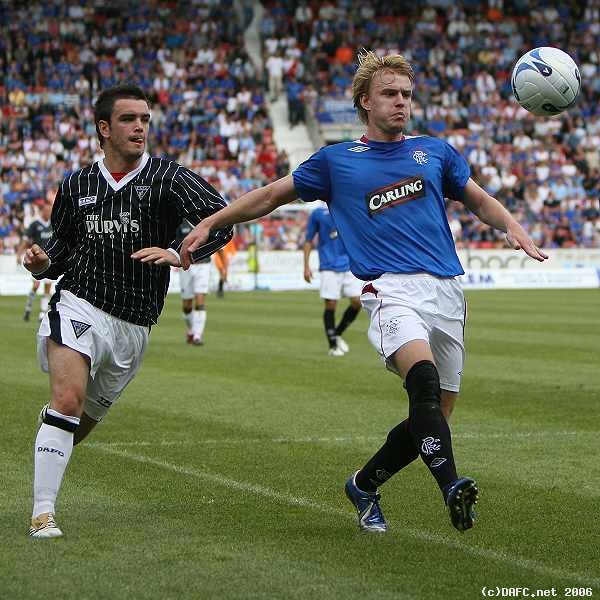 Morrison may get another chance to shine against Rangers
The CIS League Cup (or it's previous guises) has been a rather successful competition for Dunfermline in recent years. With an early final appearance way back in 1949, Dunfermline had to wait until 1989/90 season even to make the semi finals again! It is an all the more remarkably barren spell considering how successful and feared the club was across Europe during the 1960s, yet the last eight was as far as The Pars ever made it during that decade.

The semi final run in 1989 ended rather abruptly when Rangers stuck five goals past Ian Westwater without any reply at Hampden Park, with stage fright perhaps contributing in such a high profile match for a club which had so recently climbed through the ranks.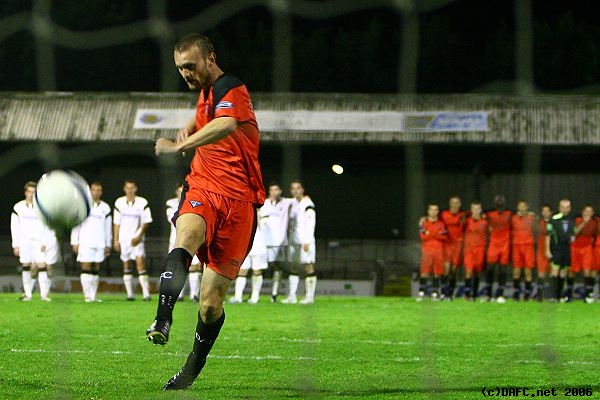 The penalty that sees Wednesdays game take place
You wait forty years for at least a semi final appearance however, and then two come along almost at once! In 1991/92, the club put it's horror league showing to one side to reach the final against Hibs after that epic semi final against Airdrie. However, the anti climactic final saw Hibs run out easy 2-0 winners.

1996 saw another decent run to the semi finals before, no prizes for guessing, Rangers once again thumped Dunfermline. This time it was a 6-1 defeat at Celtic Park on an utterly miserable night. Another semi quickly followed the next season, with Ibrox Park hosting a 1-0 win for Celtic thanks to a Craig Burley goal.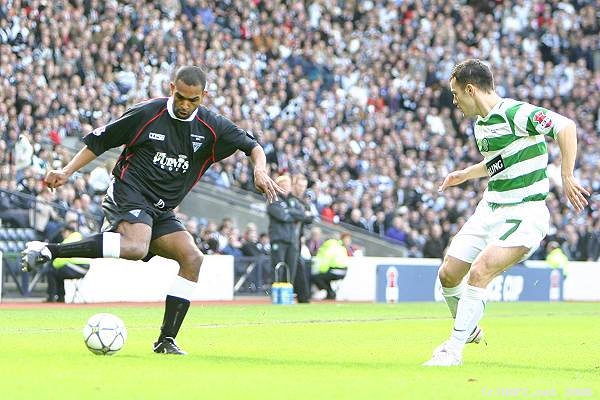 Daquin featured in his last league cup game!




Bang up to date, Dunfermline reached the final of last season's competition only to collapse 3-0 to Celtic, whilst Rangers went out 2-0 to their Glasgow rivals at the quarter final stage.

Both teams will be much changed from the line ups which went out rather meekly to Celtic last season.

Dunfermline's recent acquisitions will not all be allowed to feature, with Stevie Crawford being cup tied in Aberdeen's infamous exit to amateurs Queen's Park in the last round. However, Jim Hamilton did not play in Motherwell's late 3-2 win over Partick Thistle and will thankfully be available for selection. With the injury list clearing up slowly, but surely, his strike partner this evening could well be the tricky Owen Morrison who did so much damage to Rangers just one month ago so soon after coming on as a substitute.


Paul Le Guen has managed to string some impressive results together after coming in for much criticism in the first part of the season. With tomorrow being his first taste of Scottish domestic cup competition, and a winner required on the night, he will be facing another new test early into his new job. Whilst the bigger picture for him, and indeed his club, will revolve around European competition and league titles, his supporters will perhaps be unforgiving of an early exit in the CIS League cup.



views: 2,620