Dunfermline play in Europe at home for 1st time since 1970!
Author: Jason Barber Date: Monday, 13th Aug 2007

Dunfermline make history on Thursday night with the first European match at home since 1970. Anderlecht were the visitors back then and Dunfermline went out on the away goals rule, little did anyone know at the time that there would not be another European tie at the ground until 2007.
For at least two generations of Dunfermline Athletic fans, Thursday`s match really does represent a historical moment in their football supporting lives. Whilst some may see this as being somewhat overly sentimental, I can speak for myself in saying it is an incredibly significant occasion in my time of supporting The Pars, and I am sure others must be feeling the same way going into this massive match for the club and everyone who supports it.
Whilst there was a similar route to the UEFA cup 2nd qualifying round after the 2004 Scottish Cup final, the anti-climax due to the end result coupled with the "home" tie having to be played at McDiarmid Park in Perth meant there was something not quite right about that European venture.

For as fantastic as the time in Iceland was (record temperatures, lazing in the city`s main squad drinking cold beers with hundreds of other Pars fans etc) the first half of that match was a stark alarm call for things to come. 2-0 down before a not fully fit Craig Brewster was called upon to help rescue things in the second half, the final score of 2-2 had an element of robbery about it after Andrius Skerla`s equiliser just two minutes from time.
DAFC v FH Hafnarfjordor in 2004
Any pangs of guilt were given to us with bells on in "that" return match in Perth though, two late goals from Hafnarfjordur cancelling out Gary Dempsey`s 72nd minute goal which had Pars fans in attendance planning their trip to somewhere else in the first round proper.

Players and supporters who experienced that sense of complete and utter footballing heartache will want to avoid anythign remotely similar, starting on Thursday night.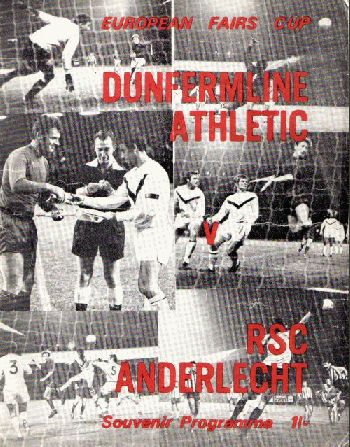 Anderlecht, last Euro game at East End
With Hacken themselves struggling in the second tier of their domestic leagues (sound familiar?) both clubs will harbour thoughts of progressing past their opponents and into the first round proper against one of the "big guns"

Dunfermline are seeded for this tie, and Hacken were given a place in the draw courtesy of Sweden being awarded an additional place in the UEFA cup via the fair play league. Hacken topped the table domestically and, despite being relegated, were rewarded with a place in Europe as consolation.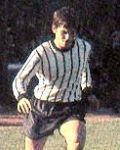 Alex Edwards played v Anderlecht




Our Swedish visitors this evening are not their first countrymen to play Dunfermline on official UEFA business. Orgryte IS were drawn against Dunfermline in the 1964/65 Inter Cities/Fairs Cup (the precursor to the present UEFA cup) Also from Gothenburg (and also now plying their trade alongside Hacken in the Superettan second tier of Swedish football)

A similar scoreline against the two legs coming up against Hacken would do Dunfermline very nicely indeed, as The Pars racked up a 4-2 win in the first leg here at East End Park, and qualified virtue of a 0-0 draw over in Gothenburg a week later. If déjà vu was ever to play a part in football matches, this would be an ideal time!

Hacken visit us this evening on the back of some poor domestic results, though Dunfermline's have hardly been rosey since the season started…. Lying sixth in the Superettan after 18 matches (prior to their Monday evening game at home to Landskrona who were three points behind them)

Onto the opposition players who will face The Pars tonight, perhaps the best known amongst their ranks is Teddy Lucic at centre half. Having won 85 caps for Sweden including the most recent at last year's World Cup (one of three that he played in) Now 34, he will perhaps have been given some clues as to Dunfermline's strengths and weaknesses from his long term international team mate, a certain Mr Larsson who knew how to put Dunfermline to the sword on all too many occasions.



views: 6,676