Dunfermline v Rangers (Sunday) Preview
Author: Jason Barber Date: Tuesday, 8th Aug 2006

Whilst Dunfermline have played well in one of their games to date, and poorly in the other, Rangers have been threatening to run riot against someone soon. Here`s to more of their misfortune this Sunday afternoon.
With a 2pm kick off on Sunday due to live TV coverage on Setanta, Dunfermline will have had an extra day to get their house in order, and more importantly another 24 hours to shake even one player off the already monstrous injury list.

Two games played and the first team players already out, or rated doubtful at best is:

Freddie Daquin (broken cheekbone)
Mark Burchill (stomach infection)
Jim McIntyre (trapped nerve)
Noel Whelan (ankle)
Greg Shields (groin)
Scott Thomson (ankle operation)
Phil McGuire
Aaron Labonte

EIGHT players who would be in prime contention for a starting place. Whatever the combination of reasons for the missing parties, the end result is horrendous.
So, Jim Leishman must rally the remaining troops together and summon together eleven players who will give their all against a Rangers team who somehow failed to beat Dundee United at Ibrox last Saturday. After hitting the woodwork on countless occasions during their opening two fixtures, Rangers will be looking to score the proverbial barrowload at some point in the near future. Hopefully this occurs at some point post Sunday tea time....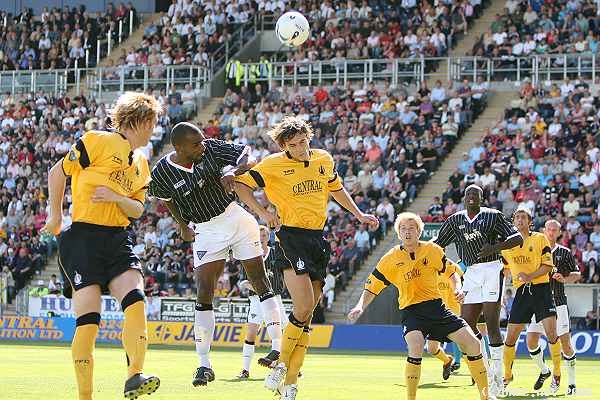 Freddie before he was added to the injured list
The live TV coverage will be another dent towards any hopes of an atmosphere unfortunately. With East End Park still to experience a complete sell out since the ground became all seater back in 1998, these games have long since threatened to be the cash cow they once were. Arguments will no doubt rage on about SPL clubs` determination to keep their guaranteed multi matches against the Old Firm each season, but those arguments are fast losing weight with each campaign slowly drifting by....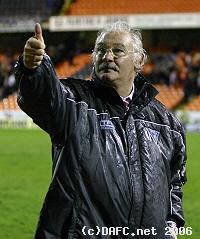 Jim does not have his problems to seek!
There may be less people in the ground on Sunday than years gone by (the same fixture exactly TEN years ago saw East End hold 16,495...) but those who do attend will be hoping for some repeat of the David v Goliath escapades that have all too rarely occurred in this fixture.

With victories few and far between, results such as the 3-3 draw on Boxing Day last year made one hell of a difference to the festive spirit amongst Pars fans. Going back three years, the 2-0 win thanks to Stevie Crawford and Paulo Vanoli`s OG meant an even bigger celebration!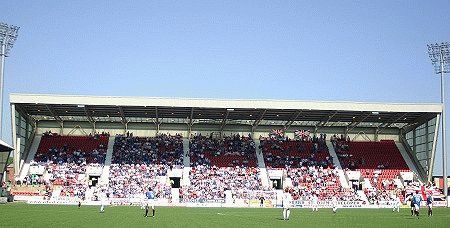 Rangers rarely sell out these days




However, grinding out a point as the team did last season, given the compartive gap between the sides at the time, can give a boost to a beleagured squad in so many ways.

Best by injury and illness, the management and players need some form of upturn in their fortunes to get this season kick started. With the next home game a full month away, this is the last chance for the East End Park support to be properly heard going into an away double header and a break for international matches.

At the time of writing, the starting line up is anybody`s guess. This is obviously far from ideal as the team goes into such a big game not knowing who will be ready in time for kick off. As the week ticks by, hopefully there will only be good news coming from the already overly populated physio`s room at East End, with options being increased by the day.

On the long term injury front, Scott Morrison made a return to action after his full year out with severe ligament damage. He played 76 minutes against Falkirk reserves on Tuesday and is now hopefully one further step back towards a full recovery. After an injury which not too long ago would have meant retirement, it is genuinely inspiring to see the young left back battle back to the fringes of the first team. It may still be a few weeks away, but his return would be a huge boost for many in and around East End Park.



views: 3,174