European Amputee Football Nations League
Date: Wednesday, 25th Oct 2023

Fife has been announced as the host region for the inaugural Amputee Football Nations League competition in October.

The Scotland National Amputee squad will face the Netherlands, Albania, Azerbaijan, and Kosovo in Group D of the competition at Dalgety Bay Sport & Leisure Centre in what will be the biggest international para-football tournament of its kind to take place in Scotland.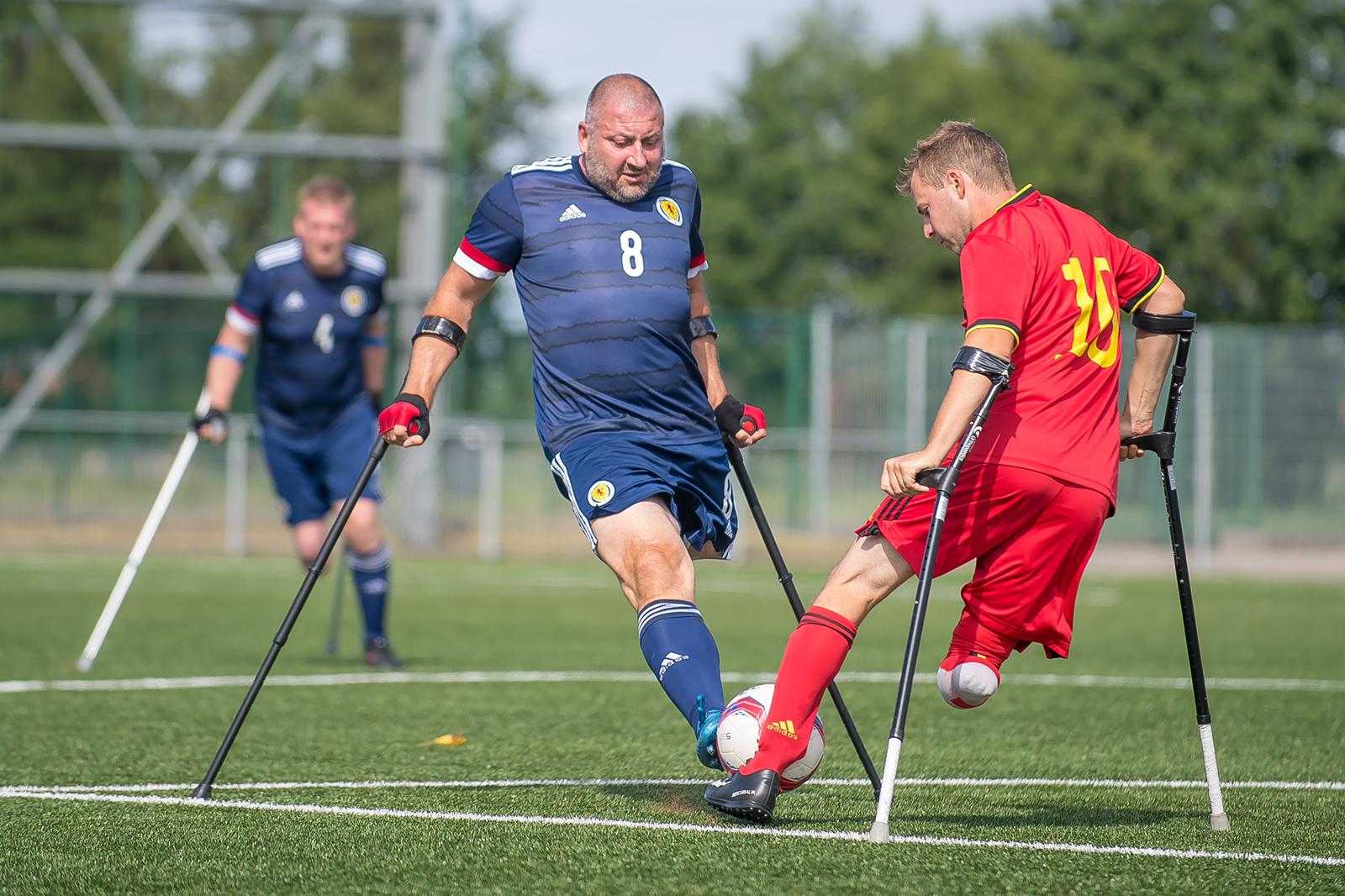 The Scotland squad, made up of 11 individuals each with a lower or upper limb amputation, will face their international counterparts on 28-29 October. The tournament will see 10 matches played across two days in an exhilarating tournament that will bring multiple amputee football nations together in the inaugural Nations League Competition.

Fife was an obvious choice for the host destination, not only for its exceptional sports facilities, but because it's the home of Scotland national amputee player, Iain Matthew of Glenrothes. Iain (47), who is both a player and Director of the charity, has been instrumental in bringing the major tournament to Fife. However, his sporting career began long before he donned a football boot.

Iain shone as a young member of Team Scotland swimming team at the World Youth Games in Miami in 1989. He was selected for Team GB relay teams for the European Championships in Barcelona in '91, before his selection for the Great Britain medley relay team at the Paralympic Games in Barcelona in 1992. An unexpected qualifier for the 100 metres breaststroke final, Iain left his opponents trailing to scoop the gold medal and set many world records. He continued to represent Great Britain during the 90`s, winning gold and silver medals in the World and European championships and competing in his second Paralympic Games in Atlanta where he won a silver medal. Iain is also one of the very few Scots to compete at the Commonwealth Games in the Elite Athletes with a Disability (EAD) events.

Iain began playing amputee football in 2017. Amputee football in Scotland is run by Scotland Amputee Football Association (AFAS) and the charity is calling on the locals in Fife to come along and support their national team and cheer on the lads at Dalgety Bay in October.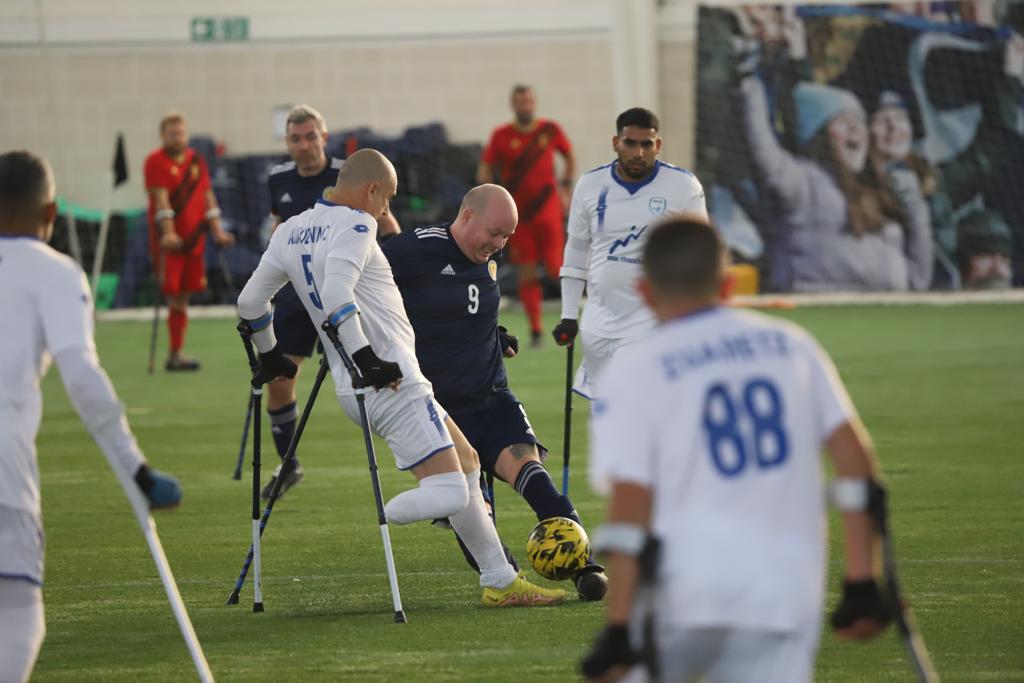 Amputee Football Association Scotland was set up in 2017 to create opportunities for those with limb loss to participate in the beautiful game. The organisation is now a Game Leader of Scottish Para-Football, the Scottish FA's governing body for all forms of para-football in Scotland. The Nations League is organised by the European Amputee Football Federation of which AFAS is a member.

Eighteen teams will play in the inaugural Amputee Football Nations League, with teams split into four divisions. Each division will enjoy a tournament in a different location on a different date. Scotland is a host nation, along with Poland, France, and Belgium. The team in last place in each group will be relegated to the lower division, with the best team being promoted to the higher division.

It is anticipated that hosting the tournament will cost AFAS around £35,000 so the organisation is appealing for sponsorship and financial backing. All matches will be live streamed.

Amputee football is unexpectedly fast paced, dynamic and physically gruelling on the upper body. It is well established across the world, with leagues operating in more than 30 countries worldwide. The Amputee Football World Cup took place in Istanbul, Turkey in October 2022, where hosts Turkey triumphed over former champions Angola in a nail-biting 4-1 defeat. The Scotland squad currently plays in the Irish Amputee Football league. The game is played on crutches with teams of seven-a-side. Those in goals must have an upper limb amputation while those outfield a lower amputation.

Iain Matthew, Director of Amputee Football Association Scotland, commented: "From running a pilot project with a handful of players in 2017 to fronting a Scotland squad for an international tournament signals the growth and appetite for this sport in Scotland.

"When the players are on the pitch, disabilities are secondary. It's simply about individuals coming together to play competitive football at a high level. Representing your country is something many can only dream about, and the honour is not lost on this team.

"I owe a lot to the people of Fife for supporting me during my paralympic career and there's nowhere I'd rather see host this tournament. The scenery will showcase Scotland at its finest for our overseas visitors and I hope that local people will come and cheer on Scotland."

Ashley Reid, CEO of Scottish Para-Football and founder of Amputee Football Association Scotland, commented: "It is a huge honour for Scotland to be hosting such a prestigious tournament and testament to the work of the players and volunteers.

"It's an honour to be hosting this tournament in Fife, where Iain's career began, and where there are such exceptional sporting facilities. AFAS is a modest charity run by a handful of volunteers so we're appealing to the public and local businesses to get behind us and make this event something truly memorable."

The tournament will take place from 28-29 October 2023 at Dalgety Bay Sports and Leisure Centre, Fife.

AFAS is offering pitch-side sponsorship to local businesses and traders. Please contact Iainmatthew@hotmail.com for information.

Amputee Football Association Scotland

@scotamputeeFA

www.amputeefootballscotland.co.uk


FIXTURES AND TIMINGS

SATURDAY 28th OCTOBER 2023

SCOTLAND V KOSOVO 10.00am
NETHERLANDS V AZERBAIJAN 11.30am
SCOTLAND V ALBANIA 13.00am
AZERBAIJAN V KOSOVO 14.30am
NETHERLANDS V ALBANIA 16.00am

SUNDAY 29th OCTOBER 2023

SCOTLAND V NETHERLANDS 10.00am
KOSOVO V ALBANIA 11.30am
SCOTLAND V AZERBAIJAN 13.00am
KOSOVO V NETHERLANDS 14.30am
ALBANIA V AZERBAIJAN 16.00am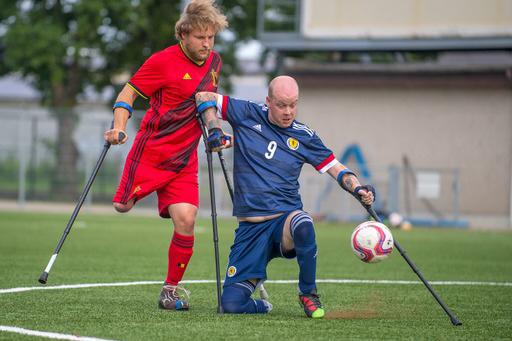 Group A: Hosted in Poland – 16-18 June 2023 – England finished top of the league.
Poland | Turkey | Spain |England

Group B: Hosted in France – 8-10 September 2023
France| Germany | Italy | Ireland

Group C: Hosted in Belgium – 6-8 October 2023
Belgium | Greece | Ukraine | Georgia | Israel

Group D: Hosted in Scotland – 28-29 October 2023
Scotland | The Netherlands | Albania | Azerbaijan | Hungary | Kosovo



views: 546