Falkirk trip next up for Pars
Author: Jason Barber Date: Thursday, 3rd Aug 2006

On what was a happy hunting ground for The Pars last season (with a win and a draw) Falkirk`s poor home form will hopefully continue for at least another week.
With only one home win on their own (new) turf last season, Dunfermline will be hoping to get 2006/07 season off to a similar run on Saturday afternoon.

Having matched Hearts in most departments, other than fortune and ultimately finishing, last Saturday, Dunfermline must pick up where they left off in terms of their performance last Saturday.

Falkirk got their season off to a great start with a fine away win at already troubled Tannadice, with the post match shenanigans of Eddie Thompson taking up all the tabloid headlines in the days that followed.
That did little to detract from a fine win as far as Falkirk were concerned. They have been quiet in the transfer market during the summer, certainly in comparison to most of their competition including Dunfermline, and are largely relying on the players that kept them up with room to spare last season.

Densill Theobald and Russell Latapy made Falkirk history by being picked for the Trinidad and Tobago World Cup squad during the summer break, though Theobald never actually played a first team game for the Bairns and left the club earlier this week.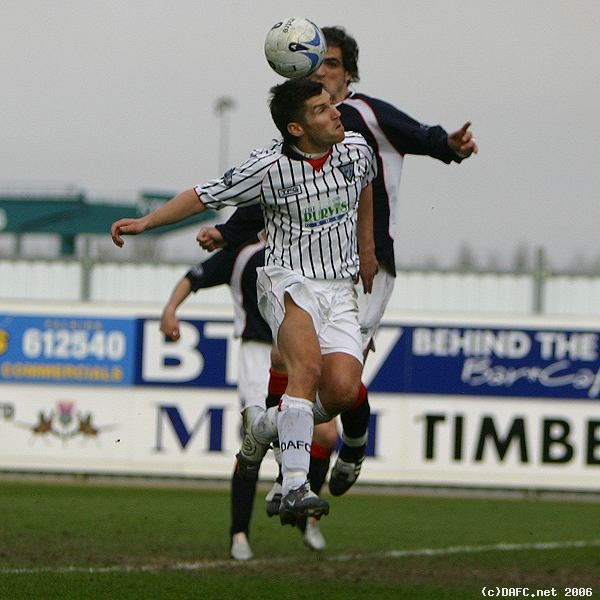 Mark Burchill playing over Grangemouth way
Dunfermline`s squad is also one less in number only one week into the new season, with news confirmed of Bryn Halliwell`s permanent move to St. Johnstone going through. With Dorus De Vries and Roddy McKenzie now ahead of him in the queue for the number one jersey, it was always likely to Halliwell would be surplus to requirements. We wish him well with his move to Perth.

Both clubs have had Craig Reid on trial in recent times. Having scored regularly for Falkirk during their pre season campaign, the former Coventry youngster is now on trial at Dunfermline with a view to signing a contract for a club with a much depleted strikeforce.........


Pars support for first post split game in April
Jim McIntyre was seen as the ideal partner for Mark Burchill, and after EVENTUALLY agreeing his release from Dundee United, he now finds himself suffering from a recurring shoulder nerve problem which requires nothing other than complete and utter rest. No training or ball practice for McIntyre who simply has to wait and see how the injury heals.

With Noel Whelan out for about six weeks after one of the shortest Dunfermline debuts in history, it is up to a hopefully fully fit Mark Burchill to lead the line on Saturday.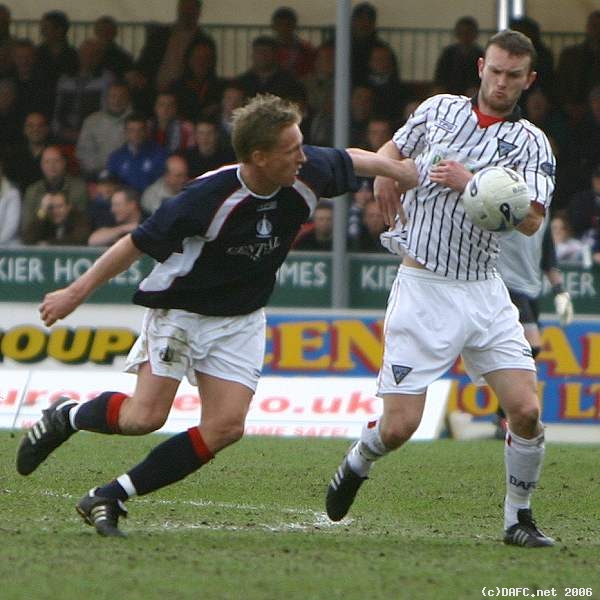 Wilson will be hoping for a repeat of a clean sheet




Freddie Daquin has acted as a stop gap frontman during the pre season, and against Hearts last week, and the two together could cause problems with their sprinting ability certainly not in question.

Falkirk will be looking to give a debut to Graham Barratt, the former Livingston striker signing a two year deal during the week.

Having failed to score for Livi last season, he will be hoping his second attempt at Scottish football is considerably more successful, hopefully his run of firing blanks lasts at least another week.....

With Dunfermline enjoying a 2-1 win and a 0-0 draw at the new Falkirk ground last season, that unbeaten run would be the primary aim of Saturdays trip.

A win would get the ball rolling as the tough fixture list continues with the visit of Rangers next Sunday.

Falkirk hope to have a second "temporary" stand available to complete, at least partially, all four sides of the ground for Saturdays game. At the time of writing, a safety certificate was still to be achieved and the new tent may not be open in time for kick off on Saturday.



views: 2,328