Football Comedy Night
Date: Friday, 8th Sep 2023

Former Dunfermline Athletic manager and one of Scotland`s top after dinner speakers, the legendary Dick Campbell, will host and take part in a 'Football Comedy Night' on Thursday 26th October in Dunfermline's Carnegie Hall.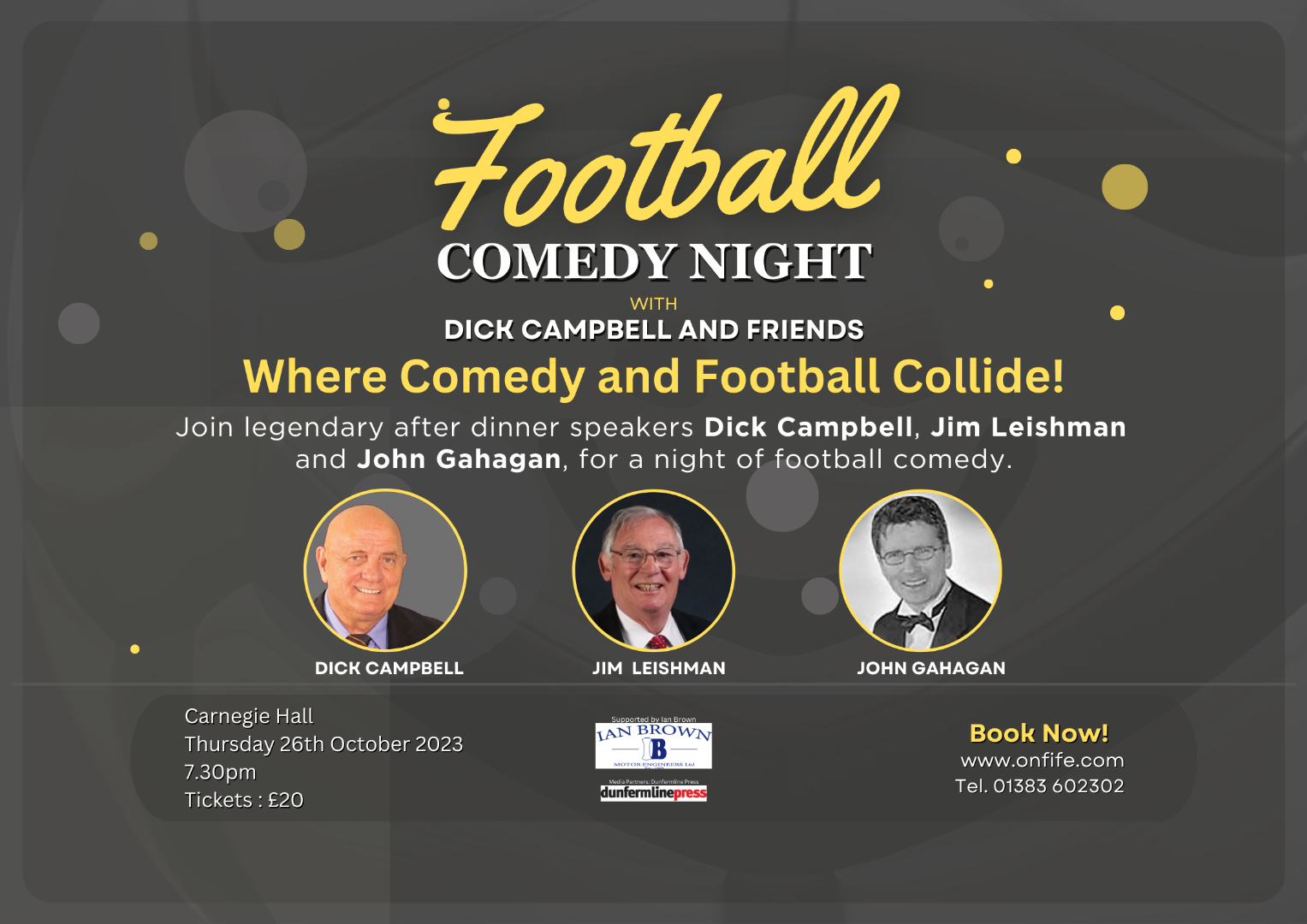 For Pars fans Dick is best remembered for his time managing Dunfermline Athletic after he become Bert Paton`s assistant. Paton and Campbell guided Dunfermline to promotion in the 1995–96 Scottish First Division season, and also achieved their highest league position, finishing fifth in the 1996–97 Scottish Premier Division season, with their team known for their adventurous attacking style of play.

Dick came tantalisingly close to taking his part time club of Arbroath into the Premier League the season before last which would have been a magnificent achievement. Following on from hosting the sell-out 'Football Comedy Night' in the same venue last year, Dick is looking forward to returning with a completely new show and line-up: "I can guarantee people will love the myriad of funny stories from the world of football that my guests, two of the funniest speakers on the circuit, will bring to the stage of the Carnegie Hall.

There may also be some surprises on the night-at last year's event Sir Alex Ferguson sent a message to be read out saying how highly he regarded Bert Paton, who was in the audience, when he played alongside him in the 60s"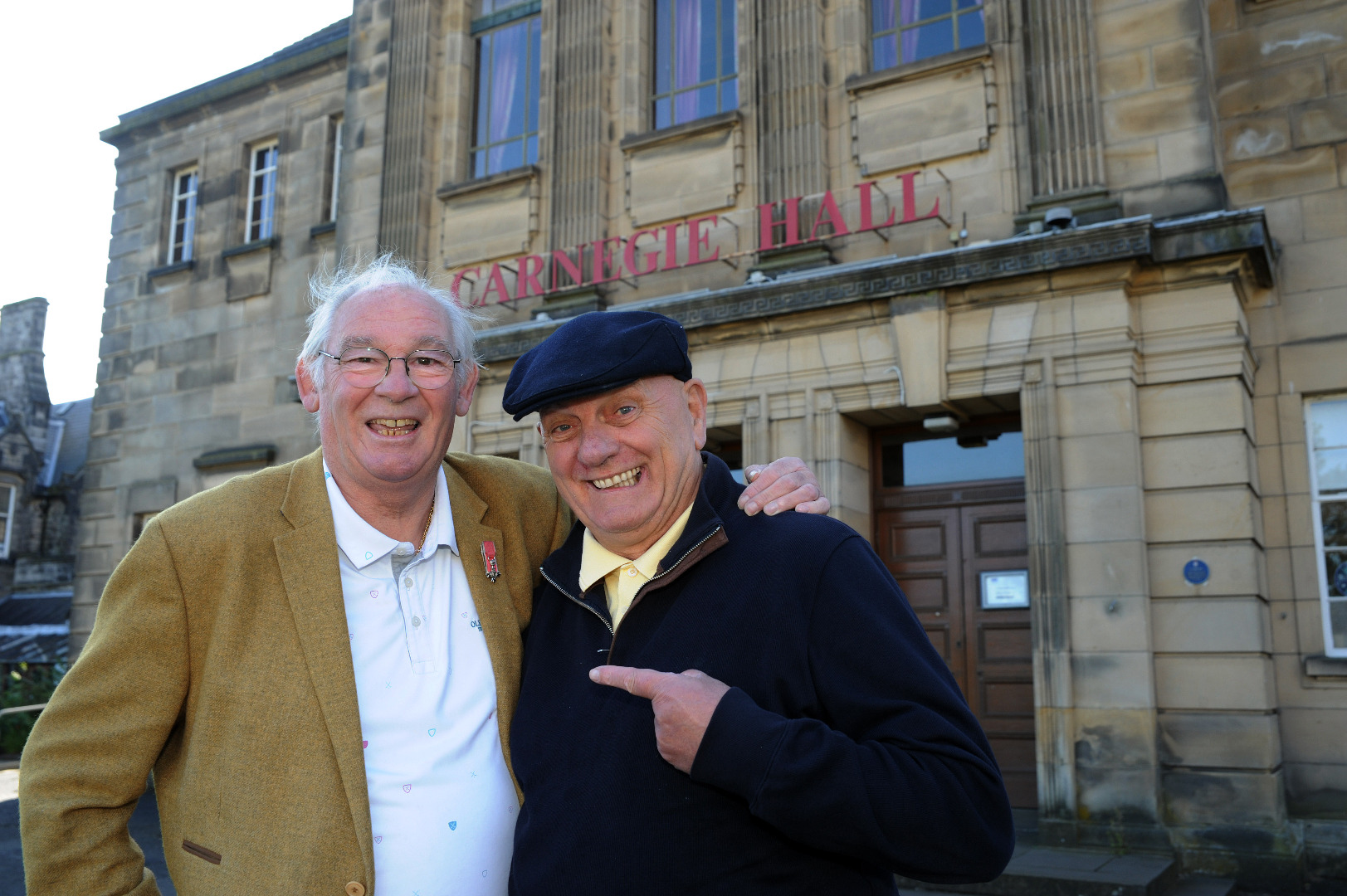 Joining Dick will be the highly accomplished and much in demand after-dinner speaker John Gahagan, renowned for his ability to entertain audiences with his humorous and engaging speeches.

He is a former professional footballer who played for several clubs throughout his career, including Falkirk, Motherwell, and Airdrie. During his playing career, John established a reputation as a highly skilled midfielder with an eye for goal. He was a key player for both Motherwell and Airdrie, helping his teams to achieve success in both domestic and European competitions.

He was inducted into the Motherwell FC Hall of Fame in 2018 and received the prestigious Scottish Football Association Lifetime Achievement Award in 2014.
Completing the bill will be none other than legendary former Pars manager and player Jim Leishman who is no stranger to the stage of the Carnegie Hall: "I have appeared in the Carnegie Hall on a number of occasions over the years and am very much looking forward to returning there in October for what should be a fantastic and very funny night. I remember my first ever appearance there many years ago for a sell-out Q&A event with Jock Stein. John Gahagan is one of the funniest men I have ever met on or off the stage. .I'll be relating stories from a lifetime in football and am sure people attending will enjoy hearing some the funny behind the scenes tales involving some of the great players they've seen in action over the years."

Tickets for a 'Football Comedy Night' on Thursday 26th October at 7.30pm, which is sponsored by 'Ian Brown Motor Engineers' are available priced £20 from the Carnegie Hall Box Office on 01383 602302 or online at https://www.onfife.com/event/football-comedy-night-da63/
Related Stories


views: 508