Hall of Fame
Author: Stephen Taylor Date: Monday, 29th Nov 2004

A capacity crowd welcomed the first group of Pars greats into the Hall of Fame.
The inaugural Hall of Fame event was held on Saturday night in front of a capacity "black tie" crowd in the Glen Pavilion, Dunfermline. It was a splendid occasion with the first group of illustrious members inducted into the Pars Hall of Fame, which brought back many memories of past victories and cup honours.

This event was the brainchild of Mr Dunfermline himself, Jim Leishman. Born out of the Legends Re-United events held at East End Park earlier this year this event is sure to become an annual event .

It was appropriate that the first award highlighted why the Pars are very much seen as a family club and one close to its local community. If ever this was true about any individual connected with the Pars it was, Jimmy McConville. The local sub-postmaster from Kelty who served with the club for 36 years as a director and club secretary. In his 90th year Jimmy looked sprightly and extremely proud to receive this honour which was presented to him by the Pars Supporters Trust.

The next recipient is one of the most humble and gracious individuals to work at East End Park. Joe Nelson was a great servant to the club particularly under the Leishman glory years of the 1980's when Joe acted as coach and later kit man. This award was presented by Jim Leishman on behalf of NHP Plc.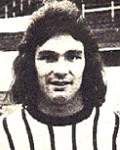 Jim Leishman
There can be little doubt that the greatest Pars manager of them all was Jock Stein. Not only one of the greatest managers our country has ever produced but possibly one of the best in the world. It was Jock's era at East End Park from 1960 which set the club off on its wonderful journey through the 1960's. His contribution cannot be underestimated. The Scottish Cup win in 1961 was a turning point for the Pars. The award, presented by John Meiklem, was accepted on behalf of the Stein family by Sean Fallon who was Jock's assistant for many years at Celtic Park.

It was a hard act to follow but Willie Cunningham did so and made his own mark as successor to Jock Stein. As a player he was an outstanding captain of the Pars and was regarded by Jock Stein as one of the most important signings he made. Willie went on to become the most successful Pars manager in terms of games won. The award was presented by Craig Bennet of Morgans.

It was with great sadness that Pars fans received news of the death of George Farm earlier this year. George led the Pars to their second Scottish Cup win in 1968 after an impressive playing career. George was an FA Cup winner with Blackpool playing alongside the legendary Stanley Matthews in 1953. Despite a spell as manager of the "Wee Team", George was appointed to the Pars in 1967 and was in charge until 1970. This award, presented by Pastor Dowds of the Vine Church, was received by George's grandson.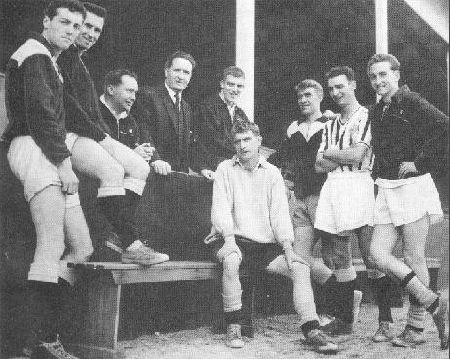 Manager Jock Stein
incl Willie Cunningham




The next inductee to the Hall of Fame was a "giant" in defence in the 1961 Cup Final team, skipper Ron Mailer. This award was presented by Chairman John Yorkston who was curious about the image of Ron being a towering defender which was a little tongue in cheek given that the Chairman towers over everyone at EEP although John did reveal he was only 6 years old when he recalled Ron's playing days! It was a measure of Ron's reputation that Dukla Prague came to Scotland to provide the opposition for Ron in his testimonial in 1965 when travel in Europe for football side was still in its infancy.

Another great player and captain, Jim Mclean. He was captain of the losing 1965 Cup Final side which was regarded by many fans as the best ever Pars team. They went into the final that year as favourites to play Celtic which unfortunately they lost. Jim was a rugged centre half and but only scored one goal but it was one in the classic 6-2 victory over Valencia. Jim was given his award by Pete Campbell on behalf of the Centenary Club.


There was a special ovation for the final two inductees into the Hall of Fame. It was especially pleasing for the audience to be able to show their appreciation for one of the great cult figures from the old days. Roy Barry. When the earlier Legends Reunited events were organised Roy was a noticeable absentee but more than made up for it with his appearance on Saturday night. It was surprising to realise the Pars hard man was only with the club for 3 years before going to Coventry City but in that time he left the Pars to the second Cup Final win over Hearts in 1968 and further glory nights in Europe. Roy received his award from MGM Timber Ltd.

The final recipient is held in great affection by many of the older generation of Pars fans. The top scorer of all time at East End Park, Charlie Dickson, who scored 215 goals in 340 appearances in the famous black and white stripes. Signed in 1955 from Preston Athletic and, without doubt, a highlight being the winning goal in the 1961 final. He left the club in 1964, and how the Club today could do with a prolific scorer like Charlie to bang in the goals. Charlie was presented his award by the Dunfermline Building Society.



This was a terrific occasion and much credit goes to Jim Leishman and the Directors along with the organising team. At a time when there is so much negativity surrounding the professional game this event really showed why we all love this club so much. The standards set in the 1960's may have established a fairly high level of expectation for later generations of Pars players and fans. The 2004 Cup Final showed that it is possible to get back to these levels and, hopefully, it will not be too long before we do so again. The heroes from the 1960's inducted into the Hall of Fame are among the greatest contributors to our club's history and they deserved every bit of the praise and best wishes bestowed on them last night.



views: 3,652