Hearts 1 v 1 Dunfermline
Author: Stephen Taylor Date: Saturday, 28th Oct 2006

With a new manager pending the Pars players produced clear evidence they have been underperforming so far this season by showing just what they are capable of with a strong display at Tynecastle and some good football deserving the point earned.
Injuries have been a constant problem for team selection over the past 12 months and this match was no exception. Stevie Crawford has to miss the game through injury as does Scot Wilson who has been one of the Pars best players this season. Roddy McKenzie replaced De Vries in goal with a back four line up of McCunnie at right back, Shields and Tod the centre backs with Labonte on the left. In midfield Stephen Simmons returned alongside Mason, Young and Owen Morrison. Jim Hamilton partners Mark Burchill in attack.

With all the drama at Tynecastle in the past few days it was expected Hearts would have a storming start with their players playing to protect their employment status. In fact, it was very encouraging to see the Pars with the first direct effort at goal. A cut back from Burchill into Simmons path who hit a powerful shot which the Scotland keeper made a great save.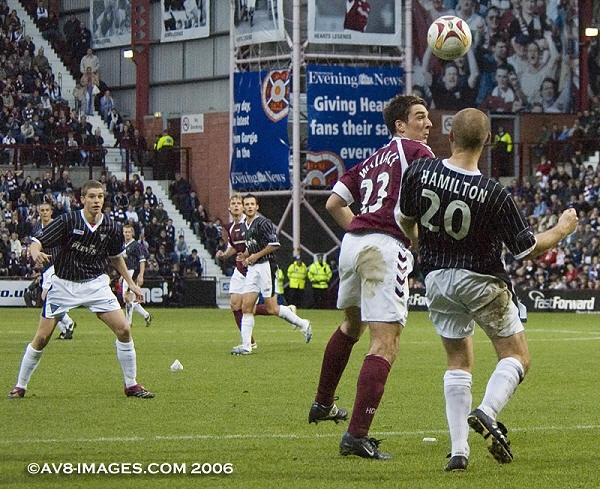 Jim Hamilton has a tussle with Lee Wallace. 28 October 2006
Hearts try to hit back with a bit of pressure but with no real threat on the Pars goal. It was disappointing, however, in 12 minutes when the Pars lost a sill opening goal. A long high ball dropped into the Pars area with Hartley trying to get a touch. McKenzie made a mistake to allow the ball to bounce which it did, over his head! He scrambled back and pushed the ball to the left of the goal only to allow Hartley to back heel into the 6 yard area and Velicka easily scored.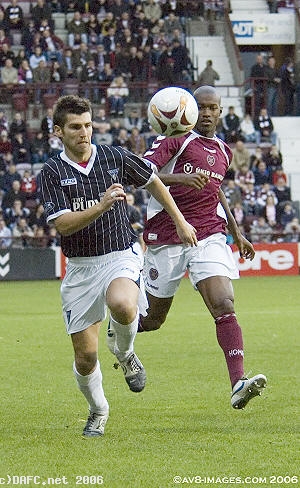 Mark Burchill
Bednar had a header wide as Hearts stepped up the pressure and Pressley had a great chance to score with a surging run forward which saw him take a return pass and his shot was pulled across the face of the goal. He should have scored.

The Pars were particularly struggling on the left hand side with Labonte and Morrison giving Hearts too much room which contrasted with the right where Simmons, Mason and McCunnie were working well as a unit. The Pars were finding it hard to get the ball forward and to keep possession. Half time 0-1.

No doubt the thoughts of Pars fans were that an early goal would be great and, equally, the Pars could not afford to lose an early goal. That message was received loud and clear by the players as he Pars opened the half with an equaliser. A corner from the left was put over, Simmons had a free header down for Hamilton to bundle over the line despite the close attentions of Neilson and Gordon. The Hearts keeper clearly thought Hamilton had used an arm or hand but the goal stood.
There was a very noticeable reduction in the noise level from the home fans. Owen Morrison was starting to get into his stride taking on Neilson and was one Pars player who was showing the ability to hold up the ball and take on the defence and it was proving too much for Neilson, in particular.

Hamilton almost added to his tally as he scored in 52 minutes but was ruled offside. It was however a clear sign the Pars were very much in this match.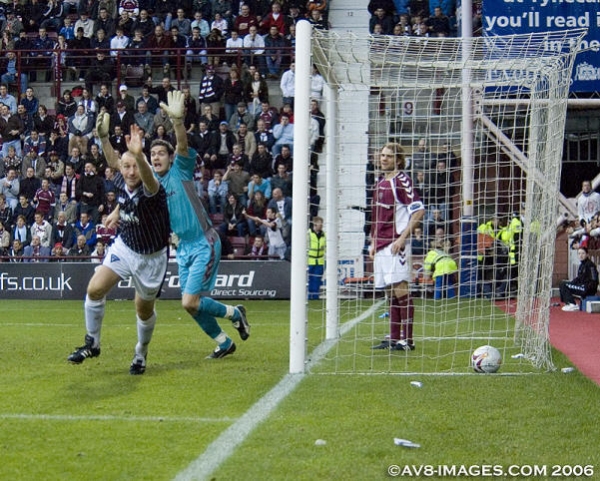 Hamilton scores just after the break to draw level with Hearts. Gordon is not happy (and eventually gets a booking for his protests). 28 October 2006




Greg Ross had come on for the excellent Jamie McCunnie who had taken a knock and had to limp off and the youngster slotted seamlessly into the role at right back. There was a much more confident look about the Pars side especially as the match progressed. With Morrisons promptings from the left and Ross pushing forward on the right there was no doubt a sense among the travelling support the team might nick this one.

Hearts were very much in this game as well and despite winning a number of corners McKenzie only had one good save to make with everything else fizzling out for the home side.





views: 5,197