Ian Westwater to retire from football
Author: Jason Barber Date: Sunday, 2nd Oct 2005

Having been goalkeeping coach at Hibernian since leaving Dunfermline in the summer of 2000, Westie is now to hang up his boots completely following medical advice.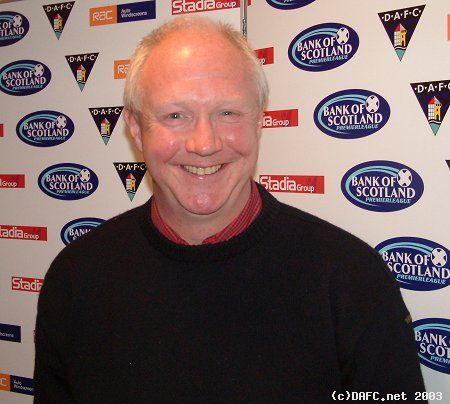 For those of a certain age, Ian Westwater was the best Dunfermline goalkeeper they have seen.

First signed by Jim Leishman for a nominal fee of £4,000 from Hearts in March 1985, Westie was seen as a replacement for the veteran Hugh Whyte who had been keeping goal for the previous few seasons.

Aged 22, Westie had already made first team appearances for Hearts as understudy to Henry Smith.

Having suffered a serious knee injury whilst on duty for Scotland under 17s, Westwater had made the long road to recovery and fought his way back in the Hearts squad after a long period of absence.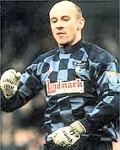 Westie soon became the first choice for the next few years
In the ultimately unsuccessful campaign of 1984/85, when Dunfermline narrowly lost out of promotion on the last day of the season, Westie played in the last eight games that season.

He made his Dunfermline debut in a 2-0 away win at Stranraer on the 3rd April 1985. Another clean sheet was to follow in his second match, his home debut against East Stirling. The first team to finally score past him was Albion Rovers in a 1-1 away draw. Raith managed to score 3 in a game that ultimately destined Dunfermline to have to play a further season in the bottom league.
With Hugh Whyte now playing a back up role to Westwater, the second division campaign of 1985/86 saw the younger keeper make the number one jersey his own.

Having played in 38 of the 39 league games that season, the one game that saw Westwater miss out saw a rather bizarre scenario occur!

Westwater was ruled out of the away match at Meadowbank Thistle and Hugh Whyte was unfortunately on holiday at the time! Jim Leishman made a few desperate phone calls, and Dundee United veteran Hamish McAlpine made his one and only appearance in Westwater`s absence. Result? A 4-0 surprise drubbing for the promotion chasing Pars!

Westwater returned and won a second division title medal as Dunfermline won only their second ever league title.
1986/87 saw another Pars highlight for Westie, playing in all but two games as a second successive promotion became a remarkable achievement for the club.

Westwater was the first choice keeper for the club`s first ever Premier Division campaign the following season, though suffered throughout due to injuries. He played a fantastic match to help Dunfermline to their first Premier victory, 2-1 at home to Celtic, stopping nearly everything that was thrown at him that afternoon.
A first division title, the club`s first, saw Westie pick up more silverware in 1988/89. A jittery mistake in the penultimate match had the reliable keeper in the spotlight, but the nerves held fast the following week as a point against Meadowbank was enough for the title.

With Jim Leishman moved out of the manager`s chair in the summer of 1990, a new keeper was brought in to challenge Westwater. Westie played the first match under the Ian Munro "era" but Rhodes took the goalkeeping plaudits for every match that season. A move away from the club looked inevitable.

A swap deal to Falkirk in August 1991 saw Westwater move from the Pars after 6 mostly successful years. Paul Smith joined Westwater on the road out, whilst Derek McWilliams was brought in exchange for both players. The Ian Munro and Jocky Scott times quickly passed however, and Bert Paton was brought in to improve things during the summer of 1993. Having used Lindsay Hamilton for his first season, Bert moved to bring Ian Westwater back to the club in March 1994.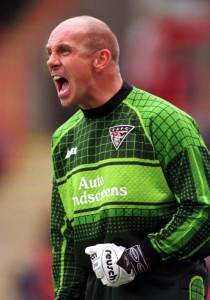 Westie encouraging his defence.......




Guido Van de Kamp, Jim Will and Zoran Lemajic were amongst the keepers to vie for the number one jersey alongside Westie over the next few years.

Westie replaced Van De Kamp in the race for the first division title in 1996, with goalkeeping heroics in the famous 1-0 win at Tannadice all but handing Dunfermline the title. Again, Westwater stopped all that was thrown at him that afternoon.

Lee Butler replaced Westie as the first choice keeper for the 1998/99 relegation campaign, though he was only at the club for that one season.

Dick Campbell and Jimmy Calderwood both employed Westie as first choice during his last playing season at The Pars, though Kris Mampaey replaced him for 14 league games in the second half of the campaign.

Westie`s last ever game for Dunfermline was the lacklustre, and meaningless, 2-0 defeat away to Morton on the 6th May 2000.

For the stattos, Westie started 359 games for Dunfermline with another two appearances from the bench. One of those was as a late emergency striker away to Airdrie in 1996!

Westie had 116 shut outs for the club, an excellent record spanning across three divisions.

Hibernian and Dunfermline are currently talking about a benefit match for the player, any news about this game will be advertised here on dafc.net as soon as details are announced. The knee injury sustained as a 17 year old has finally beaten Westie`s football career after a 25 year battle.

We wish him all the best.



views: 4,849