Javier Clemente
Author: DAFC.net Date: Friday, 4th Jun 2004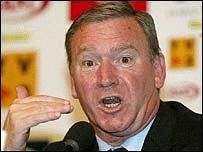 Javier Clemente sits at home in Spain waiting for the call - any call. He is one of a select band of leading coaches who have been sidelined partly by events, partly by choice, despite being among the most expert in the world game.


Louis Van Gaal, recently departed boss of Holland, is another. Then there are Italian Dino Zoff, moved out by Lazio, and Fatih Terim, formerly of Turkey and Milan. All of them know everything about taking nations into the finals of the game`s greatest competitions such as the World Cup and the European Championship.

All, like Clemente, are resting on their laurels right now. While they wait, they toy with the idea of taking a backroom role or becoming a media pundit.

Not Clemente. Not the 51-year-old Basque whose gritty, down-to-earth style saw him through the pain of a career- wrecking injury at 23 and, later, six turbulent years in which he established Spain as permanent fixtures at the big events.


Clemente, who took Athletic Bilbao to their first League title in 27 years in 1983 then guided Espanyol to the 1988 UEFA Cup Final, cannot wait for the right opportunity to get back into harness.

He explains: "Being a football coach is what I enjoy the most and I cannot wait for the chance to get involved again. Whether that means at home or abroad is really neither here nor there. Obviously, I would prefer to continue my coaching career in Spanish football - because this is my home and it`s the football environment I know the best.

"But I must say I wouldn`t be very keen to go in at the deep end in mid-season with a struggling team that needs saving from relegation. If a good offer came from abroad, I would consider it seriously, of course."

Clemente would relish the chance to work in English football. It`s always been a dream of his. Not only has he always been inspired by the commitment and passion of the English game, but he feels the foreign media has been fairer to him down the years than the partisan Spanish press.

"I don`t know why that is," says Clemente. "I`ve always tried to work to the best of my ability. The last three jobs I`ve had - with Betis, Real Sociedad and Marseille in France - were all about avoiding relegation, and I did just that. Wasn`t thatgood enough?

"Anyway, I leave these things to my agents. I am happy to sit back and wait until they have anything to tell me.
It`s always very pleasant to hear your name linked with this job or that job. But it`s really nothing more than hot air. I am a realist. If I can`t see or touch something, then I don`t believe it."

Clemente`s penchant for calling a spade a shovel did not always make him popular with Spanish federation officials duringhis reign as national coach, never mind the media. Not that he worries about that, saying: "The only thing that should matter for the national coach is having a good working relationship with both thepresident of the federation and with the best players in the country. I was manager of Spain for six years and I never had any problems with my players - even right at the end.

"They were terrific years at the highest possible level of the game and, although we didn`t win anything, I think we established the Spanish national team as one of the best in the world. Even my critics couldn`t ignore the fact."

Clemente is delighted to see successor Jose Antonio Camacho taking Spain back to the World Cup finals, but has doubts about whether they can win it for the first time.

"Our biggest problem," says Clemente, "has always been that everyone believes we have won the World Cup before the tournament has even started. Then we come down to earth with a bump. Confidence is fine, over-confidence is dangerous.

"We always go into a World Cup underrating the other teams - and no onegoes to the World Cup finals just to make up the numbers. Everyone else goes there with exactly the same ambition and will to win as we do. We forget that and it can prove very costly.

This interview appeared in the March 2002 issue of World Soccer

Related Stories


views: 8,161